UPDATE: Over 115 stories have been published on SRHub.org. Read CivicStory's NJ Sustainability Reporting project Phase 2 Report here on an innovative news collaboration in New Jersey.
Project
CivicStory's NJ Sustainability Reporting project is a 3-in-1 media collaborative, fellowship program, and digital platform. The project focuses on restoring healthy ecosystems through multimedia reporting by journalism fellows working with diverse newsrooms around the state. Participating news editors publish text, audio, and/or video stories on their own platforms, and then share them on www.SRHub.org.
The NJSR project highlights newsworthy sustainability activity and initiatives taking place throughout New Jersey in municipalities, on campuses, and in homes and neighborhoods. We believe society's pivot to sustainability requires deep structural change, and daily news has a critical role to play.
Newsrooms & Fellows
Participating newsrooms retain editorial independence and are not obliged to publish reporting from other newsrooms involved in the project. Newsrooms participating in Phase 2 of the project included:
Newsrooms participating in the NJSR project Phase I included:
CivicStory's NJ Sustainability Reporting fellows, Phase 2:
Stephanie Avila – WBGO – Stephanie's projects as an Aspen Young Leaders Fellow, Amiri Baraka Fellow, and WBGO Media fellow have always been in service to greater Newark. She has used various media to examine topics such as education, gentrification, activism, and the arts. Now as a NJSR Fellow, Stephanie aims to push the conversation about ecological sustainability forward, towards change.
Brianna Baker – Next City – As a reporter for Next City, Brianna brings to the cohort a combined background in journalism and environmental studies, with demonstrated experience in successful collaborative journalism projects. (Brianna reported on sustainability for Green Philly in Phase 1.)
Bill Barlow – Cape May County Herald – As a reporter in Cape May County, Bill has experienced first-hand the issues of sustainability on his beat. Over the years he has covered topics ranging from energy policy to endangered species and sea-level rise, and hopes that his reporting for the Hub can help residents see improvement with the right decisions made. (Bill also reported on sustainability as a Fellow in Phase 1.)
Joseph Berenato – The Hammonton Gazette – Joe served as The Hammonton Gazette's Entertainment Editor from 1997 to 2001, and returned as a staff writer and columnist in May of 2019. He is the author and editor of several anthologies and essays analyzing various aspects of pop culture. He is a graduate of Rowan University with a BA in English and an MA in writing. Except for a few years here and there, Joe is a lifelong Hammonton resident. You can find him on social media at @JFBerenato and at www.jfberenato.com.
Vernon Ogrodnek – The Press of Atlantic City – Vernon's work has encompassed video, photography, and multi-format digital content. He has managed teams as Photo Editor, Multi-Media Editor, producer of daily news videos and packages, and creator/producer of a weekly news-magazine program. A Penn State University graduate, Vern looks forward to creating visual stories of change and transition in southern New Jersey. (Vern also reported on sustainability as a Fellow in Phase 1.)
Steven Rodas – TAPinto Camden – Steven is an award-winning bilingual journalist with 6+ years experience as an editor and photographer for print and digital publications. His work has appeared in several publications, including The Star-Ledger, The Jersey Journal, The Hudson Reporter, Jersey City Magazine, and New Brunswick Today. Steven is based in the Greater Philadelphia area and covers Camden, NJ, as an editor for TAPinto.net.
CivicStory's NJ Sustainability Reporting fellows, Phase 1, included:
Ambreen Ali – VillageGreenNJ.com – Since receiving her Masters degree in New Media Journalism from Northwestern University, Ambreen Ali has covered Congress and the White House for CQ Roll Call, served as editor of media and technology news at SmartBrief, and written for the Washington Post, PBS, Seattle Magazine, and Edible Jersey. Ambreen is covering sustainability as a freelance reporter for VillageGreenNJ.com, a news site serving South Orange and Maplewood.
Molly Fichter – WBGO – A Communications major from Monmouth University, with a concentration in radio and television, Molly has focused her talents on podcast production. She is primarily interested in covering public policy issues related to health, education and sustainability.
Kelly Ramos – The Nubian News – Through video productions, scriptwriting, and documentaries, Kelly has not shied away from telling difficult stories about homelessness, street culture, gangs, and urban violence, some of which have been featured on the History Channel, Spike TV and the Bio channel. Through the NJSR Fellowship, Kelly hopes to expand his coverage to pollution and waste reduction; urban agriculture and composting; water conservations, and realigning living habits with health and healing the environment.
Alexis Shanes – NorthJersey.com – Alexis covers environment and investigations for The Record and NorthJersey.com, part of the USA TODAY Network. She has a master's degree in journalism from Northwestern University's Medill School of Journalism, Media and Integrated Marketing Communications, where she focused on health, environment and science coverage.
NJSR Reporting Fellows were selected by a committee including Dr. Maurice Hall (Chair), Dean of Arts and Communications at The College of New Jersey; Daniel Day, VP of Operations, Princeton University's Office of Communications; Stefanie Murray, Director of the Center for Cooperative Media at Montclair State University; Kevin Englert, Former NJSR Project Director and Susan Haig, CivicStory Founder.
Advisory
An Advisory Board provides guidance and oversight for the NJSR Hub project. Members include:
Co-chair: Daniel Day, VP Operations, Princeton University Office of Communications
Co-chair: Kevin Englert, Former NJSR Hub Project Director; Marketing Analyst for Condé Nast
Jon Gertner, author and journalist
Susan Haig, CivicStory Founder
Dr. Maurice Hall, PhD, Dean of the School of the Arts & Communication, The College of New Jersey
Daniela Shebitz, PhD, College of Natural, Applied and Health Sciences, School of Environmental and Sustainability Sciences, Kean University
Kimberly Tran, Princeton University student ('23)
Founders & Affiliates
CivicStory's New Jersey Sustainability Reporting Project began with a meeting of 16 representatives of environmental, educational, and nonprofit news in January 2019. Founding partners later pledged seed funding and involvement in planning:
Nine nonprofit organizations committed in-kind support, such as fellow orientation training, advisement, and dissemination support:
Support
CivicStory's NJSR project is partially funded by a diverse group of donors, ranging from foundation sponsorship of $10,000 to small individual donations. Projected revenue percentages are below.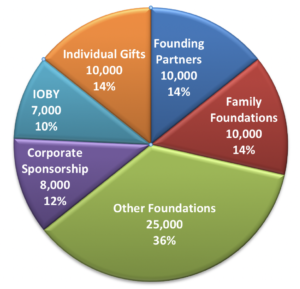 More Information
Contact
Abby Orf, CivicStory Newsroom Innovation Fellow