Gov. Phil Murphy's proposed energy master plan, which outlines clean energy goals for New Jersey through 2050, has drawn both praise and rebuke in comments filed by the public, including those who say it still relies too heavily on fossil fuels.
Among the most frequent complaints was that the Murphy administration has not moved forcefully to halt progress on 12 fossil fuel infrastructure projects — including two gas-fired power plants in the Meadowlands — by imposing a statewide moratorium on such developments.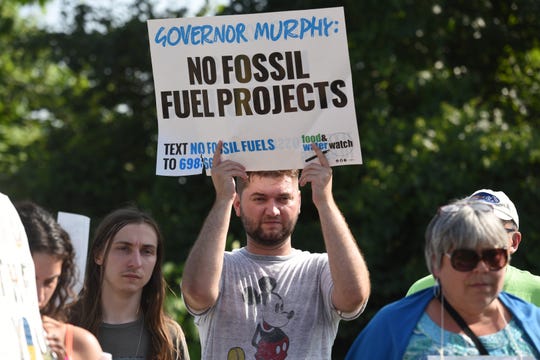 About 75 percent of homes in New Jersey are heated with natural gas, and environmental advocates say the energy plan should address that reliance more urgently.
"The plan does not place a moratorium on fossil fuel projects and allows the proposed natural gas projects to continue," wrote Kinnelon resident Jo Sippie-Gora. "This is akin to running water into an already full bathtub."
About 90 people have submitted written comments about the plan to the state Board of Public Utilities. The comments are posted online.
Dozens of those comments echoed Sippie-Gora's concerns.
The energy master plan "has already failed unless it declares a moratorium on new fossil fuel projects," wrote Ken Dolsky, of the Don't Gas the Meadowlands Coalition. "The BPU can just pack up and go home because you are doomed to spend years defending your failure to meet its objectives."
Over the past year, Murphy has made moves to reduce the state's contribution to global warming, such as rejoining a regional cap-and-trade system designed to reduce carbon emissions from power plants, and laying the groundwork to build one of the nation's largest offshore wind farms — a project that had been stalled for at least a decade.
His aggressive clean energy mandate, laid out in the energy plan, requires 50 percent of all electricity sold in the state to come from renewable sources by 2030 — and 100 percent by 2050.
But some say Murphy has flip-flopped on his environmental pledges. His administration has balked at a fossil fuel moratorium — a move other governors have used to stop environmental threats.
For instance, a moratorium by Gov. Brendan Byrne in 1979 stopped development in the environmentally sensitive South Jersey Pinelands, and Gov. Jim Florio barred the construction of new trash incinerators in the early 1990s.
More than 80 environmental and other groups formed a coalition in late 2018 called Empower NJ to fight the fossil fuel projects and demand an energy master plan that focused on solar, wind, geothermal and other renewable sources of energy.
Not all public comments expressed support for a moratorium. Union representatives have sparred with environmentalists about fossil fuel projects, which they say create stable, well-paying jobs.
"A transition away from natural gas isn't going to happen overnight," wrote Steven Gardner, director of New Jersey Laborers' Employers' Cooperation and Education Trust. "New Jersey should continue to keep natural gas in its energy portfolio."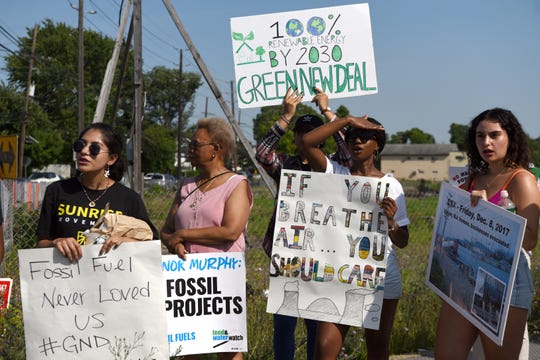 The state should emphasize "diversity of sources" as it moves toward increasing renewable energy, Gardner said. He suggested "fundamentally" altering transportation systems as well as exploring options for carbon removal, such as technology that absorbs carbon dioxide from the atmosphere and stores it, and foresting projects that would do the same.
Wharton resident Johan Andrade and JOLT of Ridgewood activist Peggy Bost wrote of their support for a moratorium, but added that the plan should ensure green economy jobs are available for organized workers.
The draft plan is silent about union workers.
In addition to accepting comments online, the Board of Public Utilities is hosting eight public meetings to solicit input on the plan. Some environmental advocates rallied before one of those meetings held Tuesday night in Hackensack.
As they have for several months, the environmentalists pressed Murphy to issue a statewide moratorium on pending fossil fuel projects, including plans to build two gas-fired power plants in the Meadowlands — an NJ Transit power station in Kearny and a large power plant in North Bergen that would supply electricity only to New York.
About two dozen environmentalists gathered outside the Bergen County Administration Building chanting, "Dear Governor Murphy, moratorium now!"
Dolsky, who was with the group, questioned how Murphy would be able to reach his goals of 100 percent clean energy by 2050 by allowing more pipelines, power plants, a liquified natural gas port in South Jersey and other fossil fuel infrastructure that would release hundreds of thousands of tons of carbon dioxide and other greenhouse gases into the atmosphere.
"You cannot cut all this by first adding to the problem," he said.
Commenters have also complained that the plan doesn't provide enough milestone objectives for its larger goals.
"Visions and strategic plans are two different things," wrote Fred Fastaggi, a consultant with Shoreline Energy Advisors, an energy efficiency consulting firm. "Energy master plans have been visioning statements without the nuts and bolts of a true strategic plan to successfully attain that vision."
The Board of Public Utilities said it will consider public comments in its final plan. The public comment period ends Sept. 16.
New Jersey's fossil fuel projects
At least 13 major fossil fuel projects are in various stages of permitting and development. A moratorium would halt progress on these developments.
Current power plant projects
North Bergen Liberty Generating Station (Meadowlands): A 1,200 megawatt gas-fired power plant proposed for North Bergen would emit 2.6 million metric tons of carbon dioxide.
NJ Transit microgrid station (Meadowlands): A 140 megawatt plant slated for Kearny would emit 383,000 to 571,000 tons of carbon dioxide annually.
Phoenix Energy Center (aka Highlands Power Plant – Hunterdon County): A 663 megawatt power plant on the site of a former paper mill on the Musconetcong River.
Keasbey Energy Center (Middlesex County): Competitive Power Ventures is seeking approval to build another natural-gas plant next to its existing 725-megawatt Woodbridge Energy Center.
Current pipeline and compressor station projects
Rivervale South to Market (Meadowlands): A Williams project approved by federal officials to build a half-mile natural gas pipeline in the Meadowlands and upgrade existing pipes to carry more fuel.
Gateway Expansion Project (Essex County): Williams Transco would build a new 33,000 horsepower compressor station next to an existing one near the Passaic River.
PennEast Pipeline (Mercer County): The proposed 118-mile pipeline would cross the Delaware River and terminate at Transco's pipeline interconnection near Pennington.
Williams' Northeast Supply Enhancement compressor stations (Somerset and Middlesex Counties and Raritan Bay): The project will add 37 miles of new pipeline and new compression to the existing Transco pipeline system from Middlesex County under Raritan Bay to Queens.
Cape Atlantic Reliability Project, aka South Jersey Gas Pipeline (Pinelands): The 22-mile pipeline would extend from Cumberland County to Cape May County.
Southern Reliability Link (Pinelands): A 28-mile natural gas pipeline through portions of Burlington and Ocean Counties.
Garden State Expansion Project (Burlington County): A new compressor station in Bordentown that has been built but won't be in service until the Southern Reliability Link pipeline is constructed.
Lambertville East Expansion (Mercer County): A plan to replace replace two existing compressor units and expand capacity.
BL England in Cape May County had proposed replacing its coal-fired plant with a 447-megawatt natural-gas power plant. However, the company reported in that it would not follow through with the project.
The article includes a slideshow, video, and text. Click here to view the original presentation (paywall).
This story was produced in collaboration with the New Jersey Sustainability Reporting Hub project. It was originally reported by Alexis Shanes for northjersey.com, and may be re-distributed through the Creative Commons License, with attribution.