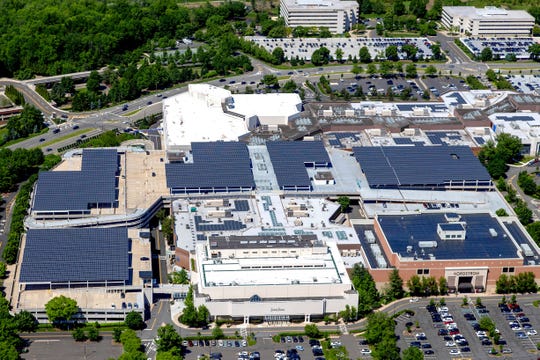 Going forward, when you shop in The Mall at Short Hills, you'll be bathed in light fueled by the sun. The mall has added nearly 9,000 solar panels to its campus, a system expected to offset more than 1,900 tons of carbon dioxide emissions annually, a solar developer announced Tuesday.
The solar panels span 225,500 square feet across the mall's roof and parking deck, according to a statement from the New York-based solar company.
The 3.49-megawatt system will produce up to 4.2 million kilowatt-hours of clean energy annually. That's the equivalent of powering roughly 403 homes for a year, based on the U.S. Energy Information Administration's annual household rate estimate.
The new system will fulfill a portion of the mall's energy requirement, but not 100% of it, according to the mall's solar developer, Safari Energy.
"Safari Energy is helping The Mall at Short Hills extend its green footprint in New Jersey, a state that is increasing pursing solar in its resource mix going forward," said Andy Rubin, Safari Energy's senior vice president of sales and marketing.
The 1.4 million-square-foot, two-story mall opened in 1980. It houses about 150 stores and is known for such luxury tenants as Burberry, Cartier and Dior.
"The Mall at Short Hills' solar power system is the first of three solar projects we are implementing to increase our use of renewable energy over the next few years," said Steven Moore, director of facilities, energy and sustainability for Taubman Centers Inc., which owns the mall. A similar project in Colorado is nearly complete, according to Safari Energy.
The Mall at Short Hills isn't the only North Jersey shopping destination getting a green energy makeover. Safari Energy has developed solar panel systems for malls across the region, including the Outlets at Bergen Town Center in Paramus, Woodbridge Center, Brick Plaza, Paramus Park and Willowbrook Mall in Wayne.
Separately, Westfield Garden State Plaza owner Unibail-Rodamco-Westfield Group announced plans in June for a solar power project at the Paramus mall.
The Garden State Plaza initiative is scheduled for completion in 2020. It is part of a three-mall project expected to produce a total of 5.4 gigawatt-hours of power, according to a Unibail-Rodamco-Westfield statement. The projects are part of the global company's plan to cut its carbon emissions by 50 percent by 2030.
Solar comprises the bulk of renewable energy in New Jersey. However, renewables make up just 5 percent of the state's power sector.
Gov. Phil Murphy's draft energy master plan includes a push for community solar, which would allow residents and businesses to buy stakes in large-scale, off-property solar farms instead of installing their own solar panels.
The article includes a slideshow, video, and text. Click here to view the original presentation (paywall).
This story was produced in collaboration with the New Jersey Sustainability Reporting Hub project. It was originally reported by Alexis Shanes for northjersey.com, and may be re-distributed through the Creative Commons License, with attribution.