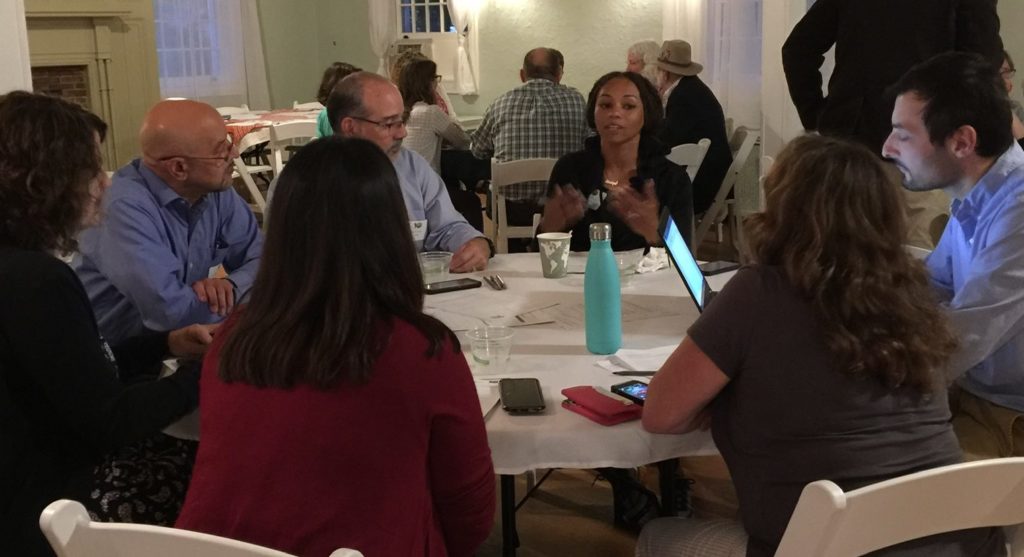 Maplewood played host to a lively discussion on Tuesday evening, September 10, about the most pressing sustainability issues facing New Jersey today.
The event at the Woodland was the first of three listening sessions being hosted by Sustainable Jersey throughout the state this fall. The Ewing-based nonprofit helps bring green teams and local officials together across municipalities to take action on environmental sustainability. It also offers a certification program for municipalities to demonstrate action on sustainability.
Over 50 people from South Orange, Maplewood and surrounding towns gathered to discuss the issues that Sustainable Jersey should focus on in its next decade. The discussion at one table centered on economic disparities among municipalities, transportation challenges, invasive species and the Newark water crisis.
Participants were also asked to highlight successful ways that their municipalities have addressed some of the pressing issues. Robert McCoy, a member of Maplewood's Environmental Action Committee, was present and discussed several South Orange and Maplewood-based initiatives, such as conservancy efforts at the South Mountain Reservation and the launch of the Essex County energy cooperative, as models that could be applied more broadly throughout the state.
McCoy worked on the energy initiative alongside partners from other Essex County townships. The effort was facilitated by Sustainable Jersey through its Essex County hub, a local organizing model that helps New Jersey's many municipalities pool resources and work together on environmental action. Because five towns are participating in the energy cooperative, they are able to negotiate a lower rate than if any individual town sought out alternative energy for its constituents.
For Sustainable Jersey, the conversation was a way to connect with local activists and community members to hear how the organization should direct their efforts in coming years.
"Our national and state politics are completely dysfunctional right now," Executive Director Randy Solomon told The Village Green. "Once you get to the local level, politics takes on a human scale. That's a very important thing that we have to harness."
This story was produced in collaboration with the New Jersey Sustainability Reporting Hub project. It was originally reported by Ambreen Ali for VillageGreenNJ.com, and may be re-distributed through the Creative Commons License, with attribution.