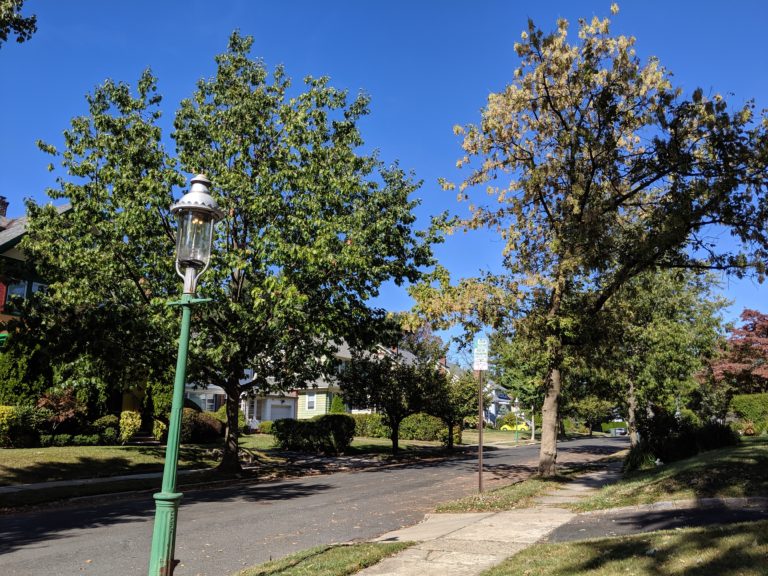 Don't be surprised if you see a band of college students walking around South Orange neighborhoods this weekend taking photos of the trees on their cell phones – or a drone hovering over them documenting the activity.
They are volunteers from Seton Hall University who are working with the South Orange Environmental Commission's Shade Tree Committee in a partnership to create the first-ever inventory of trees on public property in South Orange. The township has an estimated 10,000 to 15,000 trees, and the all-volunteer effort that began last year is expected to be completed in 2022.
"We need to know about our trees so that we can plant more and know what community benefits, such as health and storm water runoff, they provide. Trees clean the air and cool it in the summer," said Prof. Wanda Knapik, who has been working with students to log the trees in a smartphone app called Tree Plotter.
On Saturday, September 28, the students plan to be in the Lower Wyoming and South Mountain neighborhoods. They covered Seton Village, Tuxedo Park and Montrose Park in the spring.
Once the data are logged, the Tree Plotter app can generate a value for what the trees are worth collectively to the town and the environmental benefits they provide. Putting a number on such information is key to ensuring that trees are valued and prioritized, said South Orange Environmental Commissioner David Kraiker. A data dissemination specialist for the U.S. Census, Kraiker is helping the students apply census methodology to how they log the information, which will be helpful down the line if the township wants to evaluate where trees are planted.
"When this is all over, if we want, we can use census population numbers to see how many trees per people exist in each block. We can see whether wealthier neighborhoods get more trees, for example," he said.
The partnership amounts to a win-win for the township and university. Having an inventory of the trees is valuable to the township, which can use it to better manage and maintain them. Seton Hall students, meanwhile, get to learn about the diversity of the ecosystem around their campus and how it benefits people, while also learning how to identify trees and use geospatial mapping tools.
Although the effort is entirely student led at this point, Kraiker said the township may enlist some neighborhood volunteers down the line to help.
"I think the ultimate idea is to get people from the neighborhoods to come out and appreciate the trees," he said.
This story was produced in collaboration with the New Jersey Sustainability Reporting Hub project. It was originally reported by Ambreen Ali for VillageGreenNJ.com, and may be re-distributed through the Creative Commons License, with attribution.