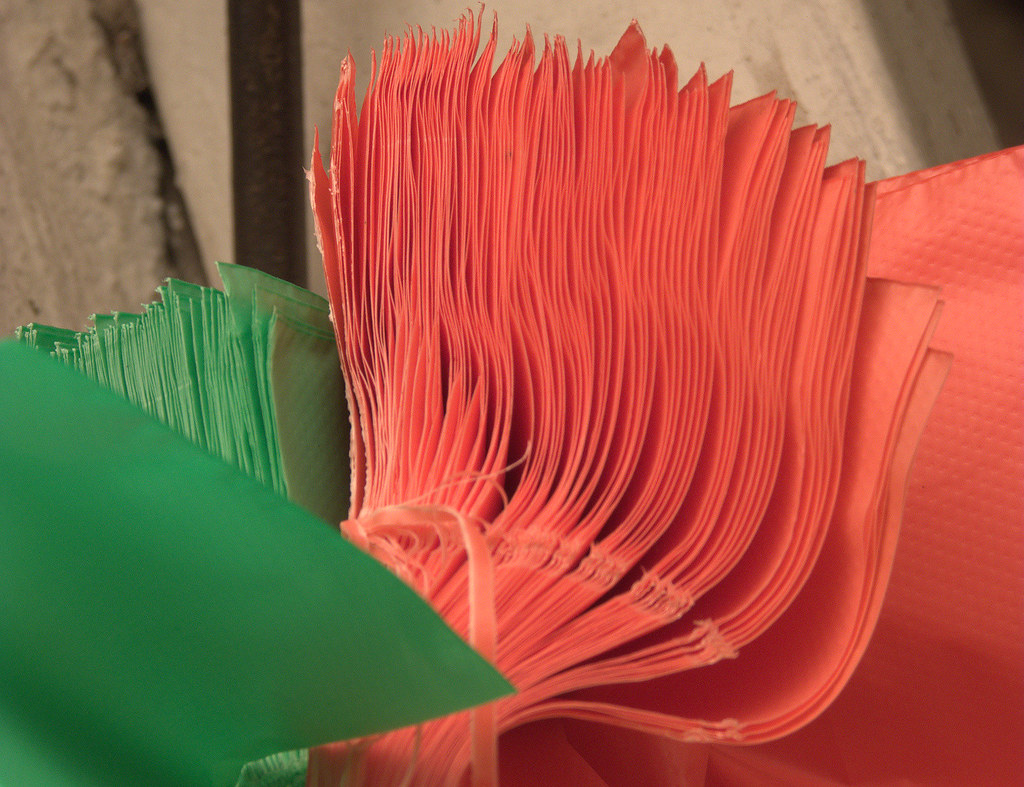 South Orange businesses are getting ready to phase out plastic bags as a reusable bag law passed in July takes effect on Jan. 1. Under the new law, businesses including grocery stores and restaurants will no longer be allowed to use plastic carry-out bags and will have to charge a 5-cent fee for paper bags.
"What we really want is not to just make plastic go away, but we want people to get rid of single use," said South Orange Village Trustee Walter Clarke. "We want people to reuse bags and many other things."
There will be exceptions to the rule, such as bagging bulk items and meat in plastic, as well as allowing for free paper bags to wrap fresh food such as bagels. The fee will only apply to carry-out paper bags, and businesses will keep the proceeds to offset the higher cost of paper bags versus plastic.
While many local businesses support the effort to reduce the single-use plastic bags, which clog storm drains and add to the municipality's trash haul, they are also bracing for a pushback from customers who may not like having to pay the fee or only have a paper option.
"We have some businesses that are just scared there is going to be a customer backlash, and I've had other business owners tell me this is great," Clarke said. "The feedback has run the gamut."
The township has ordered a large stock of reusable bags that will be passed out through the schools, at the General Store Cooperative South Orange Holiday Shop at 14 South Orange Avenue, and at the train station during the holiday season to raise awareness about the upcoming law and its purpose.
Single-use plastic bags cannot be recycled through the township's recycling program, so they are often sent to the Covanta incinerator in Newark to be burned alongside other household trash. When burned, plastic emits chemicals that can be harmful and potentially carcinogenic. With over 9.1 billion tons of plastic produced in the last 70 years, and less than 10 percent of that ever recycled, single-use plastic has become the target of many communities as they try to improve local environmental conditions.
Still, placing a ban on businesses is not the ideal solution, says David Massoni, owner of The Fox & Falcon.
"I think often times these policies fall on the backs of the small business owner," he said, "but if that's what it takes, I'm on board."
The restaurant has never used carry-out plastic bags and already supplies paper. But Massoni said the forthcoming law has encouraged his staff to go a step further and start asking customers whether they even want a bag before supplying one by default.
"In this time of everybody trying to be more eco-friendly, if they have a purse or backpack or some bag from their day's use, they can just take the carry-out container," he said.
The change comes after a similar law took effect in Maplewood this summer. Businesses there have adapted and customers are becoming used to bringing their own bags or carrying items out without a bag, said Ti Vaughn, store manager of the Kings Food Market on Maplewood Avenue.
"It's almost nonexistent, as if we never had the plastic at all," he said, adding that he believes a statewide ban on plastic bags is likely to follow. "I'm happy to be on the forefront of all this."
Gov. Phil Murphy vetoed a bill in August that would have placed fees on single-use, carry-out plastic and paper bags because he said it didn't go far enough. The state legislature is reportedly working on stricter legislation.
The list of municipalities that are taking matters into their own hands is growing, with bans either being considered or in effect in 59 towns. States like California that have statewide bans started in a similar manner, with smaller communities taking action first, Clarke noted.
"If enough towns do this, the state weighs in and that will have a much bigger impact," he said. "At the end of the day, the real thing that this hopefully does is make people aware of single use versus reuse appropriateness."
This story was produced in collaboration with the New Jersey Sustainability Reporting Hub project. It was originally reported by Ambreen Ali for VillageGreenNJ.com, and may be re-distributed through the Creative Commons License, with attribution.