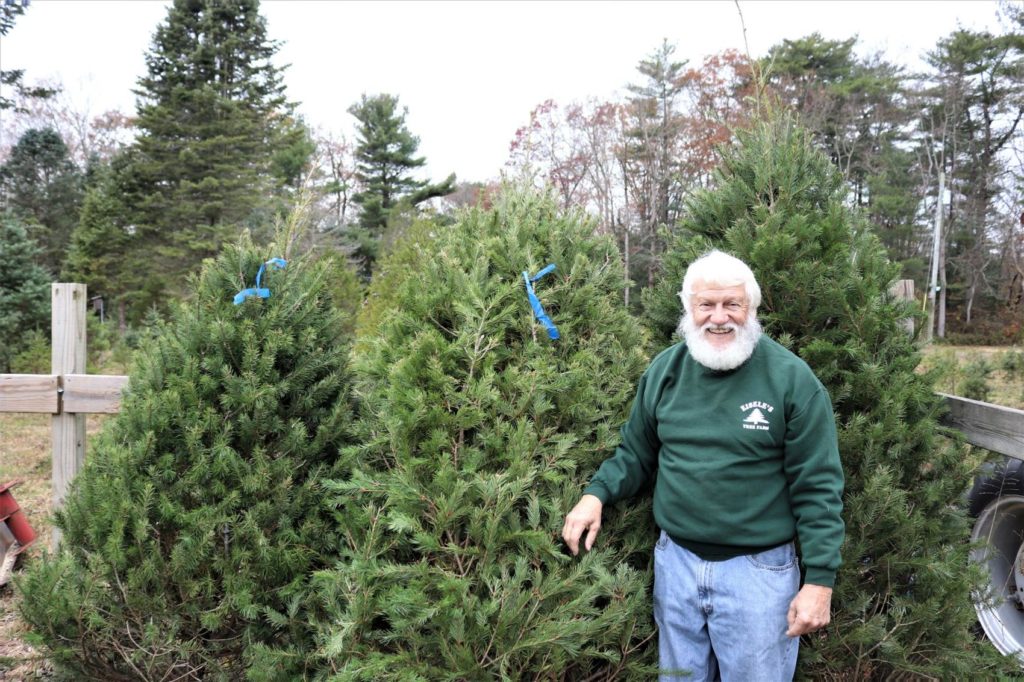 On an overcast, late-November morning, Bill Eisele walks among the young evergreen trees on his property in Upper Township. Eisele has honeybees and Christmas trees on his farm.
He planted the first of his trees in 1972. A couple of trees from that first year remain, but most of the trees growing on his property are only a few years old, too young to sell this year.
Getting ready for the December rush, he's brought in trees from other farms. He had several Douglas fir trees hit by a fungus, called needle cast, devastating his crop.
"We took 11 tons of branches to the landfill," he said.
He's getting away from Douglas firs, planting more white pine, Fraser firs, and Canaan fir trees, a dark green tree that resembles a Fraser fir. Eisele points out the smell. Crush some of the needles in your hand, and they release a bright, citrus smell resembling a tangerine.
Eisele avoids most pesticides on his trees – they're bad for his bees. The trees are considered a crop, he said. As in a forest, each tree soaks in groundwater, produces oxygen, and keeps carbon out of the atmosphere.
Eisele's beard, which has gone snow white since he planted those first trees 48 years ago, draws comparisons to Santa Claus.
The trees have helped preserve the land around his home.
"There are almost 6.5 acres that are preserved, and I have the bees there," he said.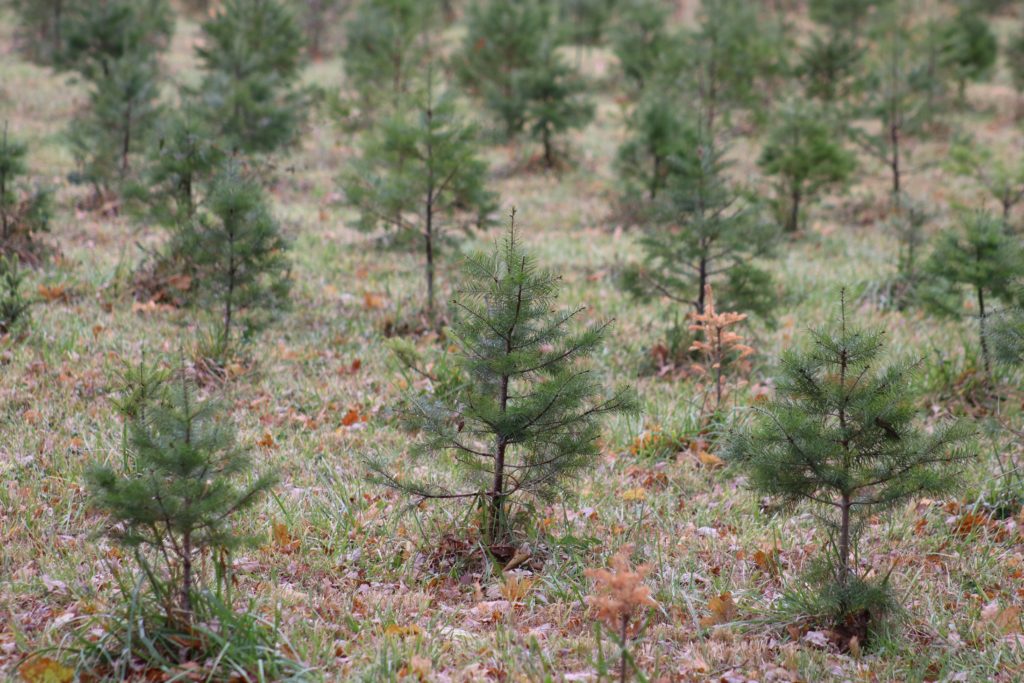 Searching for Real
There's a persistent family story about the year this reporter's mom invested in a shiny, pink, new aluminum tree for Christmas. As the story goes, my oldest sister took one look and ran to her room, refusing to come out until the monstrosity was removed.
Fact and fiction blend in family stories, and some elements may have been influenced by Lucy Van Pelt in "A Charlie Brown Christmas." Still, the household Christmas tradition through the 1970s meant retrieving the wood-and-plastic tree from the attic, and assembling it in the living room.
It may have been more convenient, but it always seemed somewhat sterile. Families on TV always seemed to have real trees, and what could be more authentic than television?
History, Fact, and Legend
The discussion has gone on longer than you may expect. Artificial Christmas trees have been around for more than a century, with trees made of goose feathers manufactured in Germany, in the 1880s, where many historians say the tradition of decorated Christmas trees started.
At least one author connects the invention with concerns about deforestation in Germany. Some raised similar concerns in the U.S., as the practice took hold.
Several sources say President Theodore Roosevelt did not approve of cutting trees for decoration, and declined to have one in the White House. A popular, if poorly sourced, story goes that his son, Archie, snuck one in, cut from the White House lawn in 1902, hiding it in a sewing room to be revealed on Christmas morning.
There had been some documented pushback against the introduction of Christmas trees, which gained popularity in the U.S. through the 1800s. Some argued against a German import, while a few conservative Christians disliked the pagan implications. There were also concerns about the impact on forests.
"Everything from a church to a saloon has to be decorated. The result is that the woods are being stripped and an altogether endless sacrifice is going on, not in obedience to any real need, but just to meet the calls of an absurd fad," reads the Hartford Courant, from 1902.
These days, most Christmas trees are grown for the purpose, but at one point, some worried about decimation of fir and spruce trees. In 1899, the Minneapolis Times suggested the invention of a wire tree that would be fireproof, and would last through the childhoods of a large family.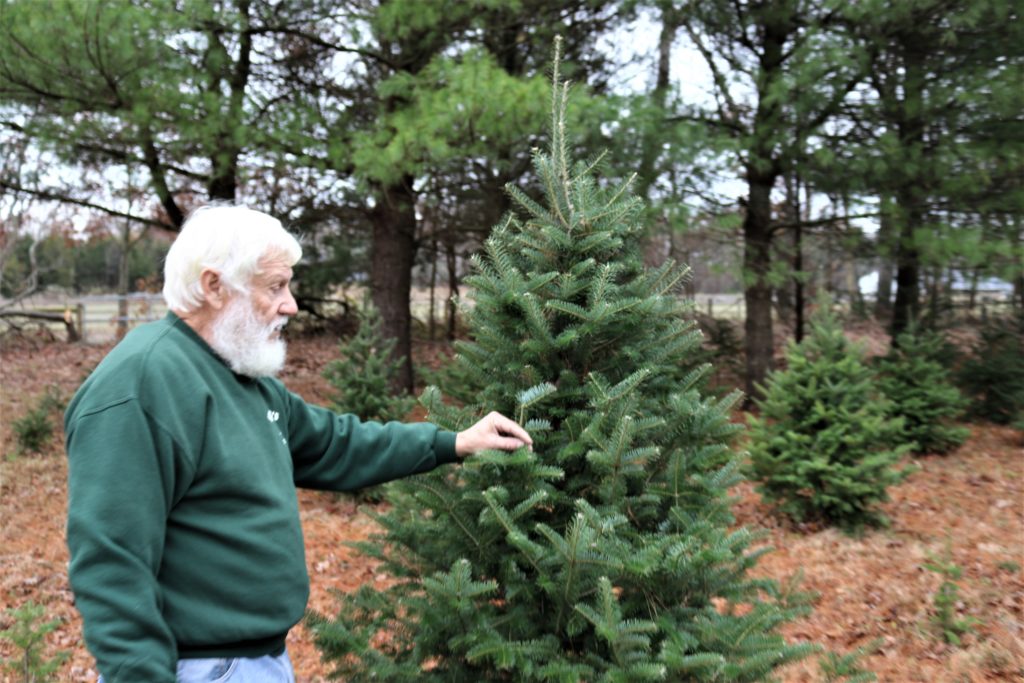 Green, if Kept
According to a study commissioned by the American Christmas Tree Association, Christmas trees have a negligible impact on the environment. The study suggests an artificial tree could be a more ecologically friendly choice, if you keep it long enough. The study looked at factors such as energy consumption over the long term.
"It concluded that if you keep your artificial tree for at least nine Christmases, it is a better choice than nine real trees," said Jami Warner, the executive director of the association.
"That's so not true," said Doug Hundley, of the National Christmas Tree Association, an organization of Christmas tree growers with a fundamentally different take on the issue.
Hundley describes himself as a science-based guy. He said common sense does not always work out to be true.
"In this case, common sense works," he said.
More than 80% of artificial trees sold in the U.S. are produced in China, and most are made with at least some plastic. While real trees are shipped around the nation each year, he argues that artificial trees have certainly come farther. Most of them will eventually end up in a landfill, no matter how many years they are kept.
Growing Concerns
While talking trees, Eisele plucks a praying mantis egg case off a branch, tossing it to the side where the thousands of tiny insects will hatch in the spring, helping control pests on the farm. Otherwise, after a few weeks in a warm house, they may have hatched inside.
In addition to needle cast, Eisele has to fend off bag worms and burrowing beetles. Trees grown in Pennsylvania have to be inspected for spotted lantern fly, a beautiful but invasive species running rampant in that state.
Reports are they have crossed the river this year, with warnings issued for those visiting Mercer, Hunterdon, and Warren counties to watch out for the insects hitchhiking on their vehicles.
According to Jeff Wolfe, a spokesman for the state Department of Agriculture, no spotted lanternfly eggs have been found on a New Jersey Christmas tree.
"Our growers are extremely vigilant in checking their trees," he said, adding that other issues have not had an impact on the Christmas tree crop statewide. Growers replace each tree cut with new saplings each year, he said, with the trees providing habitat for birds and other wildlife.
It takes about seven years for a tree to reach a salable size. In that time, they face dangers from drought, bugs, fungus, and more.
So far, climate change has not impacted the Christmas tree industry, Hundley said, "but it's certainly on our minds."
He grows trees in North Carolina, one of the biggest Christmas tree-producing states in the nation. They grow Douglas firs in the mountains above 2,500 feet.
"If you get below that, you can't grow them. If temperatures rise, we'll have to go farther up the mountain. Unfortunately, the higher you get, the steeper you get," he said.
Oregon is the biggest tree producer, growing about 30% of the nation's trees. Hundley's association likes to say that Christmas trees are grown in all 50 states, but very few come from the deep South or the Southwest.
More than 25 million trees are sold each year, shipped throughout the country.
According to Wolfe, New Jersey ranks number six in Christmas tree sales for the nation. He said Christmas trees are grown on 5,200 acres around the state, with more than 80,000 sold each year.
What Happens in January
In Cape May County, tons of Christmas trees are collected early each year, and chipped into garden mulch, which county residents can collect free each spring.
The program has been underway since 1989.
More recently, the total number of trees collected in the program has dropped. Linda Crumbock, recycling coordinator with the Cape May County Municipal Utilities Authority (CMCMUA), said this is due to a new demand for the trees at the Cape May County Zoo.
In early 2019, the zoo posted a video of a bison playing with a Christmas tree. According to zoo officials, bison and lions like the smell of the trees, and carry them around the enclosures. Other animals like the wind breaks made from trees by zookeepers, while goats and others eat the evergreens.
Beach communities have used Christmas trees as a means to fight erosion for decades. The bare trees block wind-blown sand to build dunes. Some towns have turned away from that idea, fearing the trees could cause property damage if they are blown by northeast winds or carried by strong waves.
Last year, some Cape May County trees fought erosion far from ocean beaches. New Jersey Audubon Society used Christmas trees to protect against erosion from surface runoff draining into the Salem River, in Salem County. The trees collect sediment carried by the water, eventually to be buried in mud, and requiring a new layer of trees.
For any of these uses, trees must be free of any decoration, hooks, or tinsel.
Trees of the Future
Tree growers look to millennials, who are starting families and beginning their traditions. Many grew up with artificial trees, Hundley said, but he sees a generation interested in local food and artisanal beverages as a good market for locally grown trees.
"I think millennials want to be environmentally friendly. They want to know where everything comes from," he said.
There are a few Christmas tree farms in Cape May County, but locally grown trees are getting difficult to come by, with growers bringing in pre-cut trees from out of the area to make sure they meet the demand.
According to the National Christmas Tree Association, 32.8 million real trees were purchased in 2018, with an average price of $78. That year, 23.6 million artificial trees were purchased, with an average price of $104 reported.
That group uses the term "fake tree," while the American Christmas Tree Association calls them "artificial." That organization suggests buying a real tree grown as close to your home as possible, and keeping artificial trees for at least six to nine years.
Statistics from the American Christmas Tree Association indicate 77% of American homes will display a tree. Of those, 82% have been manufactured, 17.9% grown. More than 95 million households in the U.S. displayed a tree last Christmas.
An informal poll around the Thanksgiving table showed some family members choosing artificial trees to avoid the dropped needles of a real tree, while the real tree supporters liked the sense of tradition and the smell.
A Neilson survey found Americans will spend $984 million on real trees in a year, and even more on artificial trees, coming in at more than $1 billion.
Warner said her group is pro-Christmas tree, of any sort. She argues that one can have a bigger impact on their climate footprint by not driving for a day, or skipping a flight than in forgoing a tree this year.
"Christmas is supposed to be fun," she said.
In addition to growing trees for decades, Eisele has a degree in forestry management, and has worked for the state Department of Agriculture. He does not doubt that real trees are better for the world.
"There is no reason anyone should have an artificial tree," he said, unless they are allergic. Even then, he suggested giving a white pine a try.
To contact Bill Barlow, email bbarlow@cmcherald.com.
This story was produced in collaboration with the New Jersey Sustainability Reporting Hub project. It was originally reported by Bill Barlow for the Cape May County Herald, and may be re-distributed through the Creative Commons License, with attribution.