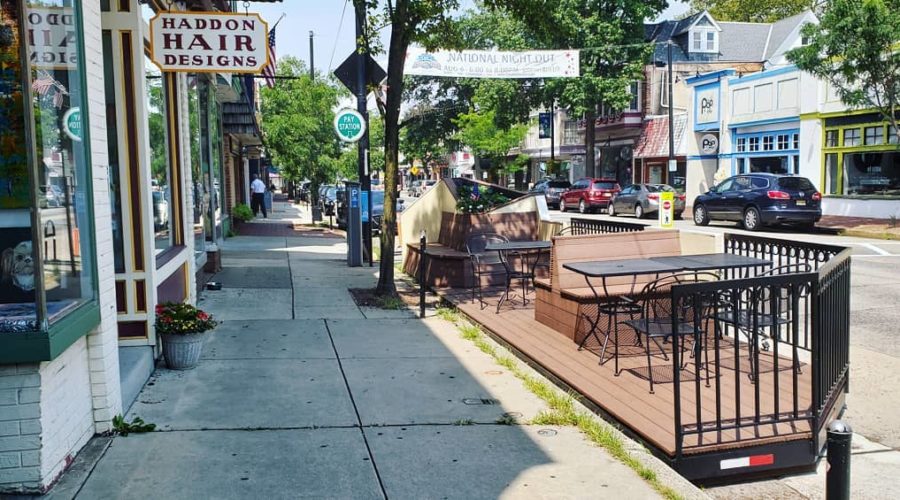 With Connect 2020, Collingswood and Haddon Township are gathering public feedback to determine how to facilitate biking and walking between the two towns.
Collingswood and Haddon Township are linked by Haddon Avenue, a bustling corridor that runs through South Jersey. But in 2020, the two towns are going to become even more connected—as well as more cyclist- and pedestrian-friendly.
Through its Transportation and Community Development Initiative (TCDI), The Delaware Valley Regional Planning Commission (DVRPC) recently gifted $72,000 to Collingswood and Haddon Township to add and improve infrastructure that will make multi-modal travel between the neighboring towns safer and more seamless than ever.
The project is dubbed Connect 2020: the Collingswood and Haddon Township Bike & Pedestrian Master Plan. The project team includes the municipalities of Collingswood and Haddon Township, as well as private marketing and design firms.
"There is certainly a lot of flow between the two towns as far as customers and people going to and from work, enjoying our different districts," Borough of Collingswood spokesperson Cass Duffey said. "So, it makes a lot of sense to improve connectivity within our municipalities, but even more so, to make it easier to move between the two towns."
The goal isn't just to connect Collingswood and Haddon Township—it's also to connect residents to resources like public transit, parks, and trails by making them easier to access by foot or by bike. That means adding features like protected bike lanes, traffic circles, crosswalks, curb extensions (also known as "bump-outs") and more. Those features could go a long way in terms of increasing visibility and preventing collisions with cars—which can be fatal. In 2019, 179 pedestrians and 12 cyclists died in motor vehicle crashes in New Jersey, according to a state police report.
"We've had a pretty successful history in limited accidents with pedestrians," Commissioner Ryan Linhart of Haddon Township said. "But there are enough [accidents] to warrant improvements."
Involving the Community in Connect 2020 Plans
Connect 2020 is still in its first stage: gathering feedback. According to Duffey, community input is essential as the project team develops a vision for which features to add and where to implement them. The public is encouraged to answer an online survey and add comments to this interactive map, identifying existing features—or a lack thereof—that either help or hinder their day-to-day routes.
Residents, business owners and other stakeholders will also have a chance to offer their opinions at two upcoming community meetings: the first is on January 22 at the Collingswood Senior Community Center, and the second is on January 25 at the Haddon Township Municipal Building.
With a dense downtown and thriving shopping district, Collingswood is already a walkable town. But according to the feedback residents have offered so far, there is still plenty of room for improvement—especially to Haddon Avenue, the main thoroughfare between Collingswood and Haddon Township.
"Wish there were stop signs/lights on Haddon," one user commented on the interactive map. "It's a nightmare trying to cross Haddon to get to and from the PATCO. The green paint is an improvement, but cars always blast through this area."
Linhart admits that he and his family have trouble crossing the busy street, as well.
"I hate to say it, but there is no completely safe way to cross the intersections at Park and then the intersection at Cusper," he said.
While safety and connectivity are the project's primary goals, there are other, indirect perks of improved infrastructure. Encouraging walking, running, and biking can increase a community's physical activity levels and thus boost its overall health and wellbeing—and could also decrease dependency on cars.
"There are tertiary benefits, like environmental impact and reducing our carbon footprint," Linhart said.
If you live, work or shop in Collingswood or Haddon Township and would like to offer your input to the Connect 2020 plan, you can fill out this survey, comment on this interactive map or attend the two public stakeholder meetings.
This story was produced in collaboration with the New Jersey Sustainability Reporting Hub project. It was originally reported by Brianna Baker for Green Philly, and may be re-distributed through the Creative Commons License, with attribution.