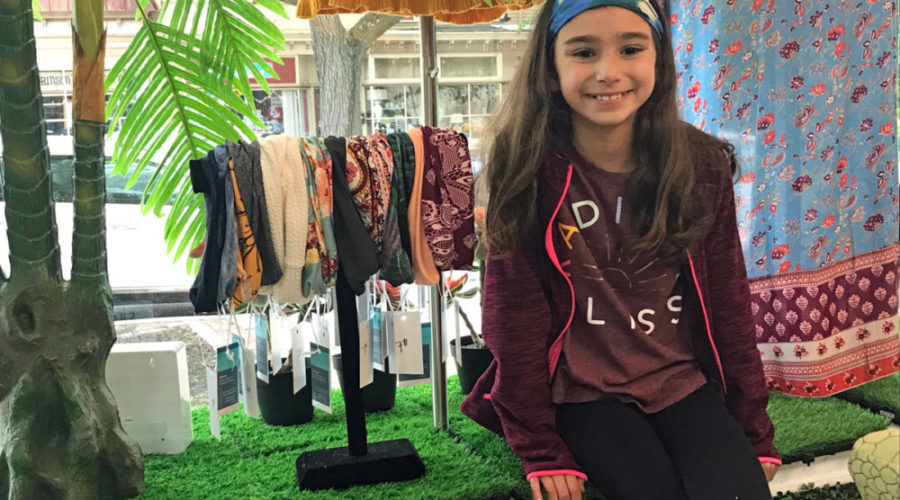 Jersey's own Olivia Bellace runs an eco-conscious business, organizes climate strikes and gives presentations on plastic pollution–all while attending fifth grade.
11-year-old Olivia Bellace of Haddonfield, NJ has a lot on her plate. Between math homework and field hockey practice, the young environmental activist is busy doing what world leaders are failing to: saving the planet.
"It's turning out that the kids are actually stronger than the adults," Olivia said. "And that's kind of weird."
A fifth-grader at Central Elementary School, Olivia has already established herself as an eco-conscious entrepreneur. Since June 2018, she's been making and selling colorful knit headbands as part of her small business, ORB Designs. Inspired by companies like 4ocean, which sells bracelets to fund ocean plastic cleanups, Olivia donates a portion of her profits to the ocean conservation campaign Mission Blue. She's sold headbands at town festivals, farmers' markets and SHOP, a boutique in Haddonfield.
Reaching for global goals at the local level
"No one's gonna do anything about it unless you do."

John Bellace
And while she has her sights set on global change, the origins of Olivia's activism are local. According to her parents, Olivia used to complain about the litter in Knight Park, which is located across from the family's former home in Collingswood, NJ.
"After soccer games and little league games, she was noticing the bottles laying around, trash getting blown around," John, her father, explained. "And we said, 'No one's gonna do anything about it unless you do.'"
The family began taking trips to the park to pick up trash. Around the same time, Olivia was tearing through books and documentaries about oceanographer Sylvia Earle, the founder of Mission Blue. Earle has fought to create a worldwide network of preserved areas, called Hope Spots, in which valuable marine life is protected from commercial fishing, deep-sea mining, dumping, and other exploitative activities.
Inspired by Earle's efforts, Olivia decided to make a slideshow presentation about plastic pollution and its effects on marine life. She showed it to her fourth-grade teachers, who then shared it with the school principal. The principal asked her to present the slideshow at the school's monthly assembly, and two months later, Olivia was invited to give the presentation at the nearby Elizabeth Haddon Elementary School.
"There were an easy 100 parents in the audience for that one who asked her questions and she responded very articulately," Olivia's mother, Jaime, said.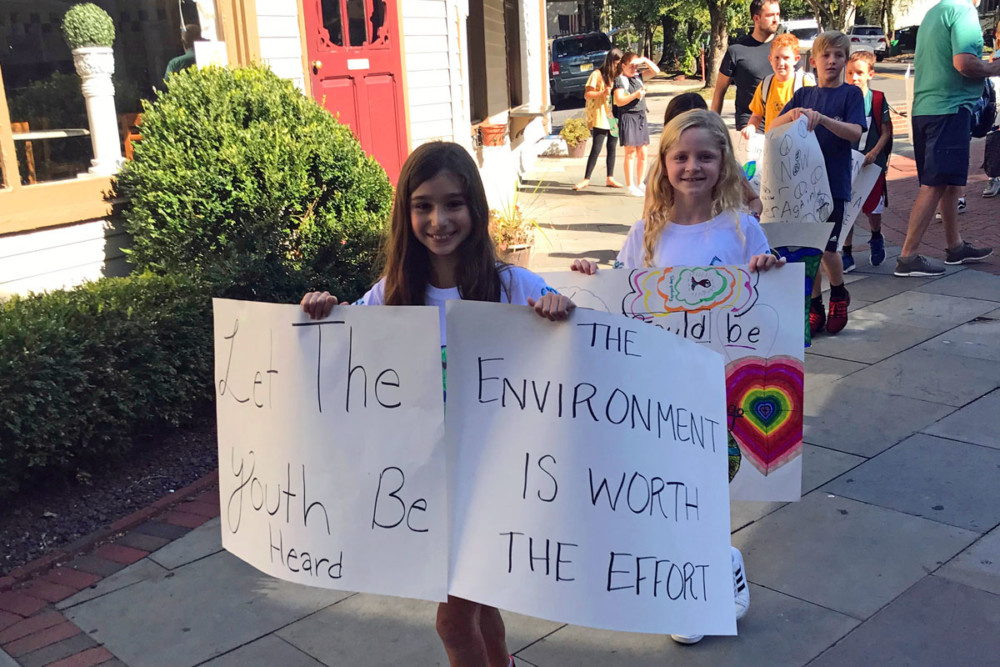 "It's turning out that the kids are actually stronger than the adults. And that's kind of weird."– Olivia Bellace
Last spring, Olivia built on that momentum by encouraging her classmates to participate in Students Rebuild: The Ocean Challenge. Students Rebuild is a project by the Bezos Family Foundation that encourages teams of K-12 students to make artwork in order to raise awareness and funds for a different global cause every year.
Last year, the cause was ocean conservation, and students were tasked with constructing sculptures of sea creatures out of recycled trash. For every photograph of a sculpture submitted to the challenge site, the Bezos Family Foundation donated $2 to community-based programs focused on educating coastal communities about ocean conservation and coral restoration.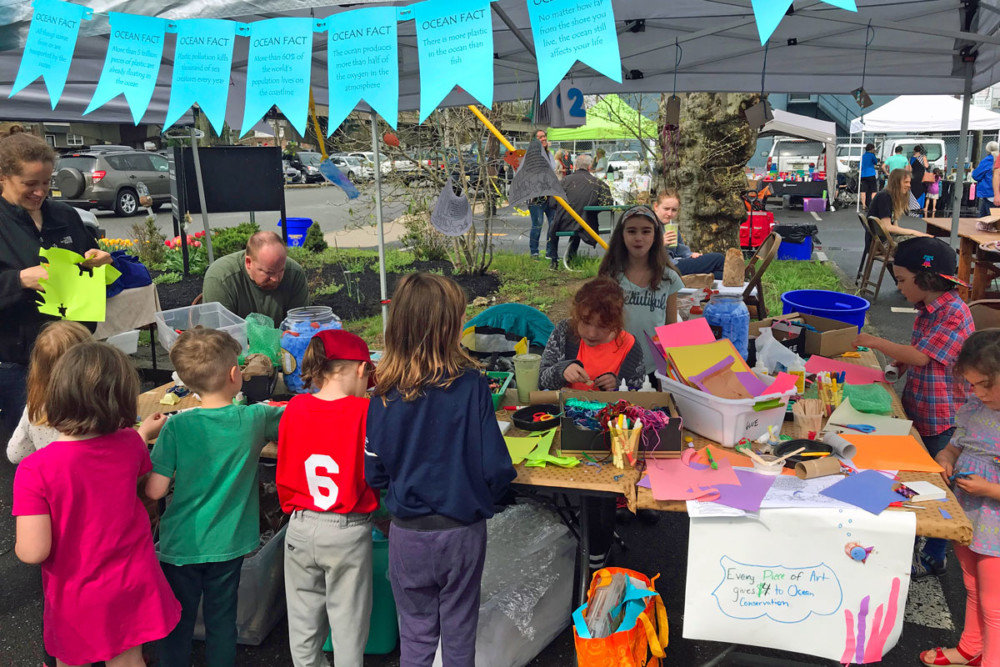 Olivia jumped at the opportunity and signed up to run a booth at the 2019 Collingswood Green Festival on April 13. She gathered a team of students, in collaboration with Mark Newbie Elementary School's Green Team, and recruited festival attendees to pitch in. All in all, the team produced 267 works of art and raised $828.
Setting her sights on solving the climate crisis
"The kids realize that if we can change the course of all this, then Earth will last."

Olivia Bellace
And while Olivia, an aspiring oceanographer, focuses much of her efforts on protecting marine life and water quality, she also has her sights set on another issue: the climate crisis. She cites Greta Thunberg as one of her heroes, next to Earle.
"She's only 16," Olivia said of Thunberg. "And she's probably stronger than the president."
Last September, Olivia organized Haddonfield's own Climate Strike, as part of Thunberg's FridaysforFuture campaign, with around 30 participants. She plans to organize another strike in the spring.
Next on the agenda: presenting her slideshow on plastic pollution to J. Fithian Tatem Elementary School, another school in her hometown. Her own school's environmental club is also working on an advocacy campaign to push a plastic bag ban in Haddonfield.
It seems her efforts are having an effect on her peers. Olivia said that her friends are often eager to help with her projects, and after she gives presentations, many of her classmates asked her questions. She even noticed her classmates choosing not to use plastic straws at lunch.
"Some kids even made their own posters and stuck them in the cafeteria: 'Don't use the plastic straws for the turtles!'" Olivia said.
According to Olivia, it's no surprise that her passion for environmentalism is shared by others in her generation.
"The kids realize that if we can change the course of all this, then Earth will last," she said.
This story was produced in collaboration with the New Jersey Sustainability Reporting Hub project. It was originally reported by Brianna Baker for Green Philly, and may be re-distributed through the Creative Commons License, with attribution.