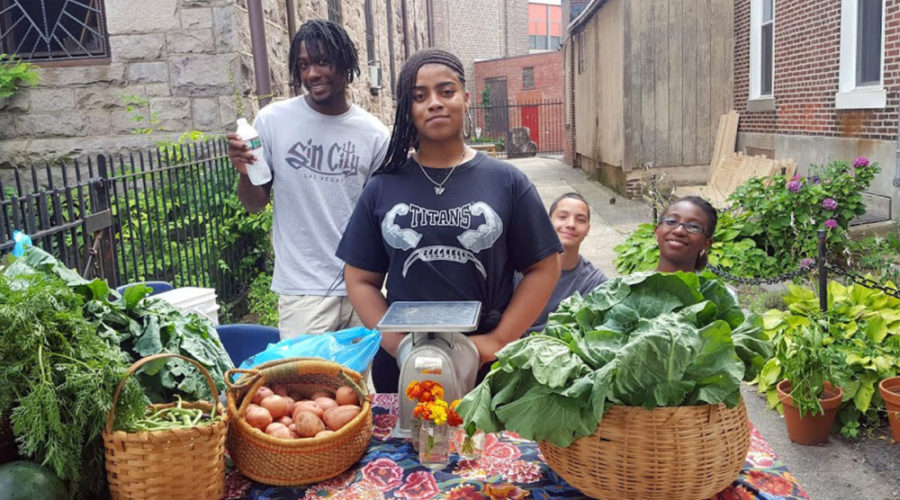 Through the Center for Environmental Transformation, these teens make and sell Kapow! Hot Sauce from peppers they grow in urban gardens, gaining marketable skills and learning about food ecology.
Recently, the teenage "Eco Interns" at Camden's Center for Environmental Transformation (CFET) gathered for an unusual mission: taste-testing hot peppers.
"It was a somewhat brutal experience," Jon Compton, CFET'S program director, said. "There were tears shed. And I thought that was hilarious."
The interns were perfecting the recipe for Kapow! Hot Sauce, a product that CFET's youth has been churning out since 2015. CFET, an environmental education non-profit, runs a summer job-training program, called Eco Interns, for young people aged 14 to 19. Interns are paid a competitive wage to work in CFET's five urban gardens, located throughout the Waterfront South neighborhood, and run the organization's weekly farmers' market at Ferry Avenue and Broadway.
"It was a somewhat brutal experience."

Jon Compton, CFET Program Director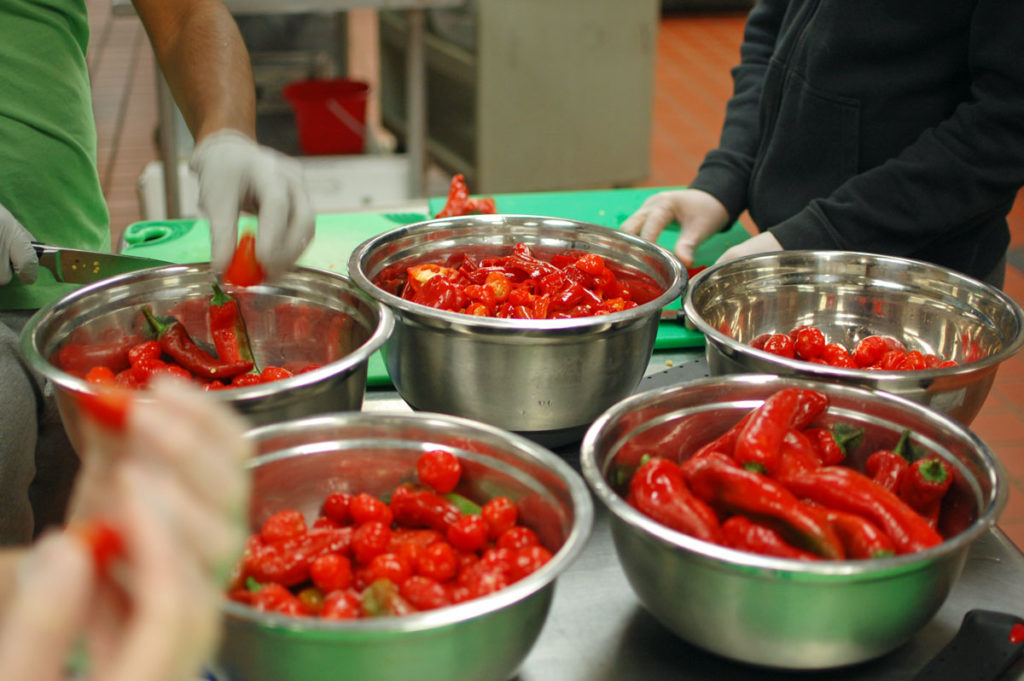 CFET relies heavily on grant funding to support its youth programming. That's where Kapow! comes in—by making and selling the sauce from peppers they grew in CFET's gardens, youth leaders are diversifying the organization's revenue stream while also gaining marketable skills and learning about food sources.
Kapow! Teaching Business Skills with a Kick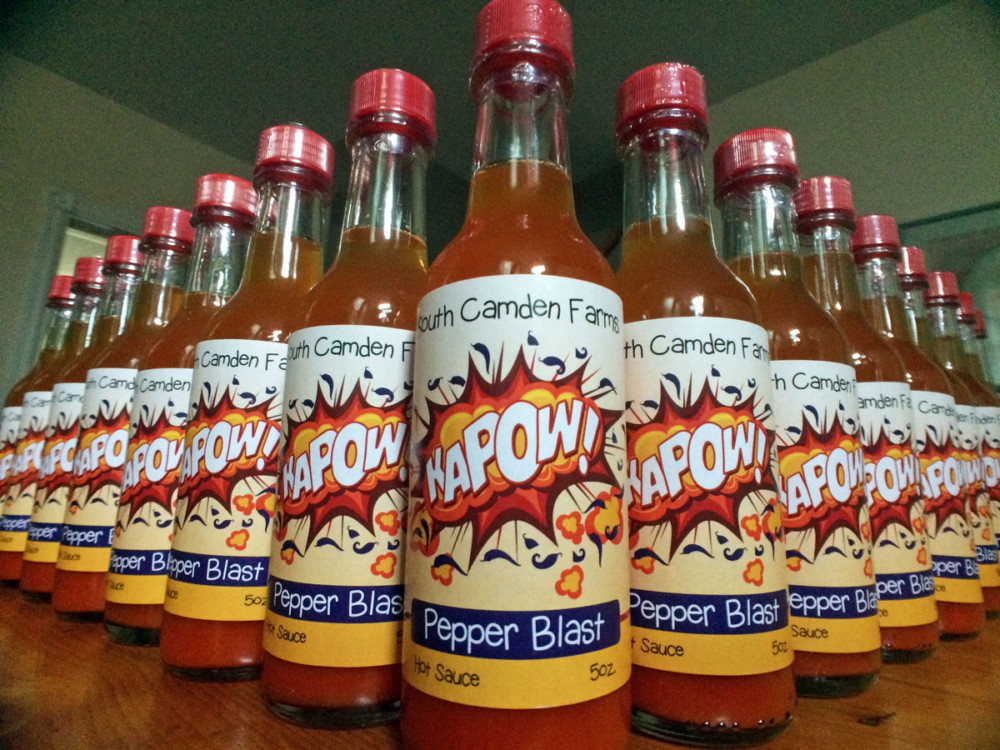 Five years in, Kapow! is barely breaking even. It's a small-scale operation, but according to Compton, CFET is developing plans to expand it. The organization primarily sells the sauce at its farmers' market and community events but hopes to sell to local restaurants, as well. It's currently in talks with potential business partners.
The interns are also brainstorming marketing strategies and experimenting with ways to cut down production costs, hence the taste testing. By sampling spicy peppers, they narrowed down the sauce ingredients to the three best varieties and successfully created a streamlined version of Kapow! According to Compton, it's the tastiest iteration yet.
"We reduced the amount of time that it took to make the hot sauce by at least half," Compton added. "And then we found different sources for our bottles that were much cheaper. So, we're working on profitability for the future."
It's all part of the leadership development aspect of Kapow! Through the business, CFET teaches interns to calculate expenses, make a budget, and project sales and profits. The teens also gain soft skills, like project management. That's especially important in Camden, where employment opportunities are scarce and more than a third of residents live in poverty.
Teaching leadership by bottling sauce
Adrian Peralta, 17, is a senior at Pennsauken Tech high school and a Youth Leader at CFET, meaning he passed through the Eco Interns program and currently helps run its summer programming. He also makes Kapow! Hot Sauce. According to Peralta, working in a team is the most valuable skill he's gained from the program so far.
"You are relying on the person next to you to because it is a big task," he said. "You really want to have somebody next to you that's on the same page and is doing everything you're supposed to do in order to get the test done in the time that we have because we don't have that much time."
Brittani Nester Morgan, CFET's Youth Wellness Coordinator, helps run the Eco Interns program and Kapow! Though CFET can't point to specific examples of past interns who've leveraged Kapow! into an employment opportunity, Nester Morgan said many participants go on to attend college. There are other benefits, too.
"Across the board, I've seen confidence grow a lot in students that were a little bit more shy," she said. "They really step out and engage more, insert themselves more."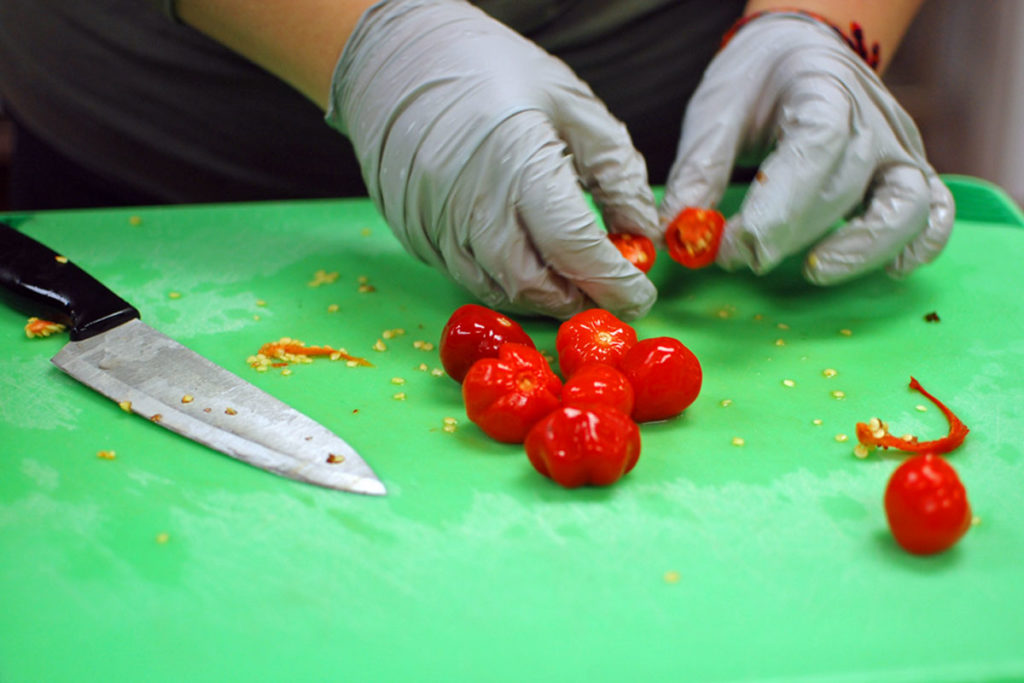 "I really love the relationships that we all build and the way that we can joke around."

Nestor Morgan
Plus, by growing hot peppers and other crops throughout the summer, interns learn essential lessons about food ecology and urban agriculture. Waterfront South and many other Camden neighborhoods are food deserts—areas without access to affordable, fresh produce. To help combat this, CFET's programs teach interns to grow their own food. The organization also lets interns take home as much free produce as they want.
And while Kapow! and CFET's youth programming call attention to vital environmental and social issues, they also serve as opportunities for teens to bond, support one another and have a blast.
"I really love the relationships that we all build and the way that we can joke around," Nester Morgan said. "You can have really good, healing interactions with them by doing things like gardening and making hot sauce and having conversations. It's just fun."
This story was produced in collaboration with the New Jersey Sustainability Reporting Hub project. It was originally reported by Brianna Baker for Green Philly, and may be re-distributed through the Creative Commons License, with attribution.