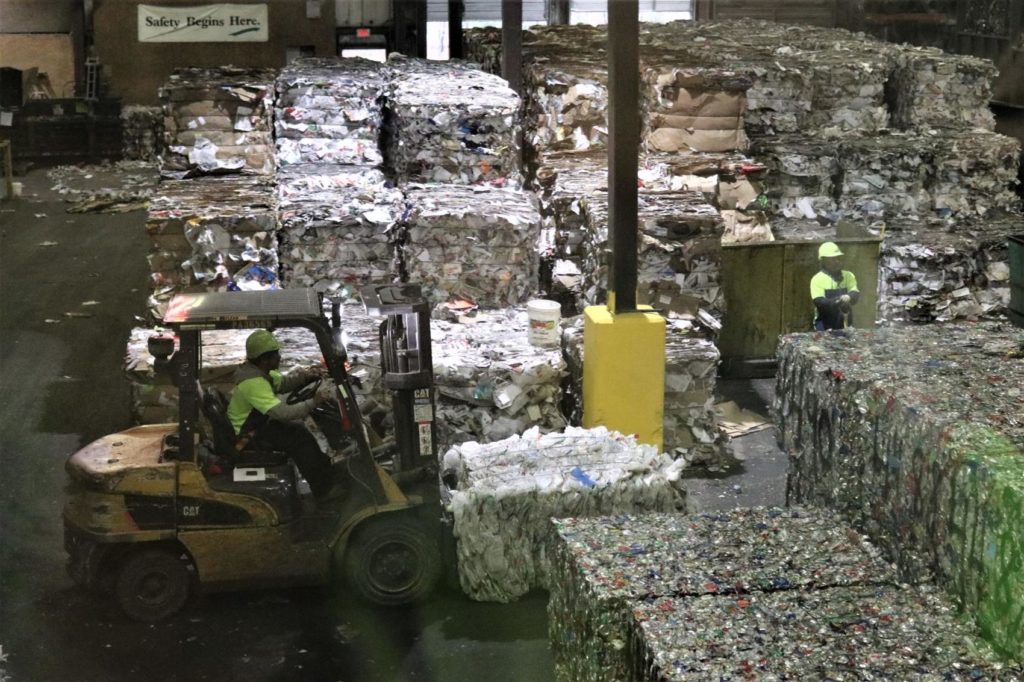 The idea was simple and inviting. All those shampoo bottles, takeout containers and shopping bags could become new consumer goods.
The complicated collection of manufactured materials called plastics is relatively cheap to create, impervious to water, endlessly moldable and imbued with almost any characteristic. Polymers can be created with far more rigidity or plasticity, the attribute from which plastics get their name, than any natural material, and can be shaped in any way chosen.
Plastics have their roots in the 19th century, but went from a novelty to ubiquity in the 20th century, with mass production gaining ground during and after World War II.
There have been critics of recycling since its introduction. In 1996, John Tierney argued that the costs outweighed the benefits, an argument he reiterated in a 2015 New York Times opinion piece.
Recently, Tala Schlossberg and Nayeema Raza created a video for The New York Times, in December 2019, calling recycling a con, suggesting it makes Americans feel better about using plastic, but has little environmental benefit.
After wishful recycling, one of the biggest problems for Cape May County is food residue and other contaminants left in the recycled containers, according to Lyn Crumbock, Cape May County's recycling coordinator.
The Cape May County Municipal Utilities Authority (CMCMUA) has produced radio and television commercials aimed at educating residents and visitors about what can be recycled, and presents detailed information at http://bit.ly/SingleStreamRecycling. There's also a link there to a video, produced by Vox, on why people are recycling wrong, and a detailed list of materials eligible for single-stream recycling.
Single-stream Process
Crumbock and John Conturo, the CMCMUA's solid waste program manager, are on a walkway between two halves of the county's recycling facility, expanded years ago to accommodate the single-stream process aimed at making recycling easier for residents and visitors.
At the curb, aluminum, plastic, paper and glass go into one, big, blue container. Here, they get separated again. The material is loaded onto a huge conveyer belt.
Much of the process is automated and straightforward. Magnets pull the steel cans from the line. A screen breaks up the glass bottles. Some items get pulled out by hand.
A lot of the work comes down to product recognition, Crumbock said. That means when a new product comes on the market, like a new brand of juice, the crews have to be educated about what sort of plastic it uses.
Most plastic containers are imprinted with a recycling code, including a number in a triangle of arrows. Each number refers to a different type of plastic.
Cape May County accepts numbers one through seven in its curbside collection. It can't recycle plastic foam containers, like polystyrene egg cartons.
Little plastic gets recycled. Environmental Protection Agency (EPA) figures over the past several years estimate less than 10% gets recycled, with plastics making up more than 19% of the trash landfilled around the nation.
Different Materials, Different Markets
Through a clouded window, on the floor below the walkway of the county's recycling facility, crews handle the result of the separation process. Towering bales of paper, compacted aluminum and various sorts of plastic fill the cavernous room.
Aluminum cans have the most direct process. The metal is melted down to become new products. Plastics don't work that way.
"The materials that leave here don't go directly to a manufacturer," Crumbock said. They go to a facility that sanitizes the plastic bottles, removes the labels and any product residue, shreds them and turns the materials into pellets.
"Honestly, it looks like rabbit food when you see it," she said. It's those pellets that go on to make new products, from plastic lumber to polyester. Various types of plastic material are better suited to the process, which means the products have different values.
For instance, EPA statistics show high-density polyethylene(HDPE), the kind of plastic listed with a two that's common in shampoo bottles, had a recycling rate of over 30% in 2017.
The microwavable tray or the clamshell containers often used in takeout? Crumbock said it's tough to find anyone to take those right now.
"It's still being separated here and stored. It can't be landfilled, because it's in your plan, and New Jersey says what's in your plan. These materials have to be recycled," she said. When a market can't be found right away, they're still separated and stored.
Plastic foam, known as polystyrene, and often referred to by the brand name Styrofoam, can't be recycled in the county's program. It's trash, and could last between 50 to 500,000 years in the landfill, depending on which source is to be believed.
Glass is one of the easiest materials to recycle, according to multiple sources. Bottles can be smashed, melted and turned into new bottles, with no loss of quality.
Glass recycling was a $2.5 billion industry in 2018, according to the organization Global Market Insights, but only about a third of the glass waste in the U.S. gets recycled, compared to much higher numbers in other countries.
Also, it can be tough to find a market for the glass collected in a single-stream facility. Crumbock said the main use for the glass collected in Cape May County is as a top layer for the county landfill.
Educating Consumers
Those huge bales of material have to meet a number of specifications before they can be accepted by a recycling firm. The size and shape have to be consistent for shipping, Crumbock said, and a tiny amount of another kind of material is seen as contamination.
In the mixed paper, she said, there can be no more than half of a percent of the tonnage that is the residue of other materials.
"If it exceeds that, if it gets all the way to a port, say it goes overseas, that's a reject, a very costly reject," Crumbock said.
She continued that the biggest problem is what people add to the single-stream process, especially plastic grocery bags.
"Yes, we have an enormous plastic bag problem," Crumbock said. People either fill them with cans and bottles or try to recycle them, as part of the single-stream system. At the site, they get tangled in the machinery, accumulate on the floor and cause other problems.
The bags can be recycled and are collected at supermarkets around the county, but are nothing but a problem at the single-stream facility.
Crumbock described "wishful recycling" as a big problem for the system. People want to do the right thing, and put anything that seems recyclable into the system. That's included brake pads from a vehicle, sneakers, clothing, pots and pans, even a bowling ball. Brake pads have damaged equipment three times in the past few years.
"I didn't just make that up," she said. "In the past two years, we've had equipment shutdowns because it wasn't picked out of the first quality control room."
People know materials can be recycled, they just don't know how.
On a recent tour of the landfill, Conturo showed off towering stacks of wooden pallets, and then the larger mounds of mulch it was destined to become. An after-Christmas rush was expected to add multiple Christmas trees to the mulchable materials.
The MUA can recycle scrap metal, electronics and more, even used tires, just not through the single-stream system.
"We have loads of other recycling programs. It just can't come through curbside collection through this facility. We have other places where they can drop it off," said Conturo. "I think there's a lot of misunderstanding there. They think single stream means everything and it doesn't."
The county launched education campaigns, reaching out to summer visitors and residents about the curbside program. An effort in the schools has kids collecting plastic bags for recycling, getting them in the system and teaching the students, and by extension, their families, that plastic bags don't go in the blue bin.
"Lyn's (Crumbock) doing an excellent job in educating people what can be recycled here," Conturo said.
"The biggest deterrent to this working is what's coming into us. If every municipality would work with their residents and know the single-stream recycling for Cape May County, it would help us immensely. It's just bottles, jugs, jars and containers, made of plastic, aluminum, steel or glass, mixed paper and cardboard," Crumbock said.
Don't let the paper get wet because it will be useless, she continued.
"We all want to recycle. We all want to do the right thing," she added.
To contact Bill Barlow, email bbarlow@cmcherald.com.
This story was produced in collaboration with the New Jersey Sustainability Reporting Hub project. It was originally reported by Bill Barlow for the Cape May County Herald, and may be re-distributed through the Creative Commons License, with attribution.