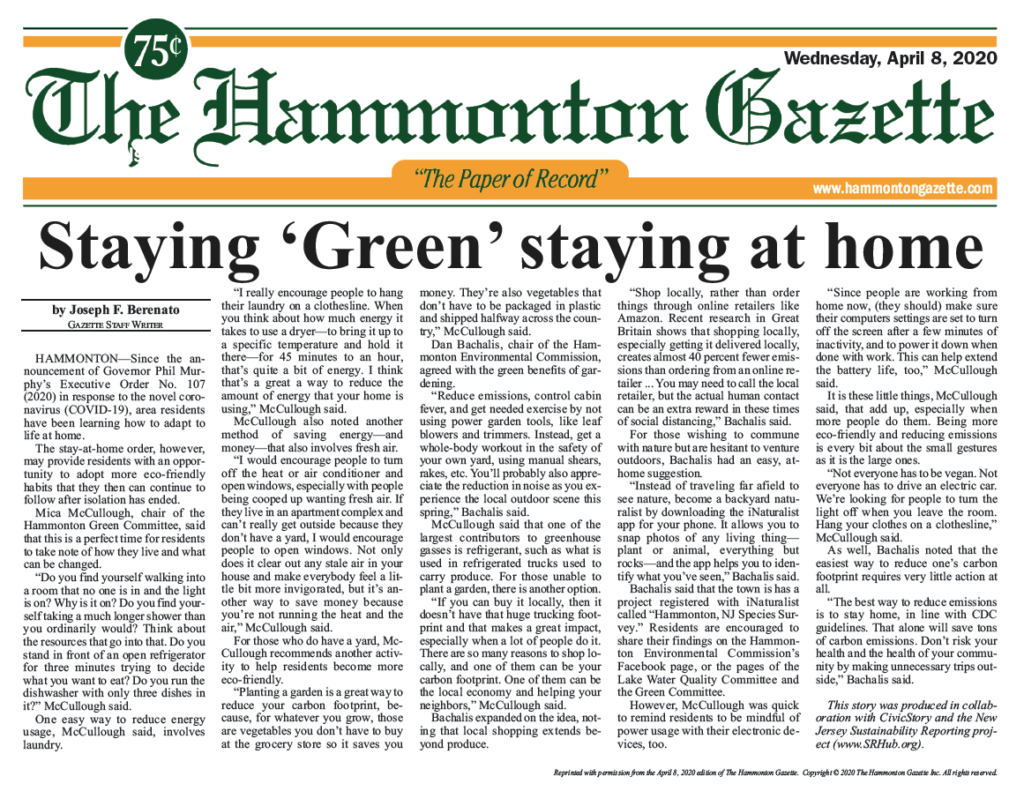 HAMMONTON—Since the announcement of Governor Phil Murphy's Executive Order No. 107 (2020) in response to the novel coronavirus (COVID-19), area residents have been learning how to adapt to life at home.
The stay-at-home order, however, may provide residents with an opportunity to adopt more eco-friendly habits that they then can continue to follow after isolation has ended.
Mica McCullough, chair of the Hammonton Green Committee, said that this is a perfect time for residents to take note of how they live and what can be changed.
"Do you find yourself walking into a room that no one is in and the light is on? Why is it on? Do you find yourself taking a much longer shower than you ordinarily would? Think about the resources that go into that. Do you stand in front of an open refrigerator for three minutes trying to decide what you want to eat? Do you run the dishwasher with only three dishes in it?" McCullough said.
One easy way to reduce energy usage, McCullough said, involves laundry.
"I really encourage people to hang their laundry on a clothesline. When you think about how much energy it takes to use a dryer—to bring it up to a specific temperature and hold it there—for 45 minutes to an hour, that's quite a bit of energy. I think that's a great a way to reduce the amount of energy that your home is using," McCullough said.
McCullough also noted another method of saving energy—and money—that also involves fresh air.
"I would encourage people to turn off the heat or air conditioner and open windows, especially with people being cooped up wanting fresh air. If they live in an apartment complex and can't really get outside because they don't have a yard, I would encourage people to open windows. Not only does it clear out any stale air in your house and make everybody feel a little bit more invigorated, but it's another way to save money because you're not running the heat and the air," McCullough said.
For those who do have a yard, McCullough recommends another activity to help residents become more eco-friendly.
"Planting a garden is a great way to reduce your carbon footprint, because, for whatever you grow, those are vegetables you don't have to buy at the grocery store so it saves you money. They're also vegetables that don't have to be packaged in plastic and shipped halfway across the country," McCullough said.
Dan Bachalis, chair of the Hammonton Environmental Commission, agreed with the green benefits of gardening.
"Reduce emissions, control cabin fever, and get needed exercise by not using power garden tools, like leaf blowers and trimmers. Instead, get a whole-body workout in the safety of your own yard, using manual shears, rakes, etc. You'll probably also appreciate the reduction in noise as you experience the local outdoor scene this spring," Bachalis said.
McCullough said that one of the largest contributors to greenhouse gasses is refrigerant, such as what is used in refrigerated trucks used to carry produce. For those unable to plant a garden, there is another option.
"If you can buy it locally, then it doesn't have that huge trucking footprint and that makes a great impact, especially when a lot of people do it.
There are so many reasons to shop locally, and one of them can be your carbon footprint. One of them can be the local economy and helping your neighbors," McCullough said.
Bachalis expanded on the idea, noting that local shopping extends beyond produce.
"Shop locally, rather than order things through online retailers like Amazon. Recent research in Great Britain shows that shopping locally, especially getting it delivered locally, creates almost 40 percent fewer emissions than ordering from an online retailer… You may need to call the local retailer, but the actual human contact can be an extra reward in these times of social distancing," Bachalis said.
For those wishing to commune with nature but are hesitant to venture outdoors, Bachalis had an easy, at home suggestion.
"Instead of traveling far afield to see nature, become a backyard naturalist by downloading the iNaturalist app for your phone. It allows you to snap photos of any living thing—plant or animal, everything but rocks—and the app helps you to identify what you've seen," Bachalis said.
Bachalis said that the town is has a project registered with iNaturalist called "Hammonton, NJ Species Survey." Residents are encouraged to share their findings on the Hammonton Environmental Commission's Facebook page, or the pages of the Lake Water Quality Committee and the Green Committee.
However, McCullough was quick to remind residents to be mindful of power usage with their electronic devices, too.
"Since people are working from home now, (they should) make sure their computers settings are set to turn off the screen after a few minutes of inactivity, and to power it down when done with work. This can help extend the battery life, too," McCullough said.
It is these little things, McCullough said, that add up, especially when more people do them. Being more eco-friendly and reducing emissions is every bit about the small gestures as it is the large ones.
"Not everyone has to be vegan. Not everyone has to drive an electric car. We're looking for people to turn the light off when you leave the room. Hang your clothes on a clothesline," McCullough said.
As well, Bachalis noted that the easiest way to reduce one's carbon footprint requires very little action at all.
"The best way to reduce emissions is to stay home, in line with CDC guidelines. That alone will save tons of carbon emissions. Don't risk your health and the health of your community by making unnecessary trips outside," Bachalis said.
This story was produced in collaboration with CivicStory and the New Jersey Sustainability Reporting project. It was originally reported by Joseph F. Berenato for The Hammonton Gazette, and may be re-distributed through the Creative Commons License, with attribution.