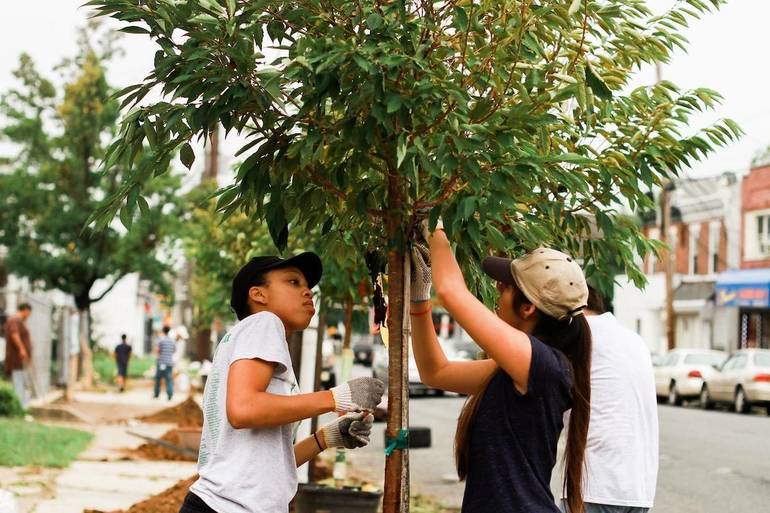 CAMDEN, NJ — By now, fiery orange persimmons and equally radiant deep-pink cherry trees would be offering welcome juxtapositions to Camden's cityscapes.
"150 give or take a tree," program coordinator of the NJ Trees Foundation, Meredith Brown, told TAPinto Camden.
More than 80 species of trees would ordinarily be in the ground or in the process of being planted by mid-April, the start of Camden's planting season.
Brown said the date unceremoniously came and went this year because of rules against crowds gathering. Instead, annual plans to plant — as part of a larger mission to "reforest" the city — are currently set for this fall.
The non-profit's leader said she was saddened shovels couldn't hit soil on time. But with county parks opening last Saturday, there's reason to hope for enough progress over the next few months to make the group's plight possible.
A trip to Gateway Park may be in order some time soon, Brown said.
Despite being fond of all parks in Camden, she said she particularly likes Gateway — which straddles Pennsauken Township and Camden.
"Once the site of gas stations and contamination, Gateway Park has since been transformed into a beautiful place where people can hike, bike, and enjoy nature," Brown said.
Just there, over 150 trees have been planted in the past two years with the help of groups like the NJ Conservation Foundation and the Camden County Municipal Utilities Authority.
Seeds to grow community
Park grounds aren't the only places that have benefited from the tree initiatives though.
Brown said that part of the more than 7,000 tree plantings in the city since 2002 have taken place in neighborhoods with the help of over 100 community groups.
Conservation efforts to unite communities behind them — helping to blossom the atmosphere of a block — are another way planting trees is making a difference.
Gloria Banks, a longtime resident, says she first encountered the NJ Tree Foundation in 2008 — back when Jessica Franzini headed local efforts.
Back then the 800 block of Grant Street where Banks lived had pockets of vacant houses residents were keen to spruce up, Franzini recalled.
"They first conducted a hands on training to show us how to plant the trees. After, we were scheduled to meet on how to maintain the trees," Banks said. "By planting the trees, it improved the neighborhood and encouraged a lot of the neighbors to participate on the block."
Helping to add a "sense of calm" for the city has been important for Brown — with the added health boons for the environment.
"As many know, the city of Camden has a history of flooding; so the trees help to solve some of that problem," Brown said. "They're 'water magnets' as they soak up the water and allow it to sink back into the ground. When you take out a sidewalk, you take out concrete and you put a tree in this place; it's really helping to reduce some of that runoff that you see, too."
Brown said trees provide necessary shade, help filter out pollutants and combat the heat island effects by cooling off dense urban areas.
A blueprint for planting safely?
"Social distance" planting is a concept Brown said she hopes not to have first-hand experience doing.
"The group activity is very much part of the process and makes the work run smoother," she said. "That said, I don't want to speak it into existence."
Marian Glenn, longtime member of the Summit Environmental Commission, says her group in Union County has submitted a plan for their own planting campaign that they hope won't be necessary.
"The governor is opening parks back up, which we're very happy about, so we may not even need this. But we do have a plan on the table so that we can plant while following the social distancing rules," Glenn said.
Glenn said the city of Summit was awarded a Roots for Rivers tree planting grant from Sustainable Jersey and The Nature Conservancy to plant some 200 small trees and shrubs between May and June.
The plan provided by Glenn includes limiting personnel at planting sites and partnering with the Department of Public Works (DPW) to indicate areas to avoid.
At the top of their list: plant trees and shrubs using a minimum 6-foot physical distance and use masks, work shoes and gloves.
While the DPW would provide sanitized tools, volunteers would also be advised to bring their own tools, such as shovels, axes, augers, buckets and wheelbarrows.
"A week before the planting, use landscape paint to mark the planting spots, spaced 10 feet apart," reads an excerpt of a bullet atop the plan. "Two people, each holding one end of a 10 foot piece of rope, each with a can of spray paint, would walk the site and mark the spots which will all be about 10 feet from each other."
"We would sequence what would have to be done," Glenn said. "Overall, it could be done. We would just need to be very cautious and know it will likely take longer."
Brown said additional recourse like that happening in Summit will be taken if absolutely necessary.
In the meantime, the NJ Tree Foundation has kept residents and volunteers engaged with social media posts, online surveys and their annual "Treekeepers" gathering.
For the first time this year, it will take the form of two one-hour zoom sessions each week of May starting Saturday, focusing on a variety of topics including tree maintenance.
"We're trying to stay positive and inform people about things they can do now," Brown said, "as opposed dwelling on what they can't."
To donate to the NJ Tree Foundation click here.
This story was produced in collaboration with CivicStory and the New Jersey Sustainability Reporting project. It was originally reported by Steven Rodas for TAPinto Camden, and may be re-distributed through the Creative Commons License, with attribution.