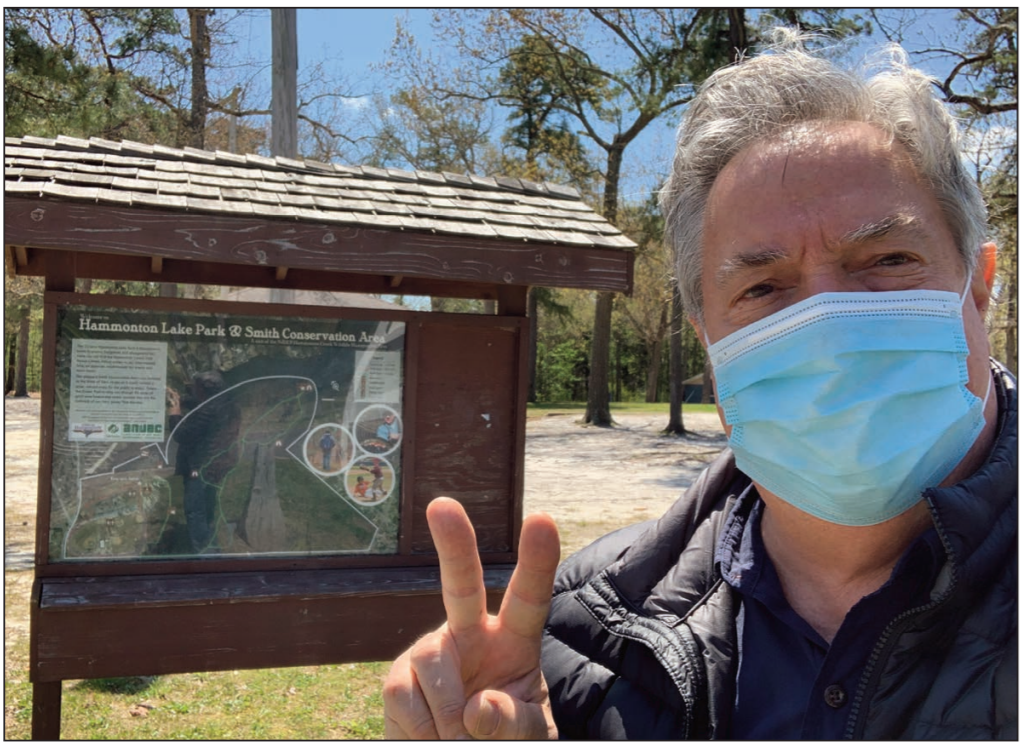 HAMMONTON—With the cancellation of all in-person meetings in response to the novel coronavirus (COViD-19), Hammonton Environmental Commission Chairperson Dan Bachalis spent much of the month of April and early May working on various grant opportunities.
Some, Bachalis noted, have been put on hold while the COViD-19 restrictions are in place.
"The pollinator garden, for which we received a grant from the Association of New Jersey Environmental Commissions (ANJEC), that is entirely on hold, of course, because not only are the parks closed to any time to congregate activity, we need some assistance from town public works and they're on the extreme skeleton crew, just for trash pickup, potholes and emergency repairs. We're waiting for this thing to die down before we pick up any of that," Bachalis said.
The commission has brought in a consulting arborist to make a presentation at the school every Arbor Day, but it did not happen this year. Additionally, the commission received a grant from the New Jersey Department of Environmental Protection (DEP) to establish a tree bank, but that has also been furloughed.
There are, however, a number of grant opportunities that the commission is currently investigating, including the
Sustainable States Community Energy Challenge. According to Councilman Jonathan Oliva, town council's representative on the Hammonton Environmental Commission, Sustainable States consists of five states—Maryland, Minnesota, New Jersey, California and Connecticut—with the local portion known as Sustainable Jersey.
"The Sustainable States Community Energy Challenge helps towns catalogue the sustainable improvements that they've made in their community, and the future sustainable, environmentally beneficial improvements that they want to put in their town, and then overall rank them. They also give you advice on how to accomplish those goals. How well have you used grant money, or how well have you purposed those sustainable processes that you employ over the course of the years?" Oliva said.
According to Bachalis, Sustainable States recently held a webinar about the challenge and would disseminate the
information through Sustainable Jersey.
"Then we'll have to get together with folks in town hall, public works and maybe a few other places, fill in some more information and pass it back up the chain, see where it stands. That's a relatively short-term thing. There's a lot of data and questionnaire responses, then they do their number crunching and come out with a score, see how we compare. Hopefully they'll give us some more advice on what else we can do to improve our sustainability and carbon footprint," Bachalis said.
The environmental commission is also working with the town on the master plan, which, according to Oliva, must be re-examined every 10 years in accordance with the New Jersey Municipal Land Use Law.
"We've had some very, very early discussions with the town and Adams, Rehmann & Heggan Associates (ARH). I think we'll be able to move ahead with that; i mean, the town's going to be moving ahead with the review of the master plan anyway. We already have an existing conservation element of the master plan, and we'll be reviewing that. We're hoping that we'll be able to develop a couple of new elements aimed at sustainability," Bachalis said.
Oliva noted that the commission applied for a $20,000 grant through Sustainable Jersey to assist with the master plan review.
"We are in a master plan year, where you go through all the aspects of the town, and make sure that, as you're planning your town out, whether it's building or environmental services or historical preservation or transportation or utilities, what does that look like? What are your goals? That's an expensive thing to review. There was a grant for $20,000 and we went for that. Hopefully we'll hear back relatively soon if we're one of the few towns in New Jersey that would get that grant," Oliva said.
Besides applying for grants, Bachalis noted the commissioners are taking this time to further their education.
"Since everybody's using zoom and a lot of webinars, social meetings, the commissioners are able to log into ongoing Community forestry webinars. There are ANJEC training webinars, Zoom-based things. We're getting some of that. We obviously have to put aside any thought of doing live training, but we can get Community Forestry CEUs (continuing education credits) for our certifications from the Department of Environmental Protection," Bachalis said.
Bachalis emphasized that the environmental commission is using every available resource to the best of its ability to not only maintain its normal operations, but also to continue to reach out-of-town residents.
"We're doing the physical distancing, and trying to use electronic media—telephone, Facetime, video conferencing, webinars, emails—to keep ideas going and keep things fresh, give people more resources, use things like Facebook to try to reach out to people in that regard, use our email network to alert people to those kinds of things as much as possible. Since we can't physically go out and do these things, we're trying to make the best possible use of our electronic media," Bachalis said.
This story was produced in collaboration with CivicStory and the New Jersey Sustainability Reporting project. It was originally reported by Joseph F. Berenato for The Hammonton Gazette, and may be re-distributed through the Creative Commons License, with attribution.