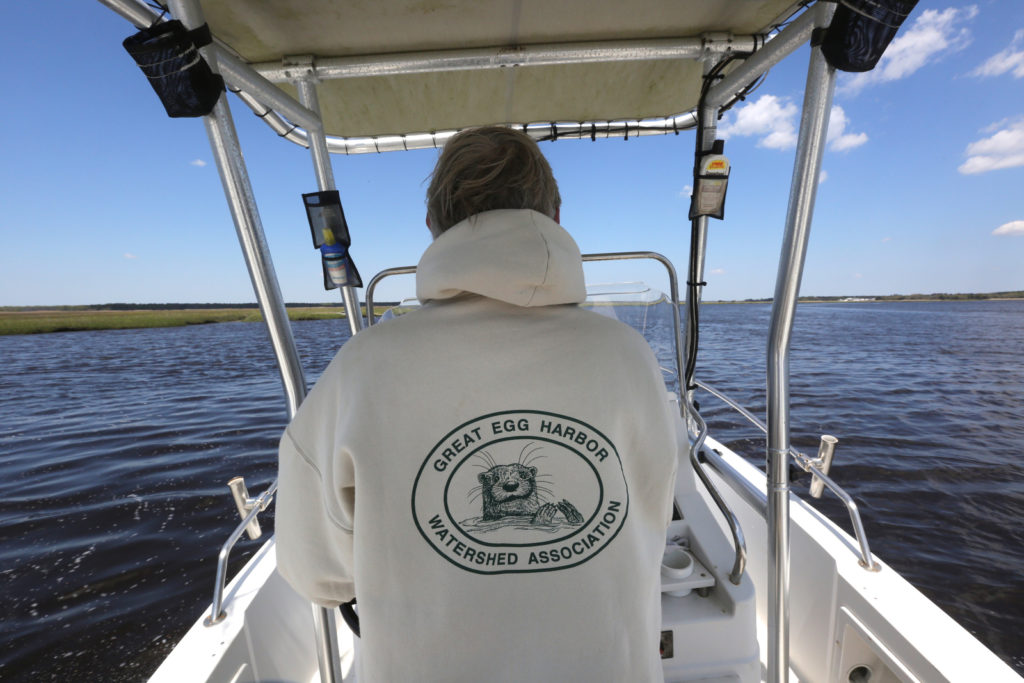 You could call him a river sweeper.
Fred Akers has made it his job to try to rid the Great Egg Harbor River of trash along its once pristine shores. And we're not talking about small litter.
Akers is after the big stuff: abandoned boats, old docks and houseboats, giant pontoons and debris that ride the current, tide and wind along the waterways that stretch between Mays Landing and Tuckahoe.
This video was produced by Vernon Ogrodnek and The Press of Atlantic City.
"The marsh and the coastal wetlands have significant value to both people and to nature," Akers says as he stands beside his boat, the Greategg, along the river he patrols as administrator of the Great Egg Harbor River Council. "This is the estuary where a lot of things are born in the marine ecosystem."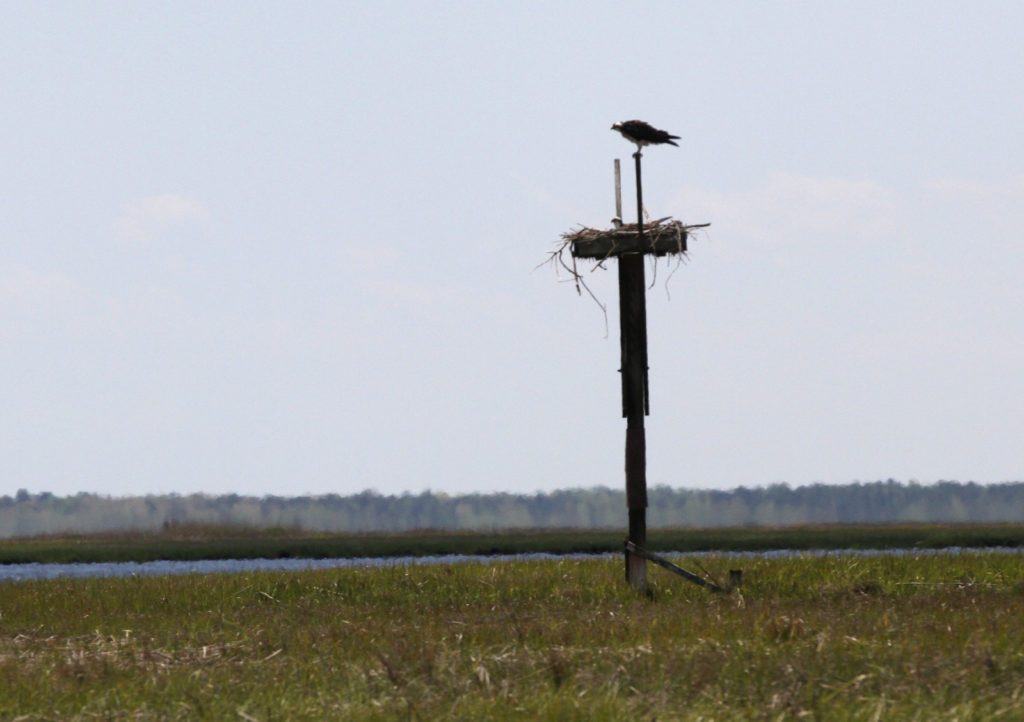 His roots as an environmentalist run deep. Originally from Ohio, Akers, 70, grew up in Brigantine, roaming the island by bike, swimming, boating, skiing and canoeing. His father was an avid ornithologist, involved in the founding of the Atlantic Audubon Society. Later, his wife, Julie, lobbied Congress and the state for a federal Wild and Scenic Water System designation for the Great Egg Harbor waterway, which was finalized in 1992.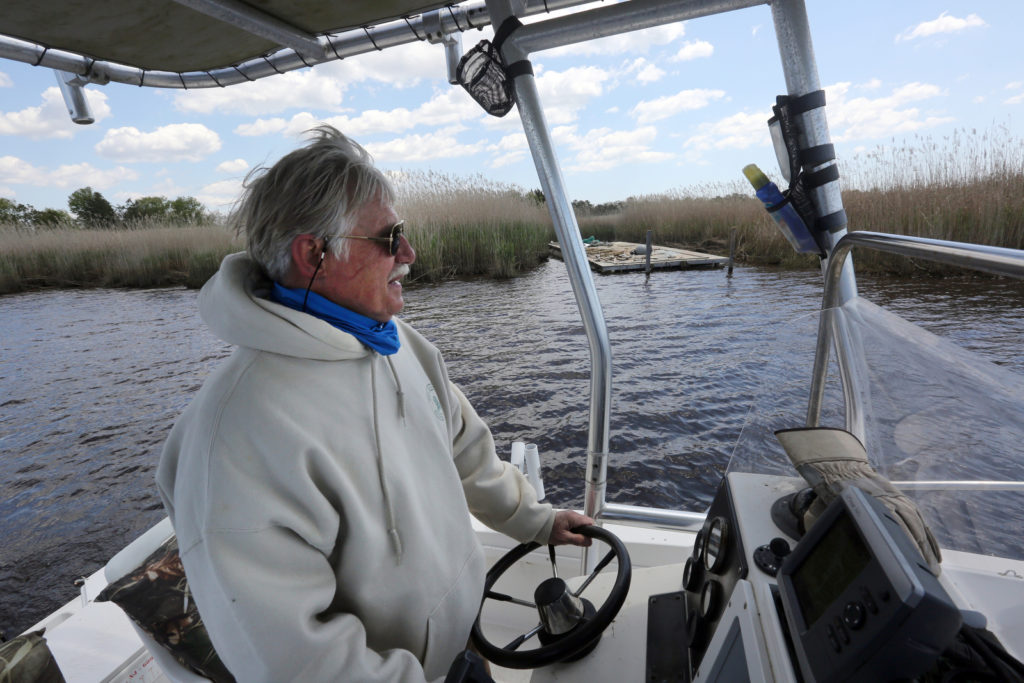 Akers, of Buena Vista Township, ran his own residential renovation business for several years. Now, he considers himself an environmental advocate and watchdog through his administration of the nonprofit Great Egg Harbor Watershed Association and the 12 town Great Egg Harbor National Scenic and Recreational River Council. His days are filled with river assessments, tending to more than 50 osprey platforms, and a robust educational and outreach program through the year focused on the ecological values of the 129-mile Great Egg Harbor River and Watershed.
The coastal waterways he works to protect serve a myriad of environmental purposes, from a habitat for fish, fowl and other wildlife to slowing wave flow during storms, as a flood mitigation system and as a filter for water running off the land, according to the National Oceanic and Atmospheric Administration. More than 8 million tons of carbon dioxide are absorbed by U.S. wetlands each year, according to NOAA.
But they are under constant threat. NOAA estimates 80,000 acres of wetlands in the U.S. coastal watershed may be lost each year to development, drainage, erosion and sinking. That's the equivalent of losing an area larger than that of Galloway Township (115 square miles) each year.
"Especially as sea level is rising we need to protect what we have, and it's not a good idea to dump a lot of trash into it," Akers says. He is also concerned that as climate change produces stronger storms, the potential for more debris washing into the waterway is a real threat that should not be ignored.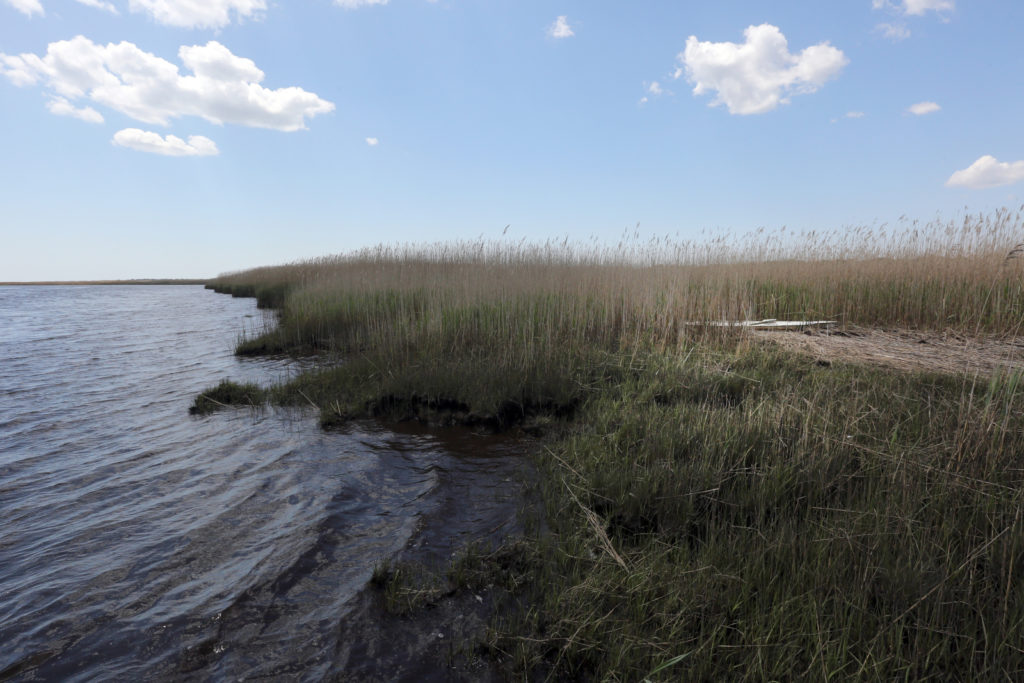 As long as there are people around, there will always be trash in the waterway, but recently Akers has noticed an increase in the amount of junk floating in the water and on the shore. On a recent trip along the river, large sections of old docks, well over 10 feet long, can be seen bobbing along the water's edge. An abandoned power boat lies on its side in the marsh, along with boards and old pontoons.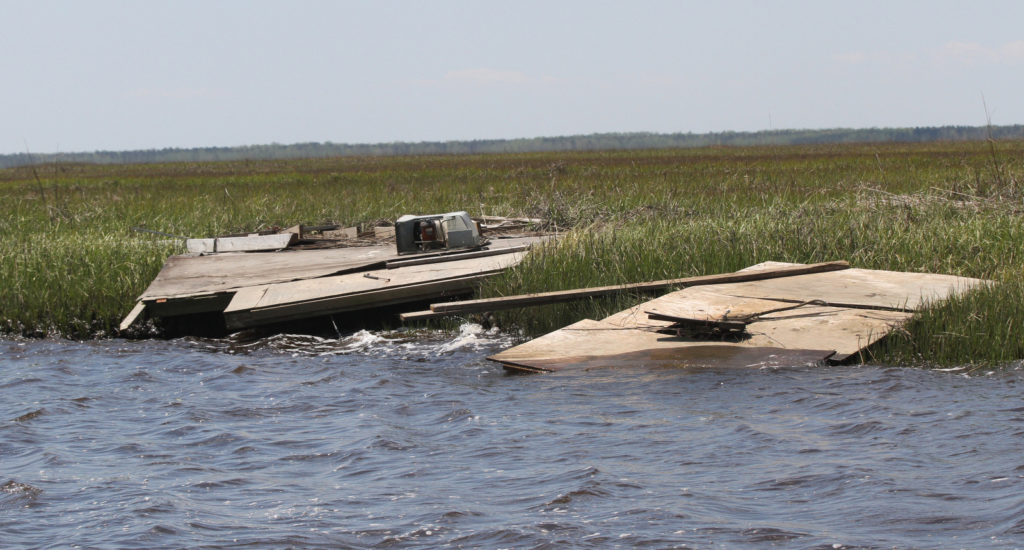 Akers, who regularly travels the river to tend to osprey nests installed along the shores, tries his best to pull what is manageable into his 18-foot fishing boat and haul it to landfills. But some of the things he comes across are just too big for him to move. He was recently alerted about a massive structure floating not far from Mays Landing.
"It was a weird thing," he says, describing one of the largest finds he's encountered: a pontoon barge, almost 50 feet long and 16 feet wide, what was once the beginnings of a houseboat still under construction. Construction material that fell off it littered the nearby water, causing fishermen in power boats to dodge the debris.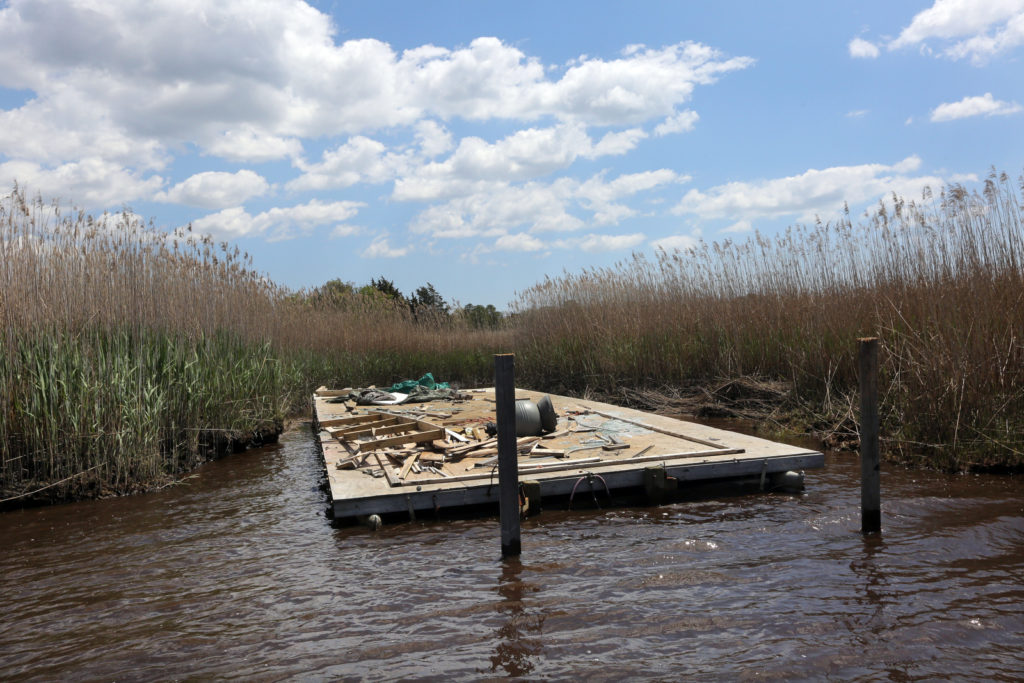 "Pieces of roof, pieces of walls, railings. It was like a houseboat that somehow got demolished," he says. "It was pretty bad."
Unfortunately, he was unable to find out where it came from and who owns it. It's one of several mysteries he has encountered. Like how did the porcelain toilet that had to weigh over 100 pounds end up on its side like a giant white turtle in the marshes in an area only accessible by boat?
As for the houseboat, Akers contacted the marine police and was told the process of removing something that large is not that simple. It may appear to be abandoned, but someone owns it. And the process of assuming ownership and assuming responsibility for its proper and safe removal can be daunting.
"Waterway cleanups are difficult because you have to get out there with the water and tides, so it makes it harder to do," he said.
"It's a problem," agreed Tom Baum, a recreational fisherman from Egg Harbor Township, who frequents the Great Egg and has picked up floating boards and mylar balloons. "You see debris consistently."
Before the COVID-19 pandemic, there were groups that conducted waterway cleanups a few times a year, Akers said. One of the goals of the Great Egg Harbor River Council and the Great Egg Harbor Watershed Association is to keep the river clean.
Akers has taken the lead on the quest to clean up the river.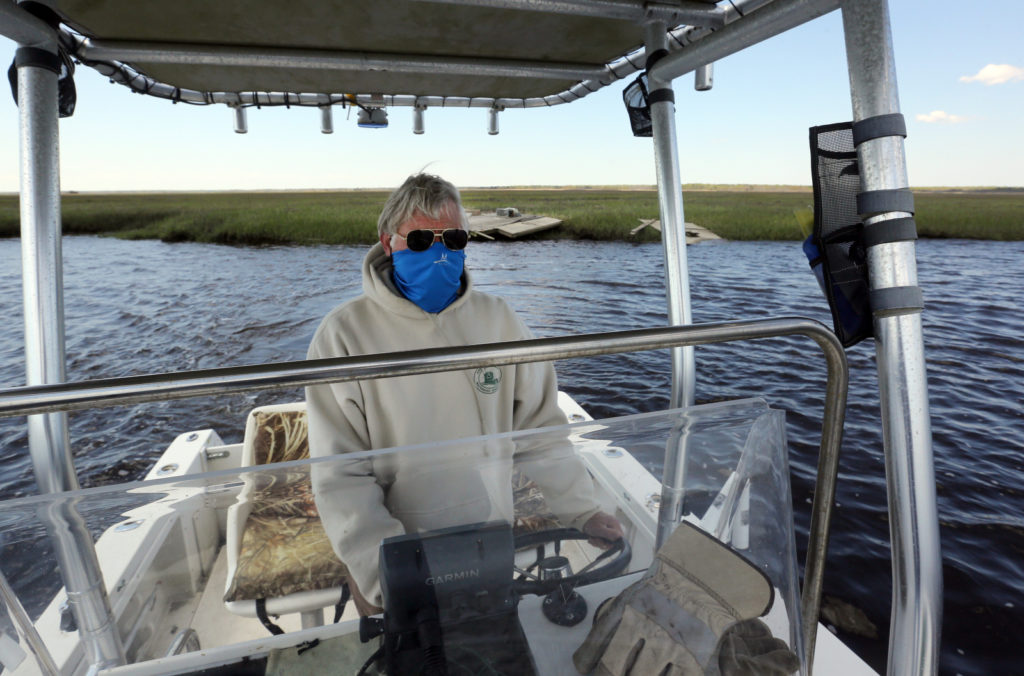 "I'm seeing a bigger accumulation of material that needs a bigger effort," he says. This has led to a campaign to recruit people to forward his efforts in removing debris and preventing more from drifting out there.
"It's going to take a team of people and some strategy and cleverness to demolish these things, get them in boats and remove them. It's not easy," he says.
Akers urges people who live along waterways to secure their belongings to the shore, especially when extreme high tides and storms are expected. And he asks boaters to do the same with everything in their vessel, from water coolers and seat cushions to hoagie wrappers and plastic bags.
His plans go beyond everyday people who live, play and fish on the waterways. He's hoping the state will get involved, with the marine police, in taking a more active role, through enforcement, to keep the river clean.