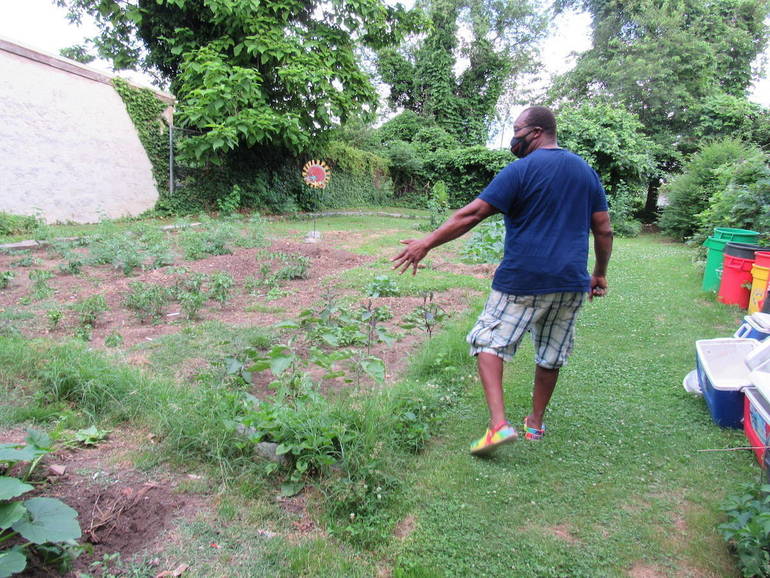 CAMDEN, NJ — If you ever find yourself strolling down the 600 block of Walnut Street in the Bergen Square neighborhood of Camden, you'll undoubtedly spot a pair of gardens that flank a modest house near the corner of the block.
Peer in closer, especially as spring transitions to summer, and longtime resident Christoff Lindsey's fervor for growing will be even more evident: eggplants, zucchini, cucumbers, beets, greens, lettuce, figs, collards and more than 15 varieties of tomatoes.
"People find it amazing, but in Camden you can grow anything. We are in the Garden State after all."

Christoff Lindsey, Longtime Camden Resident and Community Gardener
The garden recently helped him introduce two friends to mustard greens.
"Sometimes when you're out at the market or buying something that's packaged you don't see the colors. Colors are so important," Lindsey told TAPinto Camden during a tour of his garden. "Those greens you can eat raw in a salad with curly kale and it's just delicious."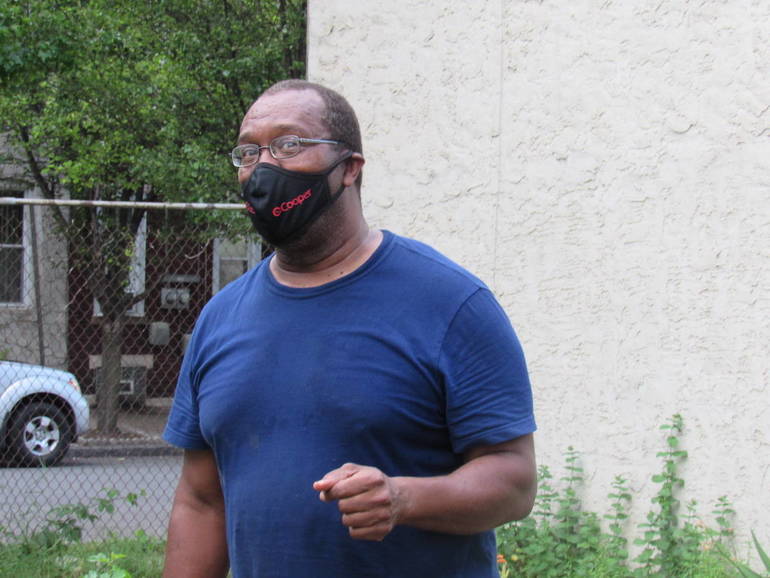 He plans to bring neighbors and fellow gardeners in on kohlrabi too.
Also referred to as a "German turnip," the biennial vegetable complements dishes very much like cabbage, cauliflower or kale — edible both raw and cooked.
"I planted it and after some time, here comes this martian-looking turnip with a waxy coating," he said, laughing. "Those fantastic green leaves…nothing beats that freshness, especially in this microwavable age that we're in."
Lindsey says he was 15 when he started to garden, taking cues from his grandmother. In the mid-1970's, she petitioned to buy the lots to farm on and was ultimately successful in dealings with the city.
"We have a history of feeding people, my gardens are open…people know what I have is available to them. It's how I was raised by my grandmother and mother," he said.
And Lindsey's never short on offerings.
"People find it amazing, but in Camden you can grow anything. We are in the Garden State after all," he said. "So I like to experiment too."
Lindsey recently planted the ghost pepper and the Carolina reaper — the current Guinness World Record-holder for hottest chili pepper in the world.
"It's the kind of thing you need to sign a waiver to eat," he joked.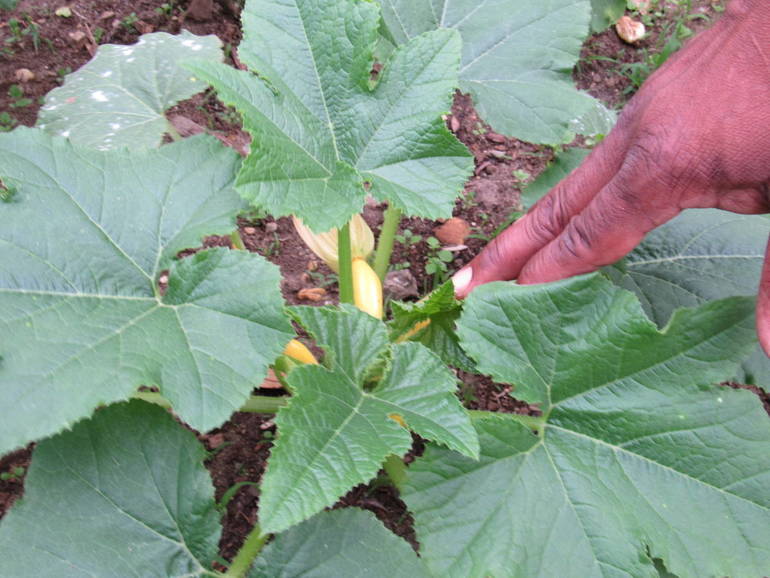 North Camden garden learns to thrive
But Lindsey is by no means the originator of gardening in the city, he admits, as he spent years cutting his teeth at the Camden Children's Garden.
Then there's the Community Garden in the northern part of the city, which Jackie Santiago — because of COVID-19 — has had to solely run with help from her family as of late. Still, she's continued to grow tomatillos, cucumbers, corn, potatoes, beans, gandules and a bounty of strawberries.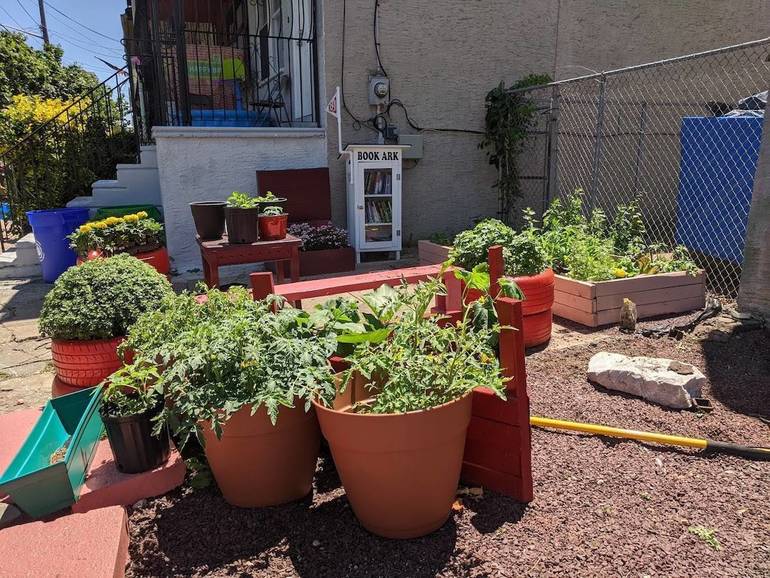 "Usually all my volunteer gardeners are helping me and I can have anywhere from ten to fifteen here," Santiago said.
Her stepdaughter was critical in helping to create a mural that overlooks the garden, but not everything could continue on schedule. Santiago said she wasn't able to implement a monarch sanctuary like in years past to help save butterflies.
Now that summer is underway, she says what she misses most of all is seeing the young faces she's accustomed to.
"It's hard. They sometimes see me from across the street and I wave or make like I'm hugging them from far away," Santiago said. "When this is all over, I hope we can have a big block party. Our Spring Fest was not able to go ahead this year so it would be something in the fall."
Regardless of how things pan out, come harvest season, Santiago believes she'll drive throughout the city providing candies and pumpkins to the children that frequent her garden. Books, too, as her garden — as well as Lindsey's — partners with a local pop-up library to provide a gamut of reads for bookworms both old and young.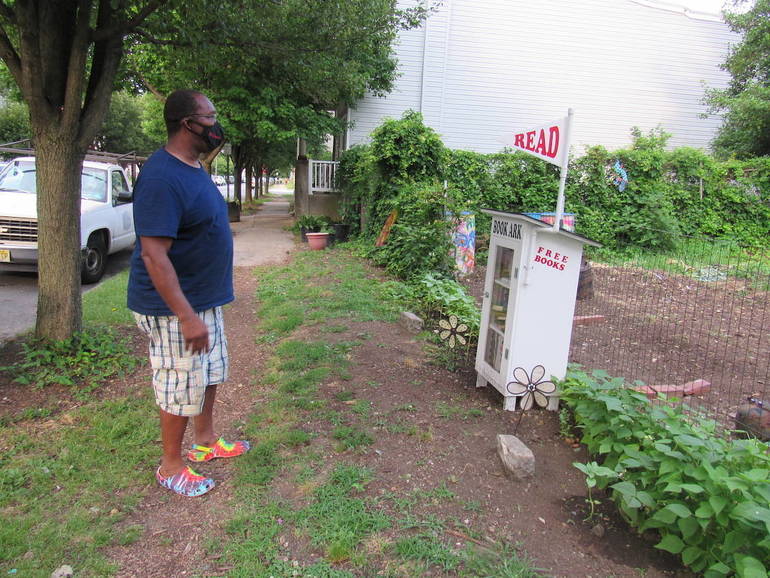 An ever-growing initiative
Parkside's Roots to Market Project Manager, Jonathan Wetstein, says the pandemic interrupted their plans as well. The Camden initiative, Roots to Prevention (RTP), has its sights set on more urban farms, as well as healthy and organic food options.
Part of the program also includes a Food Bucks Rx program with help from Virtua, which will allow city-based farmers like Santiago and Lindsey to create income through a Community Supported Agriculture (CSA) program, allow residents to redeem vegetables and fruit using vouchers, and provide RTP with two year's worth of analysis to help it make adjustments and potentially make a case for other cities following suit.
RTP's ability to sell produce to Virtua and recruit farmers has been delayed until the fall, according to project managers.
"However, RTP continues meeting weekly (virtually) to work on the study design. Through these meetings, we now have a cookbook coming out and a brand-new website where our gardening workshops are pre-recorded and available to view online," Wetstein said.
In July, two community gardens will reopen, and coordinators will start connecting existing growers to sell any surplus crops through Free Haven Farms — a sustainability-minded collective established in Lawnside in 2017.
"We still have our resident advisory board meeting via Zoom every other week to help us identify any challenges and opportunities related to our initiatives," Wetstein said. "A monthly newsletter is included to help keep our communities informed, as well as weekly email updates."
Free monthly live Zoom cooking demonstrations are also on the horizon, he said.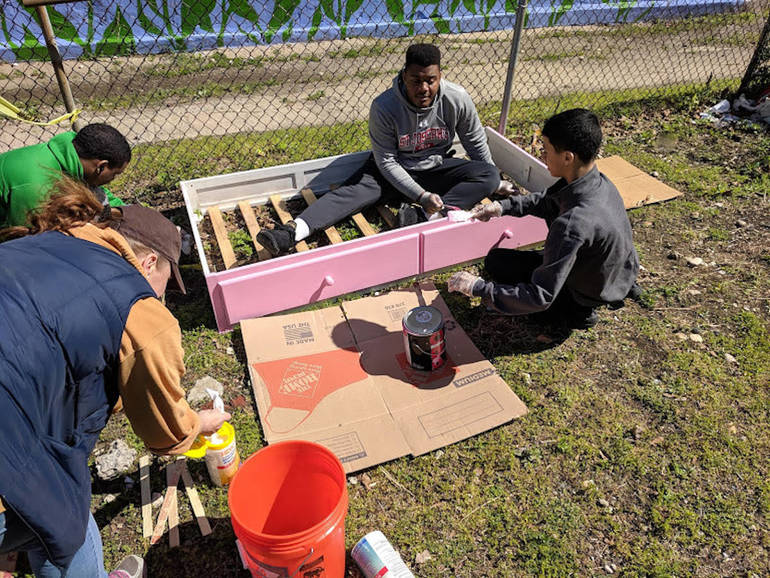 Ideas from Lanning Square
While RTP makes plans for the future of urban farming citywide, Pino Rodriguez — who has been transforming vacant lots for over 12 years in the Lanning Square West part of the city — has a few ideas.
"I encourage everyone to do their own planting, their own gardening. Not until you try it do I think people realize how much it helps you develop a healthy lifestyle."

Pino Rodrogiez, Vice President, Lanning Square West Residents Association
"There should be some kind of umbrella or an individual we assign to look at all the community gardens we have, and take stock over how these fruits and vegetables are distributed," said Rodriguez, who also serves as the vice president of the Lanning Square West Residents Association. "We should be taking extra steps to make sure the food we grow is helping residents most of all."
Rodriguez says gardeners and farmers in the city may have something to learn from a peer that they may not be aware of. He also emphasized the need to prioritize the community as far as who has access to any surplus resulting from growing.
"I encourage everyone to do their own planting, their own gardening. Not until you try it do I think people realize how much it helps you develop a healthy lifestyle," Rodriguez said.
For his part, he's continued to grow corn, tomatoes, peppers, lettuce, eggplants and plenty of strawberries.
If you operate a community garden or farm in the city of Camden and would like to discuss your work, email srodas@tapinto.net.
This story was produced in collaboration with CivicStory and the New Jersey Sustainability Reporting project. It was originally reported by Steven Rodas for TAPinto Camden, and may be re-distributed through the Creative Commons License, with attribution.