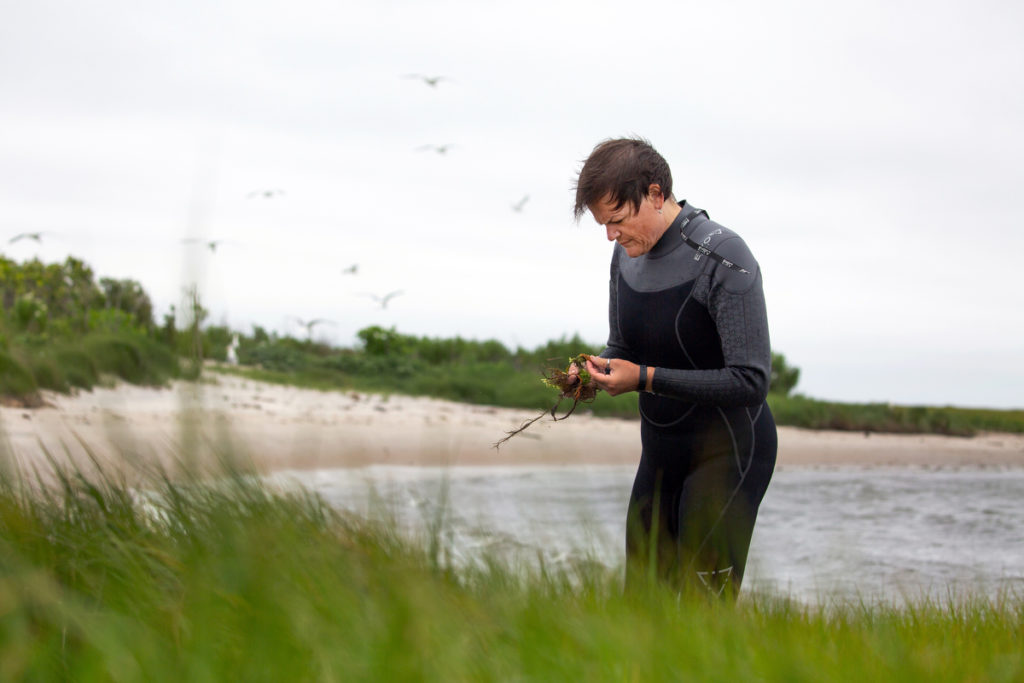 If you live or vacation at the Jersey Shore, you're familiar with seaweed and seagrass. The former being the annoying, sometimes smelly green and brown stuff that squishes between your toes at the beach. The latter being the green vegetation brought up while fishing, rather than a fish, in the back bays.
But there's more to the story.
Seagrass and seaweed are too far apart to be even called cousins. While one might think they are closely related, they are fundamentally quite different, and this leads to confusion on identification.
While they both need light to grow, that's where the similarity ends.
At the most elemental level, seagrass has roots; seaweed does not.
Just ask Elizabeth Lacey, an associate professor of marine science at Stockton University, who has made it her life's work monitoring and studying seagrass and seaweed.
During a 30-minute online "live lab," Lacey, who has a doctorate and likes to be called Doctor Z, examines the seagrass and seaweed found in the Barnegat Bay, outside of Beach Haven, where she monitors an area the size of half a football field. She picks through the many types of seagrass, seaweed and sea life along the shore, identifying and explaining what they are and their importance to the environment, as she answers questions from the audience.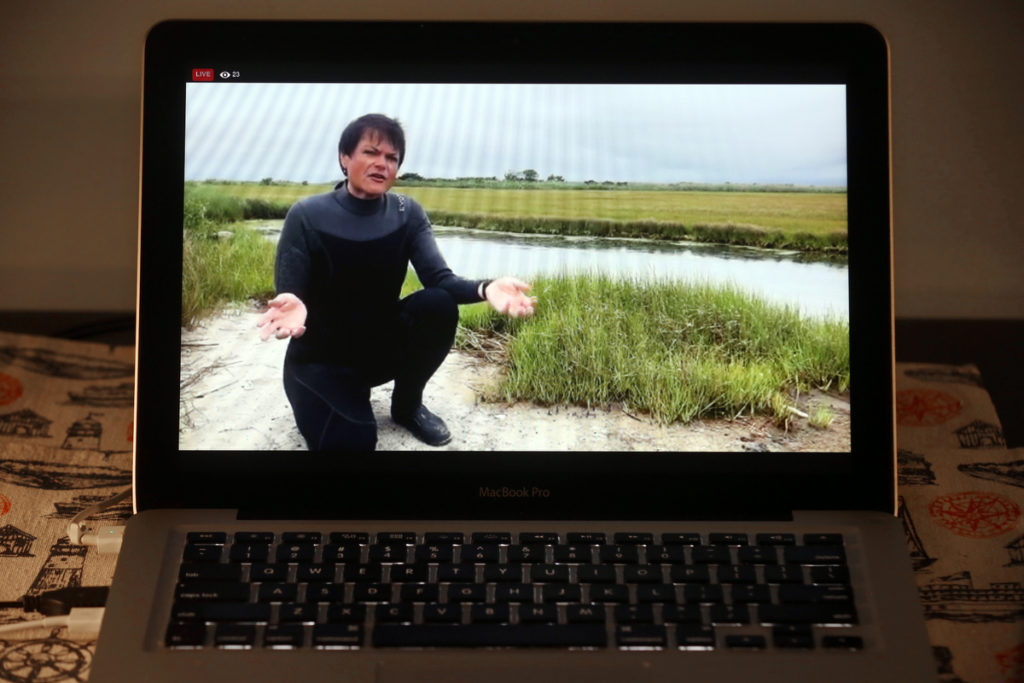 The streaming video field trips, offered by Stockton University's School of Natural Sciences and Mathematics (NAMS), offer a digital version of the traditional outdoor exploration that is part of the natural sciences discipline.
The benefits of seagrass are many and not well known, she explains: The beds are an important habitat for fish; a nursery for baby fish; they stabilize the shoreline and bring in a lot of money for fisheries; for tourism, they are a shoreline protector, along with producing oxygen and removing carbon dioxide.
The Smithsonian Institute calls seagrass one of the most productive ecosystems in the world. An area of seagrass the size of two football fields, they say, is estimated to be worth more than $19,000 per year, making them the third most valuable ecosystems on the planet (only surpassed by estuaries and wetlands).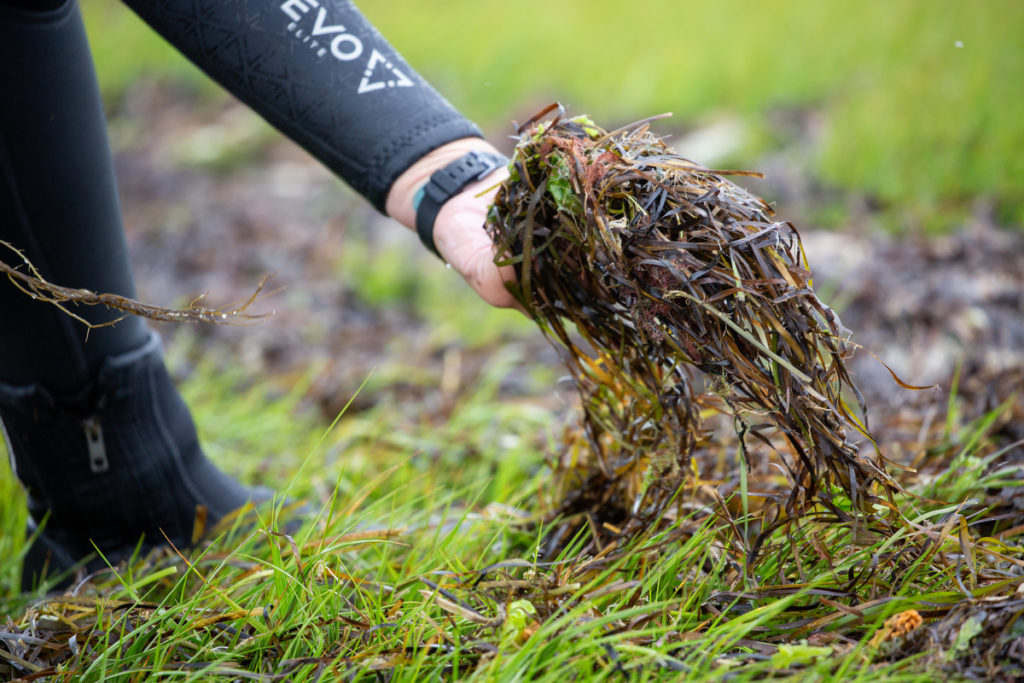 One of the threats to seagrass are people who tear up the beds with the props of their motorboats. Lacey is enthusiastic about a campaign by the Barnegat Bay Partnership called "Don't Harass the Seagrass" that encourages boaters to avoid seagrass areas.
"The scars that happen when boats come through take a while to heal," she says. "If you ran your truck over your lawn and spun it all up into mud, regrowth doesn't happen overnight. It takes some action on your part."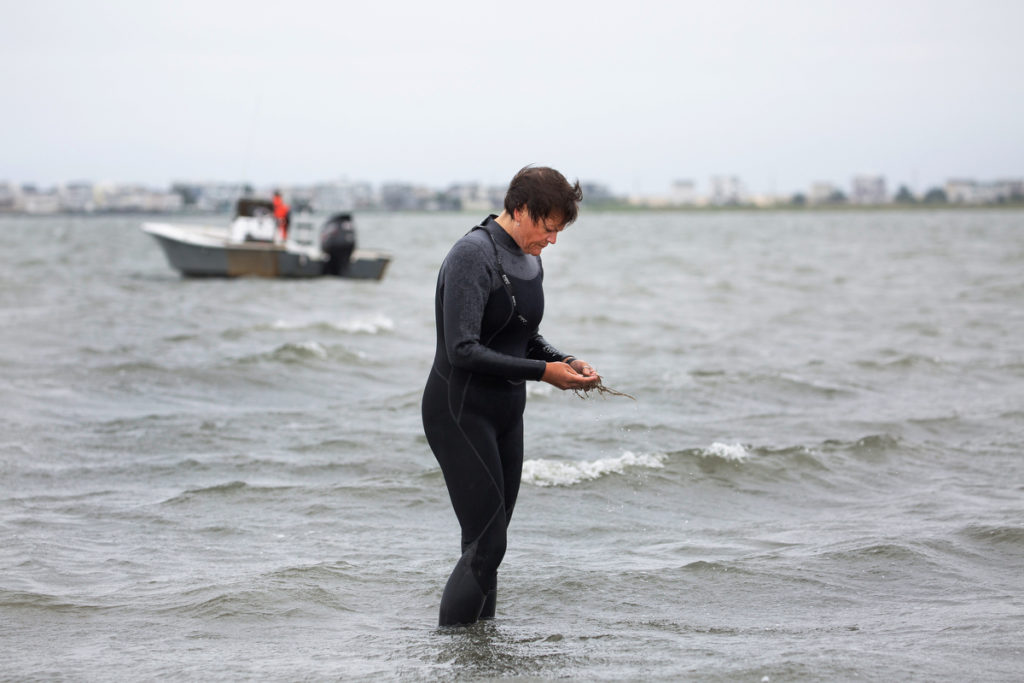 Part of her research, along with monitoring and looking toward the restoration of the bay, is looking at areas where seagrass has disappeared and trying to understand why it's not growing anymore and what can be done to help it return in a natural way. And the reaction from her students is one of the biggest rewards.
"Student response to seagrass is probably one of the best parts of my job," she says. "They've never really seen it or contemplated it before, but have always lived at the shore, and it's exciting that I get to show them that."
The live labs were the brainchild of Aaron Stoler, assistant professor of environmental science at Stockton.
When the COVID-19 restrictions closed the campus, Stoler looked for ways of engaging his students who were stuck inside.
"I wanted a way to take my students out of the computer screen and back into nature," he says.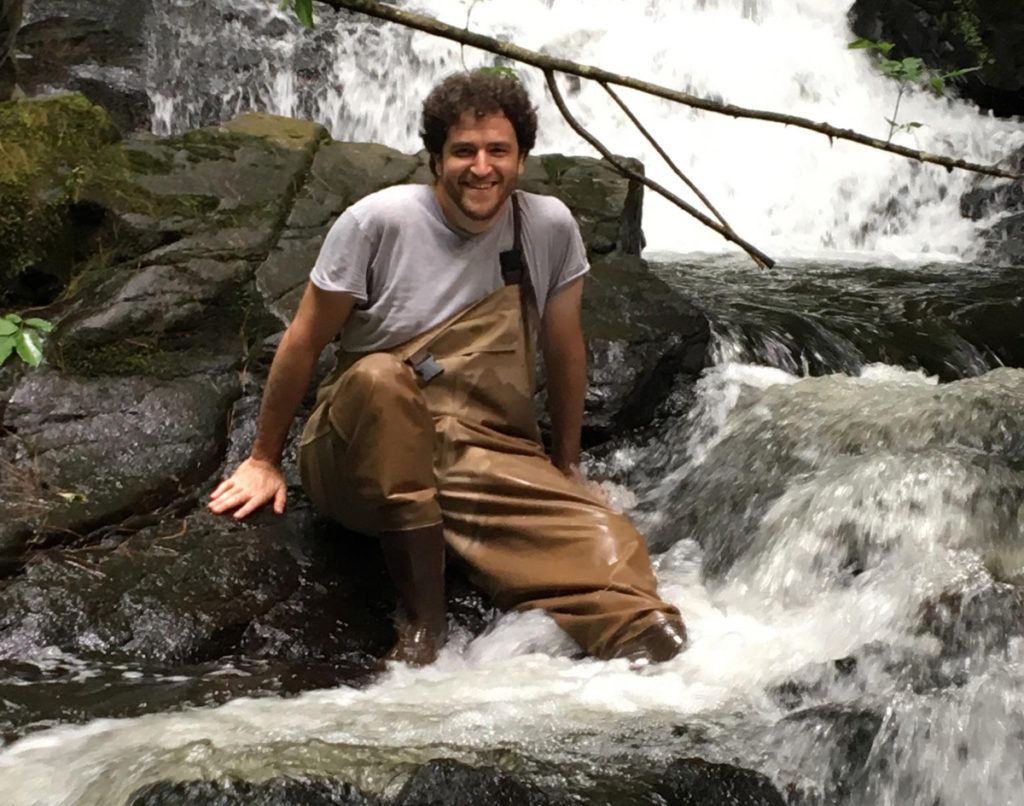 As long as he was alone in a natural setting with his iPhone, streaming live video on Facebook, it was a safe way to bring his students into a live, natural laboratory.
His first streaming video labs featured him visiting sites on the campus lake to monitor an experiment his students had set up before the campus was closed. From there, it grew to include an interested community audience along with his students.
Stoler wanted to keep the subject matter ecology-related so the labs included kayak trips on local waterways, how forests burn responsibly, and trips through the wetlands to find out why they're important to the environment.
And the response has been very positive, he says, attracting hundreds of viewers for the live streams and the recorded videos. All the labs are recorded so they're available to be watched later on Stockton's NAMS website (https://stockton.edu/sciences-math/virtual-events.html).
Now he's getting requests from other faculty members who are interested in hosting a live lab and from outside organizations, like the Pinelands Institute, and taking requests from his viewing audience.
"My goal with this is to give the community whatever they want," he says. "Whatever I can do to connect people with nature in a way that, from K through 12, college, even your grandparents can understand."
This story was produced in collaboration with CivicStory and the New Jersey Sustainability Reporting Hub project. It was originally reported by Vernon Ogrodnek for the Press of Atlantic City, and may be re-distributed through theCreative Commons License, with attribution.