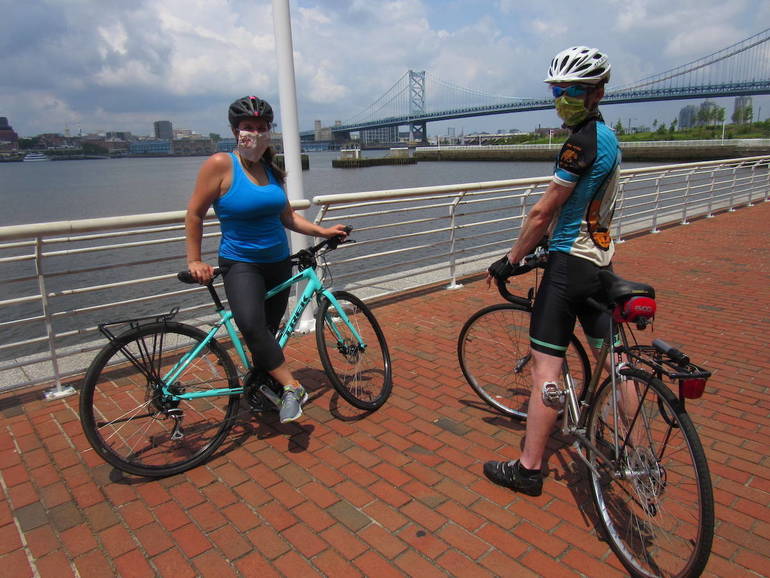 Friends James Punderson and Nicole Tyczynska, both 34, were — unbeknownst to them — the perfect case study for a 33-mile multi-use trail that is being proposed for the county.
At midday Wednesday, the pair was cycling along the boardwalk of Camden's Wiggins Waterfront Park.
Besides a few employees of the nearby aquarium out on their lunch breaks and two pedestrians taking a stroll, the marina was barren.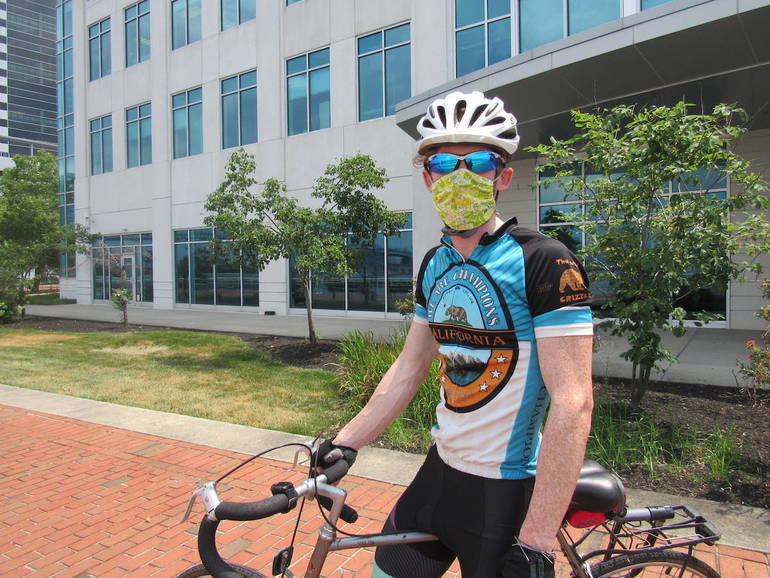 Punderson, a North Jersey transplant, is an avid rider who owns three bikes and is always eager to find new and intricate ways to travel about New Jersey. Tyczynska, however, "never really rides…occasionally takes walks across the bridge…[and] was just out here to join my friend," she told TAPinto Camden.
Whichever camp you relate to more, Camden County planners are seeking your feedback over what a "spine" meant to connect 17 municipalities will look like.
"As we're in the process of designing the trail, we want the community to weigh in on all the parts that will make it up. In some cases, the trail will be located in parts of the city so that the community will take ownership of that segment, so their thoughts are very important to us."

Jeff Nash, Camden County Freeholder
When done, the trail would stretch from the western part of downtown Camden city, along the Atlantic Avenue and Penn Central rail corridor, to the eastern part of Winslow Township.
"As we're in the process of designing the trail, we want the community to weigh in on all the parts that will make it up," Freeholder Jeff Nash, who is also the liaison to the Department of Parks, said over the phone. "In some cases, the trail will be located in parts of the city so that the community will take ownership of that segment, so their thoughts are very important to us."
Nash said the first virtual meeting to discuss the Audubon/Heights section of the trail held in June, which can be viewed here, was highly attended.
Another to outline initial proposals for Hi-Nella/Somerdale is scheduled for tonight at 7 p.m., with a third set to discuss the Winslow Township segment July 13.
Depending on how the pandemic progresses, more virtual webinars may be scheduled for later in the year, Nash said.
If a trail of the magnitude proposed were to become a reality, Punderson noted, "It should look to connect as many places as possible."
"Right now, I came to the waterfront because there's not many people, but once there are, having many more options to get around I think would make things better. It would also help me to get to know the area, too," he said.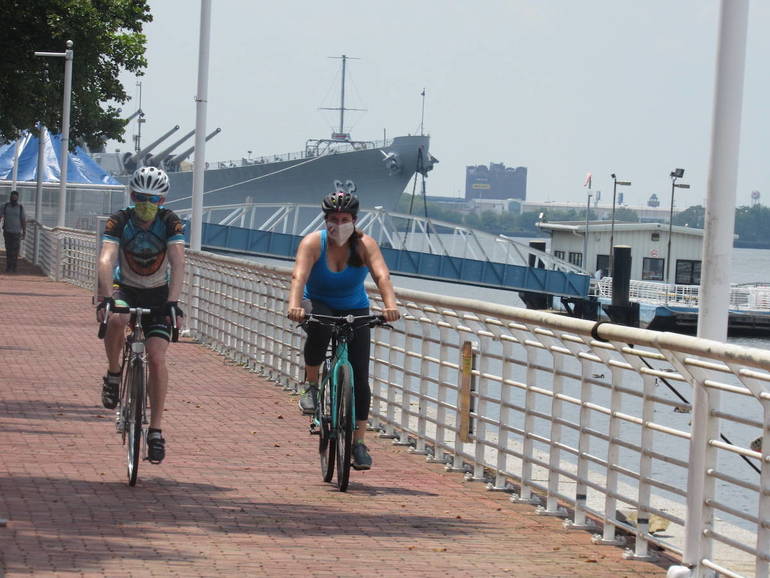 Tyczynska, a mother of two, believes people from outside Camden are still hesitant to peruse the city.
"It has to do with the reputation," she said. "[The city has] gotten better but most people don't want to travel around aimlessly. Having predetermined places you can go to would make a big difference."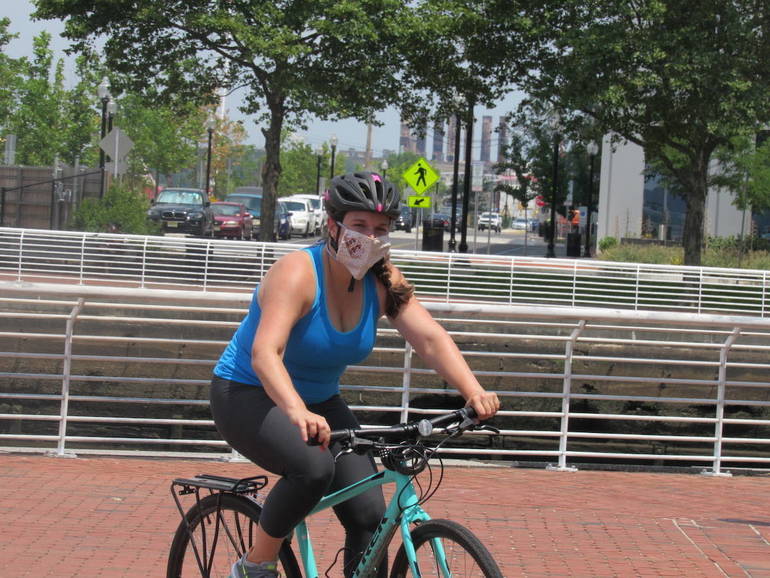 Laying the groundwork
A feasibility study for the project was released in 2017. Later on, NV5, an engineering firm based in Hollywood, Florida, was provided $4.6 million to design it. In all, the project is expected to cost $50 million to construct. Nash said the county will look to offset costs to county taxpayers with open space money, as well as state and federal grants.
Although an exact date when the trail will be complete has not been established, a one-mile segment along East Atlantic Avenue between Audubon and Haddon Heights is scheduled to open in 2021.
While properties won't need to be obtained by the county to complete the trail, which would mostly sit on public land, county workers expect to deal with Conrail, a terminal and switching service provider for CSX Transportation and Norfolk Southern.
"No property will be condemned to make it possible," said Nash. "Conrail has been a willing participant, and we're cautiously optimistic we will be accommodated as we move forward."
According to planning documents by the county, the trail will in part look to build up cycling opportunities locally and create commuting alternatives with routes branching out to PATCO and the Ben Franklin Bridge.
The trail would also abut Oaklyn, Audubon and Haddon Heights downtowns — with cyclists, joggers and walkers able to meander into Lindenwold, Magnolia and Laurel Springs.
To the trail and beyond
Expanding access to outdoor recreational areas is also the driving force for other large-scale projects countywide. In addition to the 33-mile trail network, the most notable include a 5-Year Park's Plan headed by Cooper's Ferry Partnership and the Camden County Open Space Purchasing Plan.
As they finalize design plans, county stakeholders have consulted Rails-to-Trails Conservancy (RTC) — a group that creates more walking and cycling opportunities by transforming idle rail lines. The organization has over one million grassroots supporters, 23,000 miles of "rail-trails" across the country and more than 8,000 miles on the horizon.
Anya Saretzky, Project Manager for Trail Development at RTC, pointed to the Camden County Link Trail's potential.
"This is going to be a major spine in the Circuit Trails Network, what will be the [Greater Philadelphia area's] regional 800-mile trail when complete," said Saretzky. "About 340 miles are completed right now; but when it opens, you'll be able to ride your bike from downtown Camden over the Ben Franklin Bridge into the Philly suburbs, toward Valley Forge, up the river to Trenton and even connect to the state of Delaware."
Initially created in 2012, the Circuit Trails is among the United States' largest – traversing through nine counties (Philadelphia, Chester, Montgomery, Delaware and Bucks in Pennsylvania; Burlington, Gloucester, Camden and Mercer in New Jersey).
Although the study for Camden County's trail network was completed pre-COVID, the economic benefits are expected to be major with sections of the trail working to introduce cyclists and walkers to eateries and other small businesses.
"That it's such a long distance trail means there will be many more people going from town to town, through the business district where it'll be as easy as hopping off to explore," Saretzky added.
That residents have more places to break from quarantine safely will also be important.
"One thing we've seen across the country is an increase in trail-use," said Saretzky. "There are so many places closed, people cooped up. The only safe place you can go sometimes is along a trail or out into parks."