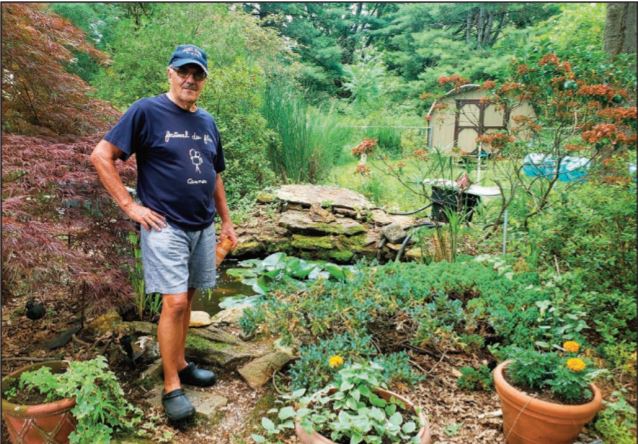 When Arnold Cappuccio moved into his home, he had no idea that one day his backyard would one day house its own mini-ecosystem.
"When I moved here, there was a little above-ground swimming pool. My wife had real young nieces and nephews at the time; they were just growing up. She said, 'Let's fill this up. When they come over they can go in the above-ground pool.' We didn't know it was rotted; the whole thing just collapsed. When I pulled everything out, I had an impression in the ground," Cappuccio said.
At the time, Cappuccio's job frequently took him to Marlboro, N.J. One retailer along that commute served as inspiration for what to do with the site of the former pool.
"I used to go by a place called Aquatic Gardens that used to be in Jobstown. They sold me a pre-formed, 300-gallon fishpond that was damaged. One of my friends helped me to repair it, and we put it in the ground. That's how I started," Cappuccio said.
Now, nearly 30 years later, much of Cappuccio's backyard is taken up by what has turned into three separate ponds, each teeming with koi and comet-tail goldfish and more.
At first, Cappuccio said, he got help from Mark Bodycott, who owns USA Koi in Glassboro, N.J.
"He taught me everything. He came out here a few times when I was starting, and he was just getting started. We've stayed in touch. He taught me how to inject fish, how to treat ponds with potassium permanganate, the whole nitrogen cycle and different things that go a long way to keeping a healthy koi pond," Cappuccio said.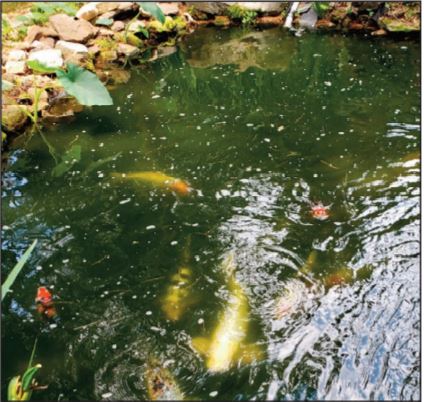 Cappuccio said that he also grossly underestimated the size and capabilities of that initial pond.
"When I put it in, I thought I had this big pond. I was putting all kinds of fish in it, and I didn't know what I was doing. I was losing them; I didn't realize that filters have to age and mature. Now, 30 years later, I build my own filters, and I've showed other people how to build them and save a lot of money," Cappuccio said.
That first pond, Cappuccio said, is still in use today, and it houses gold fish, comets and more.
The next pond Cappuccio installed was done with help from another friend and the use of a backhoe.
"If I knew then what I know now, the pond would have been four to five times bigger than what it is. I thought a 3,000-gallon pond was like the Pacific Ocean," Cappuccio said.
Cappuccio said that he had purchased several koi for the small pond, but they didn't have enough oxygen there. With a bit of technical know-how, Cappuccio was able to solve that problem—and more—for the larger pond.
"That pond has three filters; I set them up all myself. The last one I set up was the key, because I was having ammonia problems and some big-time problems. When they spawn, they release a lot of sulfur. I built that filter 12 or 14 years ago. I went to a koi show and I saw a filter, and I said that I could do something like that. That's the key to keeping that pond ammonia-free, which is key to a healthy koi pond, and agitating the water, moving a lot of water. They're the keys," Cappuccio said.
Cappuccio also has a third pond in his yard which also took a degree of work to install.
"We dug it by hand about 20 years ago. I call it my grow-out pond; I put my small koi in there and I let them grow. And there's excess fish. The bigger pond is about 1,800 gallons. That has two filters that I built myself," Cappuccio said.
Cappuccio said that he also has a water planter, and that, too—though quite inadvertently—is hope to fish.
"I moved plants from the small pond, and there must have been eggs on it. I have, at any given time, 20 to 30 fish in my water planter. I had to put a small filter in there, and occasionally I go in there with a net to try to catch these fish and move them to the other ponds," Cappuccio said.
Cappuccio said that, through the years, his ponds have had their share of mishaps, including disease and various bacterial and fungal infections, but nothing that he couldn't overcome. He also said that he takes a more relaxed approach to his ponds than he used to.
"I'm not as fanatical as I was when I first started. If I see a problem with a fish, I'll check a few things out and let nature take its course. But I don't have any real problems now," Cappuccio said.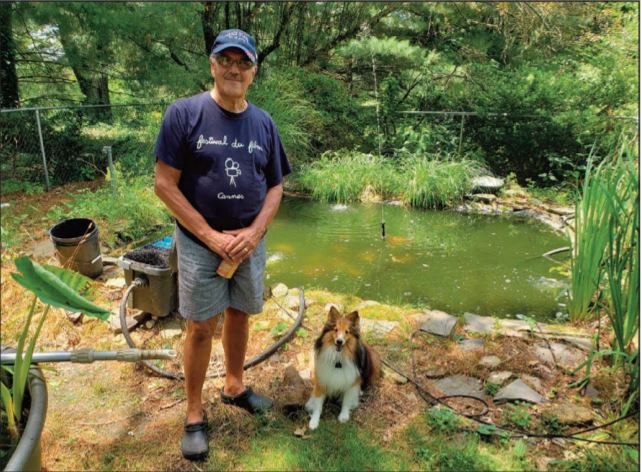 Cappuccio's hard work has paid off over the course of the last three decades. His fish live long, healthy lives; the oldest one is roughly 28 years old.
Cappuccio said that his ponds often bring him relaxation, and that's the part that also brings him satisfaction.
"I like when I sit out there with a couple drinks and I'm with friends and I'm feeding. Hearing the frogs—I have bullfrogs all over the place—it's almost like a whole ecosystem out there. I get the garter snakes that try to eat the frogs; the big frogs try to eat the small frogs, and there's a mess of them. I'll just sit out there and have a drink and enjoy it. That's what I enjoy," Cappuccio said.
This story was produced in collaboration with CivicStory and the New Jersey Sustainability Reporting project. It was originally reported by Joseph F. Berenato for The Hammonton Gazette, and may be re-distributed through the Creative Commons License, with attribution.