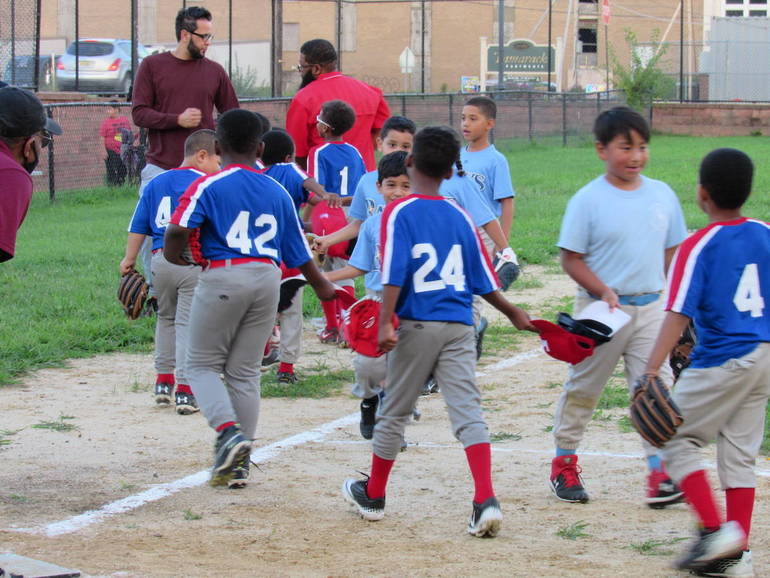 When it came time to line up for the end-of-the-game high-fives Wednesday, the East Camden Rays and Whitman Park Phillies didn't hesitate.
The two dozen or so players removed their navy and red caps and displayed good sportsmanship by slapping them together instead of their hands.
Even tee-ball players between the ages of 5 and 7 have become accustomed to today's COVID-19 realities. While out on the field social distancing is a given, contact is limited since tags are done via mitt and the one adult who would be at risk — the umpire — is already wearing a face mask.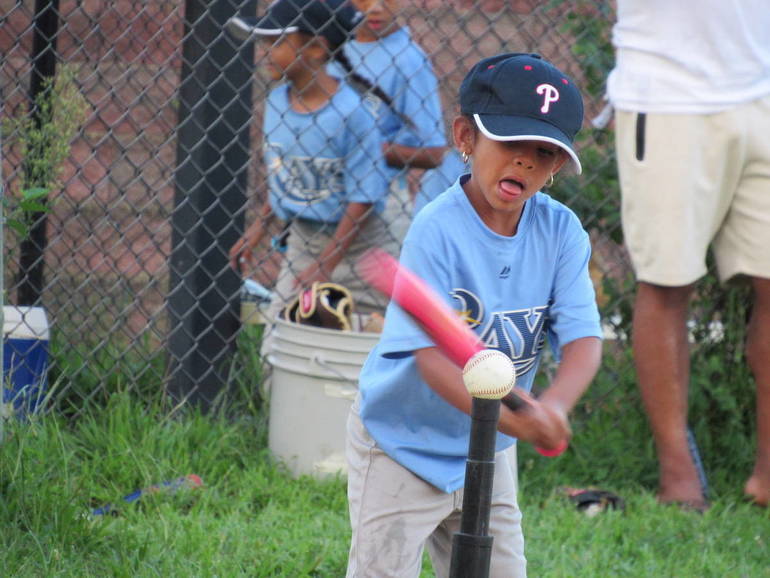 "She has her own bat, which nobody touches but her," Lillian Velez, whose daughter Aaralyn plays outfield for the Rays, told TAPinto Camden during the scrimmage. "It's great she's able to socialize with kids her age on a daily basis this summer. This gives them an opportunity to be free."
Providing high-quality outdoor public spaces like the ones the East Camden Rays play on has been among the priorities of Camden officials, Cooper's Ferry Partnership and The Trust for Public Land — which embarked on a plan earlier this year to gain resident feedback over the future of parks in the city.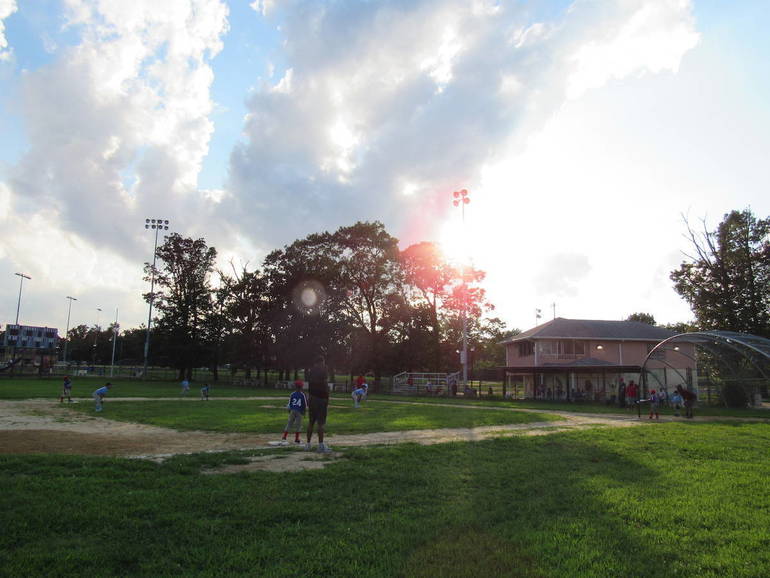 Now that COVID-19 is as much part of that future, none may be better equipped to discuss what's needed than a tee-ball league that just spent a summer on the field despite the unprecedented times brought on by a global pandemic.
"When you look at East Camden, how many parks do we have? Stockton is really the only one. That's one baseball field we have in the neighborhood. So yes, safety measures are important, but one thing I would say we need more of is fields for kids to play on," said Rays Coach Falio Leyba-Martinez, who runs the team as part of the East Camden Youth Association.
The league had its inaugural season last year with a dozen or so players. Today, Leyba-Martinez manages roughly 45 kids as part of both tee-ball and the East Camden Yankees youth league made up of older children.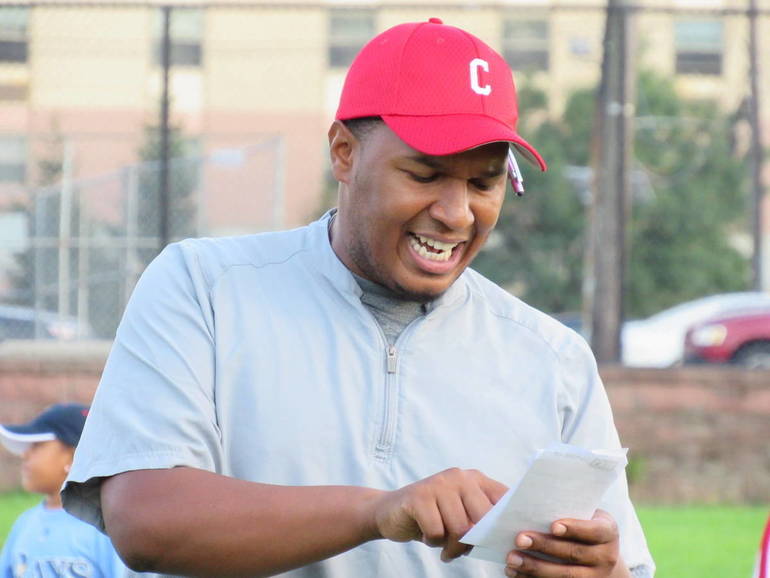 Leyba-Martinez says he was inspired to begin the league after learning of Bryan Morton's efforts with the North Camden Little League in another part of the city. The league was the subject of a documentaryabout transforming the lives of youth in one of the poorest – and at the time most dangerous – American cities through baseball.
"I don't think we necessarily need to only look toward public works [when it comes to improving parks,]" Leyba-Martinez said, noting that his Rays play throughout the city including North Camden, Whitman Park, and East Camden.
"But residents too. A lot of the help we need comes from not destroying what's already there. I've witnessed with my own eyes baseball fields with bottles and dirt bikes driving over fields that kids want to play on."
Sarah Bryant, director of community initiatives at Cooper's Ferry Partnership, says results from a "5 Year Parks Plan" survey, which took place toward the tail end of 2019, alluded in part to what the coach was saying.
"Upgrades, maintenance, cleanliness all came up," Bryant said in reference to gathering feedback from over 200 Camden residents. "One thing we found very interesting, we asked, 'What is your favorite park in the city? The number one answer was Cooper River Park which is not in Camden, it's right next to it."
Bryan said the non-profit considered this an "inequity," hoping to ultimately add elements found at Pennsauken's Cooper River Park to those in Camden proper.
When Gov. Phil Murphy temporarily shut down access to parks earlier this year, it became evident just how important these public areas are.
"We learned about how much people love their parks," said Bryant, echoing sentiments from Freeholder Jeff Nash, who is also the liaison to the Department of Parks. "Now we need to think of them as essential spaces for health and quality of life, considering how we can sanitize more, keep them safe, clean and promote social distancing. Some [issues] we never had to think about before."
Litter can often be found when she takes a visit to a park, Velez said.
"Garbage and sometimes things that children shouldn't be seeing," the Camden mother said. "These were already problems in the city, it's about taking them more seriously."
ATV's are another matter. Freeholder Nash stated frankly that, "they're a real problem." Earlier this year, the Camden County Police Department started to rely on residents to help mitigate their use in public parks and throughout neighborhoods.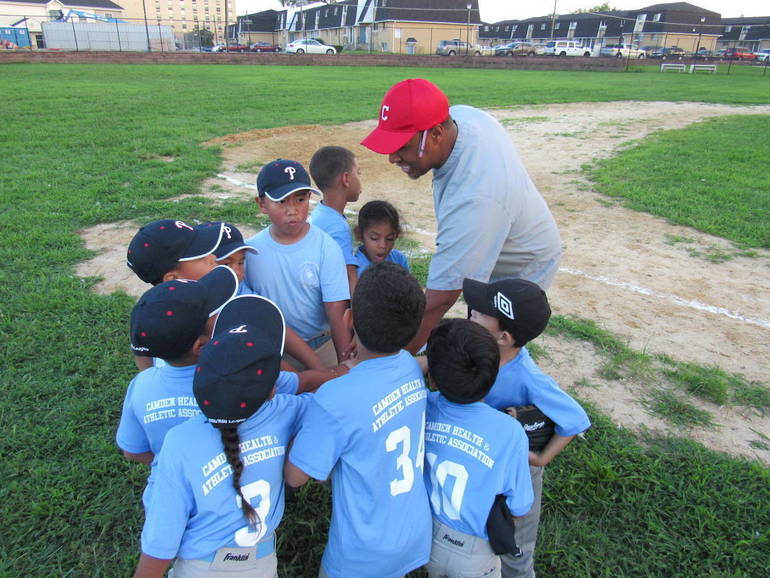 With fall approaching, Leyba-Martinez says he will continue to instill coronavirus safety protocols with help from parents and listen to guidance from the Centers for Disease Control (CDC). Moreover, he says he plans on continuing to offer city children more athletic opportunities including the potential for a softball league.
That the Rays lost Wednesday (the Phillies rallied in the last inning to clinch an 18-11 win) didn't seem to matter to the players or coaches who gathered in a huddle to applaud their efforts — even with all the chaos happening off the diamond.
One player shouted about his double earlier in the game.
While another did a 180 in search of his glove, sure he'd need it for the upcoming last fall game of the season.
"I don't think we'll be back to normal any time soon," Leyba-Martinez said, "but that doesn't mean we can't provide children a chance to have some fun and be outside."