From drastic weather changes to coastal flooding, New Jersey is increasingly experiencing impacts from global warming. As people's daily lives are disrupted by these changes, many, such as students from Stockton University's Environmental Club, are recognizing that something has to be done and fast. This is apparent not only on a community level, but also on a statewide and political level, with efforts such as offshore wind farms being built off the coast of Atlantic City.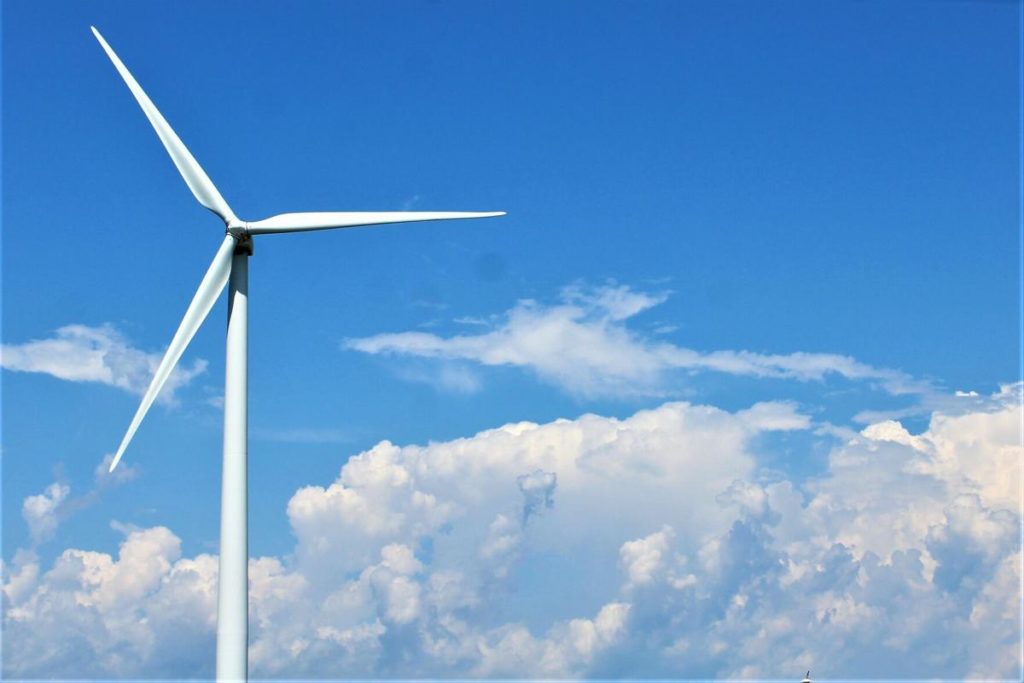 New Jersey takes a national role when it comes to environmental action. Recent policy changes have included the partial ban on plastic straws at restaurants and the upcoming ban on single-use plastic bags.
At an event late last year, Ed Potosnak, Executive Director of the New Jersey League of Conservation Voters, said, "We are in New Jersey which is the epicenter of climate actions. We're at the cutting edge. We're leading the nation in making bold steps."
On November 2, 2021, New Jersey held its gubernatorial election, a race between Phil Murphy (D) and Jack Ciattarelli (R). The election concluded with Murphy winning and securing his seat as the governor for another four-year term.
Murphy has many plans for the current term, but one topic of interest is the future of clean energy in the state of New Jersey. His goal is to reach 100% clean energy in NJ by the year 2050 through clean energy initiatives and the building of an economy that emphasizes green jobs.
On November 10, 2021, to begin his environmental work in this new term, the Governor signed an executive order that created a goal to reduce statewide greenhouse gas emissions by 50% by the year 2030.
Murphy's three major initiatives are the building of offshore wind farms, the promotion of solar energy, and the Regional Greenhouse Gas Initiative. The official summary of Governor Murphy's environmental plan can be found on his website.
Offshore Wind Farms
In 2019, Governor Murphy stated his goal of raising New Jersey offshore wind from 3,500 megawatts to 7,500 megawatts by 2035. This will provide hundreds of jobs and have the capacity to power thousands of New Jersey homes. As of now, there are three offshore leases for wind farms in NJ with projects that are actively in development. More plans are underway and are expected to be released throughout the beginning of this year.
One of the most discussed and misunderstood topics when it comes to the future of clean energy is the utilization of wind farms to generate power. People often misunderstand the safety and benefits of wind farms, arguing that they are dangerous or will obstruct the views that the shore has to offer.
Patrick Hossay, Professor of Sustainability at Stockton University said, "There are a lot of mistaken ideas about wind. Properly designed and installed wind farms are ecologically sound and really clean." He believes that the public needs to be better educated about wind energy and that wind farms will be essential to the future of clean energy.
The first new offshore wind farm, Ocean Wind 1, is set to be completed and power more than 500,000 New Jersey homes by the end of 2024, and more than 3.2 million by the end of 2035. The wind turbines will be located about 15 miles off of the coast of Atlantic City, NJ. You can go to the official Ocean Wind 1 website to read a more detailed report about the project.
Solar Energy
When you think of clean energy, you probably picture solar panels on top of houses or spread across a field. Solar energy is a widely known concept and a crucial piece in the Governor's plans.
An active and recent solar initiative is the Mount Olive solar field located in Mount Olive, NJ. Over the last year, this solar field was built on top of a superfund site, a heavily polluted brownfield, that used to be a landfill. This solar field has the capability of powering over 4,000 homes and it has created up to 200 paying jobs.
While speaking in November at the Mount Olive solar site, Governor Murphy expressed the importance of solar energy, "A lot has been written about the offshore wind projects we are planning off our coast. But let's not forget that solar energy is just as critical a part of a clean energy future." On how these efforts may impact the community he said, "We can create good jobs right here in New Jersey and put our state under a more sustainable and resilient energy future."
This is only one example of a solar initiative in NJ. The state is currently in the process of doubling the number of solar installations that were providing energy in 2021, an effort that is expected to take up to five years.
The Regional Greenhouse Gas Initiative
Another step that NJ is taking towards a clean energy future is rejoining the Regional Greenhouse Gas Initiative (RGGI) again, after ending its participation in 2011 under Governor Chris Christie.
The RGGI is a combined effort among 11 states: Connecticut, Delaware, Maine, Maryland, Massachusetts, New Hampshire, New York, Rhode Island, Vermont, Virginia, and now New Jersey. The goal of this initiative is to reduce the states' overall carbon dioxide emissions mainly through setting limits and regulations on power plants. Each quarter, auctions are held where states and power plant corporations can purchase "pollution permits". Each year the number of permits is lowered, effectively decreasing pollution produced by power plants. The proceeds from these auctions are then reinvested into state and community projects and programs. For more details, check out the RGGI official fact sheet.
By rejoining this initiative, New Jersey has taken in nearly 170 million dollars in auction proceeds. In New Jersey, three agencies including The New Jersey Department of Environmental Protection, the New Jersey Board of Public Utilities, and the New Jersey Economic Development Authority are in charge of the reinvestment plans. They plan to invest in various initiatives throughout 2022. You can visit the RGGI website for more detailed information about the reinvestments.
According to Governor Murphy, these proceeds have since helped fund 245 electric school buses, shuttle buses, work vehicles, and delivery trucks across the state, which will cumulatively reduce tons of carbon emissions each year.
Rejoining the RGGI has helped to increase focus on cleaning up New Jersey communities. Murphy said, "Rejoining RGGI has allowed us to more effectively work alongside communities looking to do the right things to clean their air and to make the fight against climate change a local one."
Young Climate Activists
With the impacts of climate change becoming more severe, people are in a hurry to make a change, especially younger generations. According to the Pew Research Center's 2021 survey, Gen Z and millennials make up a majority of the climate activists using social media, protests, and volunteer work in hopes of a difference. Young celebrities such as Swedish teenager Greta Thunberg have risen to fame and have become a part of the global conversations concerning climate change.
Students and faculty at colleges and universities across the world have created environmental clubs and organizations that address issues such as clean energy and pollution. At Stockton University, clubs such as Love Blue, Stockton Action Volunteers for the Environment (S.A.V.E), and the Environmental Club participate in projects such as beach and community clean-ups, holding educational programs, writing proposals for change, and community projects to spread awareness to the public.
Ben Dziobek, a senior at Stockton and president and founder of the Stockton Environmental Club, stressed the importance of climate activism for younger generations. He said, "This is an issue that will affect the lives of future generations and we are already seeing the impacts, especially in our state. We will be on the frontlines of the climate crisis and we need more voices to make them responsible, not radical, changes that we need."
100% Clean Energy: Is it possible?
Although significant progress has been made toward reaching 100% clean energy, New Jersey still has a long road ahead. Many experts stress the importance and urgency of the transition to clean energy.
According to Hossay, "The reality is that alternative energy is sort of inevitable in the way that sustainability is inevitable. We will either develop a sustainable society or we will not survive on the planet." It is a race against time and the Governor is striving to beat the clock.
On whether or not achieving 100% clean energy will be possible, Hossay said, "It's super possible, it's super affordable, and it would be a tremendous benefit to society to make the transition as soon as possible."
This story was produced in collaboration with CivicStory (CivicStory.org) and the New Jersey Sustainability Reporting Hub project (SRhub.org). It was originally reported by Amanda Wallace for The Argo, and may be re-distributed through the Creative Commons License, with attribution.