Composting doesn't have to mean dealing with a stinky bin full of rotting food and pesky bugs.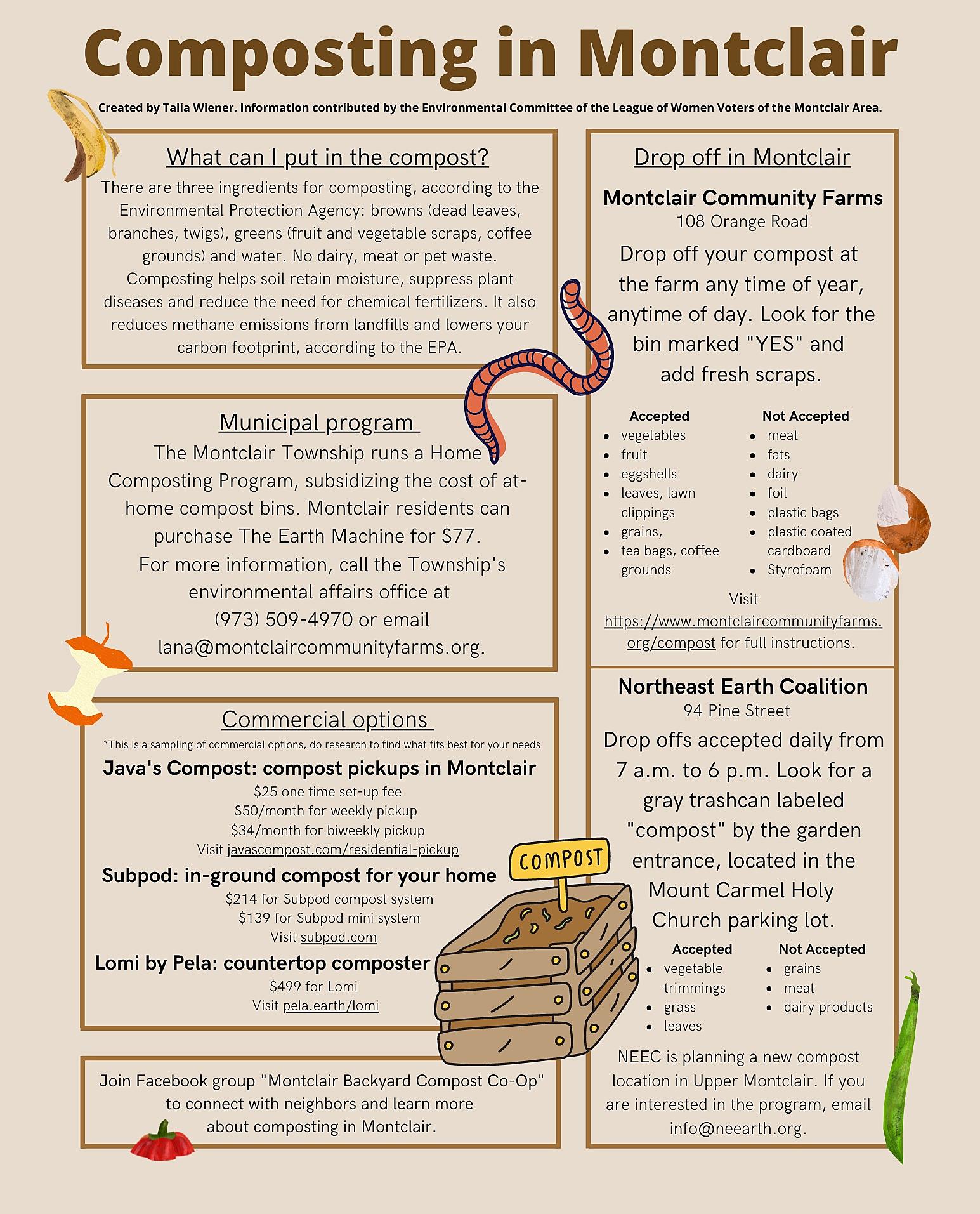 In Montclair, there are many ways to get the nutrients from food waste back into the soil — drop off your food scraps with a local organization to enrich their gardens, spin a compost bin in your own backyard or place the waste outside for a weekly pickup.
Composting helps soil retain moisture, suppresses plant diseases and reduces the need for chemical fertilizers, according to the Environmental Protection Agency. But it also reduces methane emissions from landfills and lowers carbon footprints.
There are three main ingredients for composting, according to the E.P.A.: browns, including dead leaves and branches; greens, including fruit and vegetable scraps; and water.
However, many types of waste do not belong in the compost, according to Lana Mustafa, farm director at Montclair Community Farms. Meat, dairy, plastics and foil should not be placed in the compost, as they affect the decomposition process or don't decompose at all.
Montclair residents can take advantage of the Township's Home Composting Program, which subsidizes the cost of at-home compost bins. Residents can then use the compost in their gardens.
Montclair Community Farms has been handling distribution of the bins for the Township since former sustainability officer Gray Russell retired in 2021. As of July 11, there were seven Earth Machine compost bins for sale, each with a $77 price tag, according to Mustafa.
Montclair Community Farms also accepts food waste for its own use. The waste can be dropped off at 108 Orange Road in a bin marked "yes" any time of day and any time of year.
"All [residents] have to do is bring it over and cover their donation with some browns," Mustafa said.
Visit the farm website for additional information.
The Northeast Earth Coalition also accepts food scraps at its Pine Street Community Garden, at 94 Pine Street behind Mount Carmel Holy Church. Residents can leave their scraps in a gray trash can labeled "compost" between 7 a.m. and 6 p.m. daily, Jose German Gomez, Northeast Earth Coalition founder, said.
"The composting program started in March 2020 and has been very successful," German Gomez said.
Northeast Earth Coalition is also planning a new compost location in Upper Montclair.
Montclair residents can also take advantage of several different commercial options available for either food waste pickup, backyard or countertop composting.
Java's Compost, based in West Orange, picks up food waste around Montclair on a weekly or biweekly basis. Visit the company's website for additional information.
Other products, such as Subpod and Lomi by Pela, are also available for at-home composting.
For more information about how Montclair residents can compost, join the Facebook group "Montclair Backyard Compost Co-Op" or visit the Montclair Environmental Commission's website.
This story was co-produced in collaboration with CivicStory (www.civicstory.org) and the NJ Sustainability Reporting Project (www.SRhub.org).