It's no secret that healthy food options are hard to find within urban and low-income communities. People living in food deserts, as these areas are sometimes referred to, lack access to affordable, nutritious food choices, which can lead to a community of unhealthy individuals. According to the United States Department of Agriculture's (USDA) Economic Research Service, approximately 10.5% (13.8 million) of U.S. households were food insecure in 2020.
Located in Hamilton, NJ, Geo Greens is the brainchild of CEO Desmond Hayes, who grew up in communities where the availability of healthy food options was limited. A college graduate, Hayes has earned degrees in architecture, civil engineering and environmental science, and is a student and staunch advocate of sustainability. The urge to help urban communities in an era of climate change, while reducing his carbon footprint, led Desmond to hydroponics.
Hydroponics is a method of growing plants without soil in a controlled environment, using water and nutrients to produce different types and species of produce. This method of farming allows plants to grow throughout the year, using less water than traditional soil-based systems. Hydroponics also makes it possible to grow plants indoors using artificial lighting sources.
"Conventional outdoor farming wastes approximately 40% of the planet's free water," explains Hayes about the benefits of implementing this popular technique. "Hydroponics uses 90% less water than conventional farming practices, and techniques continue to improve to reduce this amount even further. Hydroponics is a much more efficient method of farming. It is not here to replace conventional farming, only help supplement farming. Over time, maybe a few decades, it could [possibly] replace conventional farming."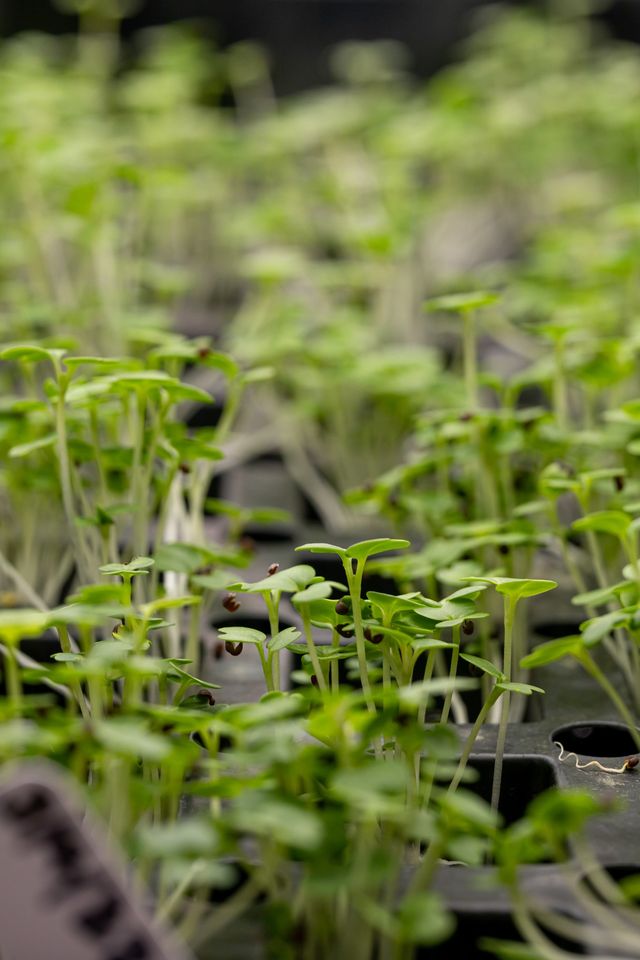 Apart from hydroponic agriculture's potential to save water resources, there are battles within the farming world about the organic status of hydroponic products. In 2017, the United States District Court ruled that soil-free farming may be certified as organic, which prompted a coalition of organic farmers and the Center for Food Safety (CFS) to contest this decision with a lawsuit against the United States Department of Agriculture (USDA). However, the USDA's decision was upheld, and hydroponics farming will not be excluded from the organic program.
In a press release, Sylvia Wu, the senior CFS attorney and counsel for the plaintiffs, said, "Under the Court's ruling, hydroponic producers can sell their crops as organic without building soil fertility, yet organic farmers growing food in soil have to meet various soil-building requirements to be certified organic…this double standard violates the very purpose of the Organic label and is contrary to the federal organic act. We are analyzing all our legal options and will continue to work hard to defend the meaning of the Organic label."
Hayes, however, notes that because Geo Greens grows all its produce indoors, the plants do not have pests, and therefore do not need to be sprayed with pesticides. "As a result, our produce is cleaner than organic," he confirms.
Critics of hydroponics have claimed that the method can be time-consuming and expensive, and Hayes agrees. However, that didn't stop him from wanting to provide food-insecure communities within Mercer County with access to healthy produce via Geo Greens. "We wanted to make an impact and change this unfortunate dynamic by getting better access to healthier produce within these areas, especially for the minority communities. Furthermore, the [global] population is projected to grow by four billion people by 2050, [so] this means even more heavily populated food deserts, and unhealthy communities with food-related health issues," Hayes said, adding, "We focus on getting to the areas that need healthier foods the most!"
Currently in its second year of business, Geo Greens produces a host of nutrient-rich microgreens, leafy greens and herbs. It offers a unique Community Supported Agriculture (CSA) system, which has become a popular way for consumers to buy local, seasonal food directly from a farmer. Hayes likes to refer to his offering as a 'business to customer' or 'hydroponic urban farming farm-to-mouth' experience, in which customers choose from three delivered options of fresh produce items.
"We want to eliminate all reasons that the average person [has] to eat unhealthily," explains Hayes. "Whether through our tours, or our personal delivery, we want to make sure the average person has access to our facility and produce. A person visiting the website can order produce online as a one-stop shop or under the CSA as a monthly subscription." Geo Greens' fresh produce is also available in local markets, and the company is one of the only indoor farms in New Jersey that accepts SNAP benefits as a payment option.
Serving the community—via food banks and pantries, soup kitchens, hospitals, and assisted living facilities in the tri-state area—while conserving water and minimizing waste is the Geo Greens mission. Hayes is laser-focused on expansion, and hopes to reach similar communities throughout the country, as well as release a book on hydroponic farming for young children. For now, Hayes continues his engagement to introduce the unique farming method to community members. "Having tours and visitors come by our facility is always amazing… we want to build relationships. What better way than to be transparent?"