By Ashley Mendoza| CivicStory
This story was produced in collaboration with CivicStory as part of the New Jersey Sustainability Reporting project.
Urban Agriculture Cooperative (UAC), based in Newark, New Jersey, stands as a vital force dedicated to revolutionizing local food systems and addressing the pressing issue of food inequity. Established with a mission to enhance food access for historically underserved communities, UAC serves as a linchpin in Newark's burgeoning food economy. Their multifaceted initiatives encompass a spectrum of endeavors, including food hubs, farmers markets, online ordering, and the establishment of new urban farms.
Originally born as an offshoot of the nonprofit Planting Seeds of Hope (PSH), UAC emerged from a grassroots effort to rejuvenate vacant lots and combat blight through community gardens. Over time, their focus shifted to supporting urban agriculture practitioners, and they took on an important role contributing to local farmer's markets and streamlined food distribution.
UAC's vision extends beyond mere logistics; it encapsulates a holistic approach to community development and environmental sustainability. The cooperative champions asset-based development, empowering local leaders, and amplifying historically marginalized voices. Their interventions span various domains, from facilitating bulk purchasing to curating and delivering "farms to families" share boxes to those in need.
Essential to their mission is the cultivation of educational programs and the training of young adults and students, fostering their engagement in local food ecosystem. UAC also collaborates with schools to establish urban growing spaces, combining education and agriculture for a holistic impact.
In Newark's diverse urban landscape, UAC acknowledges the role of outside corporations and restaurants in the food system. However, their core priority is the pursuit of a shift toward locally grown, fresh, and culturally appropriate foods that reflect the city's vibrancy.
By championing this cause, UAC aims to address the stark disparities in food quality and ownership that persist in marginalized communities. Their journey is not just about food, but about fostering an inclusive, sustainable, and just food economy for the betterment of people and the planet.
In the heart of Newark, New Jersey, where bustling city streets and towering buildings define the landscape, there is a growing movement working to connect the community with the earth. Gia Bialoglowka, the marketing coordinator of Urban Agriculture Cooperative, has been at the forefront of this transformative journey.
Her passion for farming and the environment led her to join the cooperative in August 2021, a time when they were still packing a modest 40-50 boxes of produce each week. Today, they've grown exponentially, distributing over 200 boxes of fresh, locally-grown vegetables to the people of Newark.
Bialoglowka's role extends beyond packing operations and invoicing; she serves as the driving force behind their marketing efforts. Crafting compelling flyers and engaging Instagram posts, she spreads the message of urban agriculture far and wide. Through her community outreach and collaboration with various organizations in Newark, Bialoglowka witnesses the collective impact of the cooperative and its significance in the city's fabric.
Urban agriculture provides a platform for local farmers to sell their produce directly, ensuring that fresh, nutritious food reaches the people who deserve it most. Hawthorn Avenue in Newark, for example, hosts a plotted fresh program, leasing gardens to families keen on growing their own food. However, Newark's urban landscape poses a unique challenge – the soil is often contaminated due to historical industrial activity.
To address this issue, urban farmers employ raised beds or fresh soil, avoiding the potentially harmful ground beneath. Soil and water sampling become consistent practices to ensure the produce is safe for consumption. However, Bialoglowka stresses the need for a citywide compost initiative to regenerate nutrient-rich soil and enhance agricultural productivity. Newark's journey into urban agriculture is a vital step, not only in providing access to land but also in promoting sustainable and healthy living.
For Bialoglowka, the love for farming was kindled at an early age. With roots in Brazil, where her family lived on a small farm, she was drawn to nature and the joy of growing her own food. Her curiosity, coupled with her work at the cooperative, led her to start her own garden. Sourcing soil and compost through her connections at Urban Ag, she embarked on a journey of discovery, learning the art of cultivation and reconnecting with the land.
The cooperative's impact goes beyond the confines of its own operations. Through outreach and volunteer work, Bialoglowka found herself involved with a local high school's farm, where she became the "chicken manager." She built chicken coops and researched the care of these feathered friends. This experience further ignited her desire to recreate the life she once knew – one of living harmoniously with nature and providing for oneself.
Despite the successes, Urban Agriculture faces complexities as it strives to expand and cater to the growing demand for locally grown produce. The popularity of their box program necessitates finding larger spaces and additional staff while maintaining the quality that defines their work. The cooperative's vision of providing accessible and nutritious food to all requires navigating the delicate balance between growth and sustainability.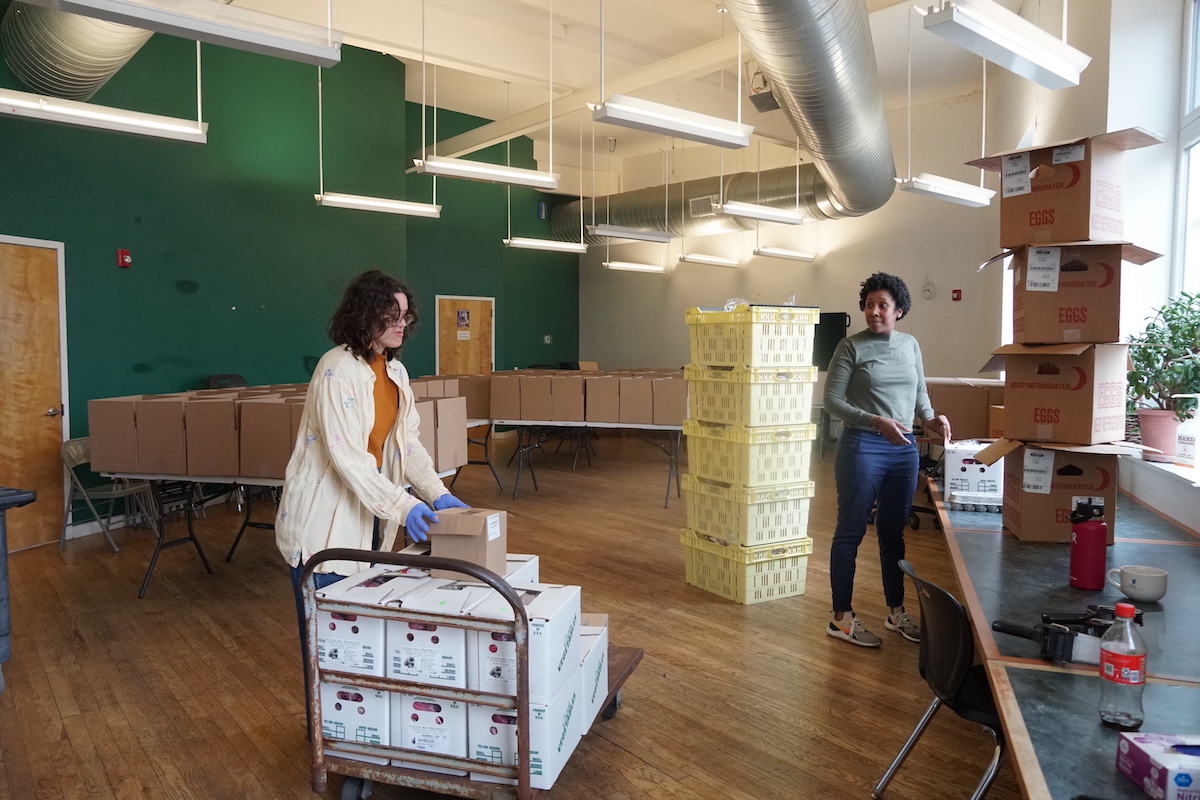 Amidst the urban landscape of Newark, urban agriculture has become a symbol of hope and resilience. As more people rediscover the joys of growing their own food and reconnecting with nature, Newark's identity is evolving, embracing its agricultural roots while pushing towards a greener, healthier future.
The journey of Urban Agriculture and its dedicated team, led by the likes of Gia Bialoglowka, shines a light on the importance of sustainable practices and community-driven initiatives. Newark's urban farms represent more than just a means to grow vegetables; they embody a connection to the earth and an unwavering determination to reclaim the city's narrative.
As the sun sets on Newark's concrete jungle, the flourishing gardens and the cooperative's efforts inspire hope, reminding us that a city can grow and thrive, not just in its structures and infrastructure, but in the very soil it nurtures. And at the heart of it all, Bialoglowka's passion, determination, and unwavering belief in the transformative power of urban agriculture continue to sow the seeds of change throughout the city, cultivating a brighter and greener future for Newark, New Jersey.
When did you start working for Urban Agriculture?
I started working with Urban Ag in August of 2021, and we had a much smaller amount of boxes that we were doing. Maybe like 40-50 boxes per week. And now we have about 200 boxes in a week. So I started with just like learning how the packing operations work. And helping with the invoicing and ordering and stuff, so I was reaching out to people, making sure that all the orders were sent out.
Essentially what I do beyond the packing, I'll help with the marketing stuff. So I'll create the flyers and the Instagram posts. Also, when we have the markets, I'll go out and help. Just like a lot of community outreach, pretty much. I'm kind of like the marketing team? But I just care so much about the work that we do, and it's incredible because Urban Ag is connected to so many different organizations throughout Newark, so throughout my job, I've met so many people. It's really incredible to see all the work everyone is doing.
When we spoke about how Newark deserves more recognition, I completely agree. New Jersey is finally getting along with doing Urban Agriculture, but Newark has been doing it for years.
Urban agriculture gives people a platform to be able to sell the work that they do, so if you're like growing string beans and you need a place to sell them, Urban has the cooperative market and so, local farmers can sell their produce directly.
At Hawthorn avenue in Newark, they have a plotted fresh program, which is where they'll have gardens for lease, essentially, for any family that wants to grow their own food. So if you live right around the area and you want to grow vegetables, then you just talk to them and you sign a little lease and you grow your vegetables at the farm. It's more than just people deserving access to land and giving people access is really important."
With local farms and the work that you've done, because of the pollution and contamination that Newark deals with, do you have to do soil and water sampling consistently?
Yes, pretty much. Essentially, the most contaminated zip code in New Jersey is 07105, which is all of the Ironbound. Not that the other areas nearby aren't as contaminated, but the most concentration of chemical damage is in the Ironbound.
So when you're gardening in Newark, the bottom line is that you don't use the soil that you have on the ground. Every farm that's in Newark has installed either raised beds, or what they'll do is put down a tarp and then put soil on top of it. The usual assumption is that you can't work with the soil that you already have, you have to get new fresh soil. It's just part of what we have to do in order to grow food that's actually good for us. The first assumption that you have to make is that it's not safe.
So, every garden, if you haven't noticed, is that most of them have raised beds. One of the exceptions here is Emilio's garden, so SWAG (South Ward Agri-Garden), which is the South Ward garden, what they did instead was put down tarps and then filled them up with soil, which is smart and works just as efficiently, but you have to do the remediation. You have to do the extra work to make sure that your soil is okay. So that's where stuff like compost comes in, I feel like it's so important and so lacking.
If you go up to like New England, a lot of the places there have compost, recycling and then trash. It's just a part of their way of life to separate food in order to recreate soil. I think that's one of the places that Newark is still far behind, which is compost. Especially with Urban Agriculture being as popular as it is now, I think that's the next step that we should take. Which is to have a citywide compost initiative. It's about time. There's so many places that rely on having good soil now, so if we want to encourage more people to grow their own food, then that's the first thing people ask, where do you get your soil?
How was your introduction to city farming and how was your learning process to learn about all of this information?
The first time I learned about our soil being contaminated was when I was in elementary school. I remember going on a field trip to Riverbank Park. I was at Oliver Street School. I remember learning there that the whole park, under it, was contaminated because of the factories that used to be there.
So what they did was they put down tarp and new soil, and now the ground that we're touching was okay. But underneath it wasn't okay. I was like 11-12 years old? Maybe even younger? That was the first time I knew it. But then when I started working with Emilio and learning more, I started to pick up that people buy soil. You can't just use what you have. It's always put a tarp down, put other things down, and buy soil from somewhere else. Which is kind of, sad? Because there are other places in the world where you don't have to buy soil, the soil is just there. It's interesting because city landscapes really deprive us of nature, and makes getting nature so difficult. It's just another barrier, which is having contaminated soil.
Were you always into farming as a child?
I think the curiosity was always there, in wanting to learn how food was grown. But I also grew up very aware of the fact that my family used to live on a little farm back in Brazil. I was aware that my family relied on chickens and cows, and planting our own food.
I always knew that was a way of life, and it wasn't until a couple of years ago where I realized that I want to live that lifestyle. I don't just want to live cooped up in my apartment for the rest of my life. I want land, I want to grow it, I want to tend to it. I am my most happy when I'm in nature. It's been a lifelong dream of mine to be outdoors and to be with the earth, but I didn't realize it was my biggest passion until very recently.
What did you learn through Urban Agriculture?
Through Urban Ag, I learned a lot about what it takes to grow locally. If I had gotten a job with something similar in South Jersey, I feel like I would have been engaging with bigger farms. What I've learned is that, in Newark, we're limited in the amount of space that we have and we're limited in the growing season. So, Radicle Farm is the only farm that operates year round, and that's because they're indoors. There's a very specific chemistry that they're keeping up the whole year. But smaller farms don't have the same upkeep and the same equipment.
What I learned is that a lot of our Newark growers, the stuff that they make is available in the summertime, primarily, and not so much in the winter, spring or in the fall. Urban Agriculture in Newark is limited to the growing season of like April to November. And for the other months, they can't really produce as much. But in the summertime, we have so many things that are grown in Newark, like a plethora of stuff to choose from. But the second that it gets cold, our farmers are done and that's because we don't have the equipment.
So I'm thinking about really well-structured green houses, indoor lighting and constant water supply — all of these other things that come into play. Urban Agriculture is really prominent in our city, but if we actually only want to buy local, like only Newark grown produce, we will need a much more developed system so that our farmers can actually keep producing.
Have you used some of the skills that you learned at Urban Agriculture in your personal life?
I started to garden last summer. Just about a year ago is when we first started the garden. Using my connection to Urban Ag, I was able to source soil and compost. And then, I started learning how to grow my own seeds. I'm leaning into it more this summer.
Your parents grew up in Brazil and had their own little farm. What do they think of the work that you're doing?
My mom is like, I shouldn't be surprised. I just always loved being outside, and I didn't realize it was my career path until very recently. And my mom, whenever I make a comment about wanting to live in the woods, she's like, well, you grew up in a tent, you lived in a tent when you were a baby.
So my house got blown down. I was born in Brazil and my little farm house, there was a tornado, which was odd, you don't think about tornadoes in Brazil, but the trees fell over on top of the house. And so, when I was a very little baby, my parents built a tent while they were rebuilding the house. So that's what my mom would say now when I tell her about how much I want to do farming and be living outdoors, then she says, "yeah, you really were raised in a tent, weren't ya?"
Because there's pictures of me playing with the chickens and riding the pigs and pulling the horse tail. There's so many pictures of a life that I once had that I want to recreate so bad. So my parents are very supportive and I think it's because they also want to live that way. It's hard when you're now in a city and you aren't exposed to those resources.
What are some of the complexities that Urban Agriculture is facing at the moment?
I think one of them has to do with the box program that we do. It has gotten really popular. Emilio is trying to find other places where we might be able to expand the operation and do more produce and distribution. That means getting a place that's bigger and getting more people with the packing operation. The complexity with that is where do you put that space and how do we continue to do quality work while expanding? That's always a difficult thing. Properly training people to our systems is important, but also not pushing past what we can actually source. There's so much we can do before pushing past the limit.
This story was produced in collaboration with CivicStory as part of the New Jersey Sustainability Reporting project.