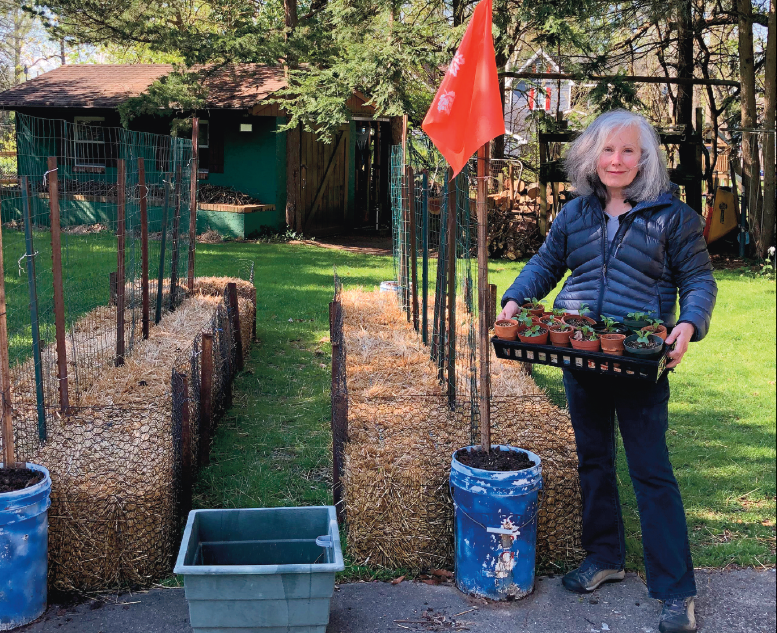 With spring in full swing, many home gardeners are once again beginning to plant their crops.
Amy Menzel, communications manager for the Atlantic County Utilities Authority (ACUA) and a commissioner ,with the Hammonton Environmental Commission, noted that more and more people are creating their own gardens this year.
"In this time of uncertainty, there is a real resurgence in people's interest in gardening. For many people, the coronavirus has imposed a new routine with more time at home. Some people are looking for things to do, but many others are looking to gardening for security; they are our friends and neighbors and they are concerned about feeding themselves and their families," Menzel said.
The Hammonton Community Garden is also gearing up to start its operations for the year. According to Hammonton Green Committee member Linda Esposito, the official opening date for the garden is April 25.
"As of this date, we are preparing to take a headcount on returning and/or new gardeners. We welcome anyone who has an interest no matter age or ability level. Our plans are to continue to support organic gardening, offer educational talks throughout the summer months and provide free children's workshops. However, all of this hinges on rules and regulations set in place by health officials and local governance. Our garden plots are acceptably distant from neighboring plots, so we do not foresee a problem with adequate social distancing. In any event, we will exercise due caution," Esposito said.
For some home gardeners, planting season actually started several months ago with seeds in indoor containers. For Elisabeth Davis, that took on a more unorthodox approach.
"We started it early. We have a porch, a sunroom, in the back of the house. We got blue kiddie pools from Walmart and we filled them with garden soil and potting soil, maybe a month ago," Davis said.
Besides the size and convenience, Davis noted the environmental benefits of utilizing the pools."Part of the reason we use the kiddie pools is because it's easier, and it's more environmentally friendly than buying all of the individual plastic things. It serves a whole purpose on its own … especially since people get rid of them every year, so people we knew who had them; we asked if we could use their pool and no one cared, because everyone wanted to get rid of them," Davis said.
Davis said that her family tries to be as eco-friendly as possible when it comes to planting.
"We bought pansies, and they come in the little plastic cups. We reloaded them with potting mix and put more seeds in there, too. We're trying to reuse stuff instead of adding to all the plastic, which has been cool," Davis said.
Esposito said that her home garden is also as eco-friendly as possible.
"I do not use any type of chemicals, but rather boost growth with worm tea and worm compost. I have a worm farm in my basement that is used for composting kitchen scraps such as vegetable peelings, coffee grinds and egg shells. I also utilize recyclable containers for additional plants like herbs and flowers," Esposito said.
The entire garden, in fact, is biodegradable.
"My home garden is a straw bale garden which is replaced each spring with new bales. Using straw bales is not at all labor intensive … At the end of the growing season, the bales are sufficiently decomposed and are placed in my outdoor compost pile along with leaves, etc.," Esposito said.
Esposito is not the only one with a garden that is potentially self-sustaining. Tanya LaGuardia noted that at least a part of her garden self-regenerates.
"We have a pumpkin patch every year; right after fall we throw our pumpkins in our garden area, and we end up getting our pumpkins back in the fall. It's cool because the kids love watching the vines latch onto everything else around as much as they could," LaGuardia said.
LaGuardia said that her children appreciate working on the garden with her.
"My kids enjoy it; we grow all of the typical Jersey vegetables … with peppers, we'll do a variety of colors. We'll do the orange and the yellow, the red and the green. We'll tend to do beefsteak tomatoes, Japanese eggplant and cucumbers. We also did zucchini and squash as well," LaGuardia said.
Jen Rajkowski noted that her daughter Kaelie has played a major role in her home garden as well.
"I used to have a community garden plot, but I also have a 3-year-old and work full time out of the house and in Philadelphia, except for currently. I decided it was too much to maintain, not just being able to run outside and take care of things. Last year I downsized, but this year it's probably going to be about twice that size in the backyard, because of time and necessity at some level," Rajkowski said.
Rajkowski said that her garden— which is raised, with a supplemental herb garden area in pots—takes up a good portion of her backyard.
"I used to have a full backyard garden when I lived up north, and I had some experience with gardening. I find that where we are has more shade than normal, so I tend to favor things that I can grow in a little bit more shade … There's different things you can do if you don't necessarily have full sun in your backyard," Rajkowski said.
Tracy Dwinell enjoys her backyard garden, too, and is no stranger to the virtues of planting in pots.
"I have a nice little set-up; I have about 10 pots that I work with. I grow tomatoes, peppers, basil, mint, cucumbers— I did cucumbers last year and I want to do them again; that was really a good time. One was a hybrid; it was called a lemon cucumber, and it looked like a medium-sized lemon. It was yellow and everything; it was really cool. The other was a Kirby cucumber. They did really well; this was my first season, last year, planting them, and it went well," Dwinell said.
Dwinell has been cautious this year, though; as she works with young plants and not seeds, she has been mindful of weather conditions before planting anything.
"I'm waiting for warmer weather; this weather's too weird right now. It's not consistent and I don't want to get them early and then kill them," Dwinell said.
Menzel noted that working with manageable gardens—e.g., pots instead of a section of the ground—is good advice for all gardeners, especially beginners.
"If you are new to gardening, start with something manageable. Hold off on rototilling your entire backyard; you can plant a smaller area using more intensive square-foot gardening methods. You can grow many things in containers or even plant some veggies and herbs in your flower beds. Raised beds can be built with minimal skills and expense. Select a spot that offers enough sun for the plants you choose to grow. Many veggies need a lot of sunlight, but others will tolerate or even thrive in shade. Make sure that you have a water source close to your plants, especially when seeds go into the ground or new plants are getting established, it's necessary to keep from drying out. And while this may sound silly, grow the plants that you really love to eat," Menzel said.
Rajkowski said that gardens don't even necessarily need to be in one's yard to be successful.
"You can actually grow more than you think in a flower box. I used to live in Brooklyn, and I was able—on my fire escape—to grow tomato plants. It just takes a little more creativity in finding the right sort of plant for your situation, but there's a lot out there. It's not a problem, lack of space. There are definitely things that can be grown," Rajkowski said.
When in doubt, Menzel said, there are often people in one's neighborhood— or family—who are available to give advice.
"Look for mentors—your uncle who grows those amazing tomatoes, or your neighbor who's got the green thumb. Hammonton has a wealth of savvy growers. We might not be meeting up or spending time together right now, but most gardeners are happy to share their knowledge," Menzel said.
Menzel also said that the rise in home gardeners this year was encouraging, especially when placed in a historical context.
"It's heartening to see a new movement developing based on the Victory Gardens that flourished and fed people during World War I and II. Today's organizers are renaming this as a Cooperative Gardening movement, recognizing that while we are fighting and making sacrifices to defeat this virus, this effort is not just about what we do for ourselves with our own resources, but what we can do to help others," Menzel said.
This story was produced in collaboration with CivicStory and the New Jersey Sustainability Reporting project. It was originally reported by Joseph F. Berenato for The Hammonton Gazette, and may be re-distributed through the Creative Commons License, with attribution.