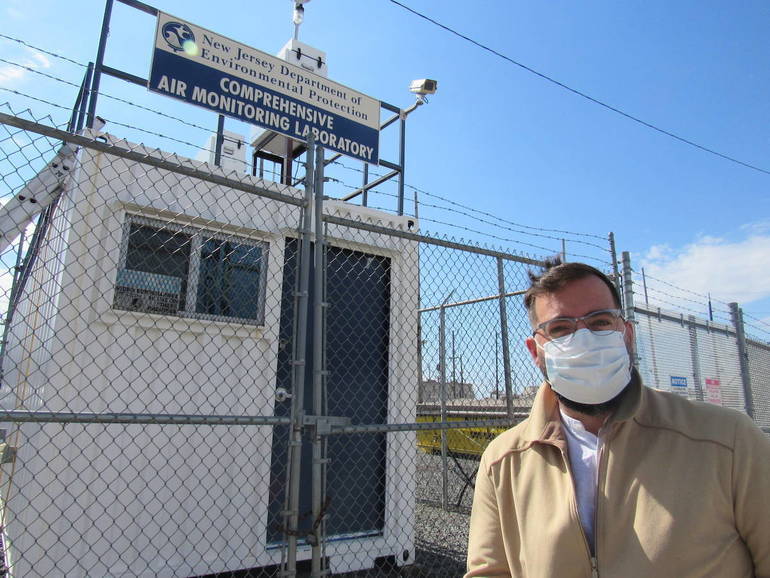 The Comprehensive Air Monitoring Laboratory, which from far away may appear to be an innocuous building, in fact, works to provide the New Jersey Department of Environmental Protection (NJDEP) a variety of readings about Camden's air quality.
Benjamin Saracco, research and digital services librarian for Cooper Medical School of Rowan University, stumbled upon it not too long ago.
"From doing research on air emissions, I knew Camden's was called the 'Spruce Street monitoring site,' and since I often go to Phoenix Park in South Camden on my bike, I just happened to see it one day," Saracco said, standing inches from the monitor.
In his hand, Saracco held a palm size airmon air monitor.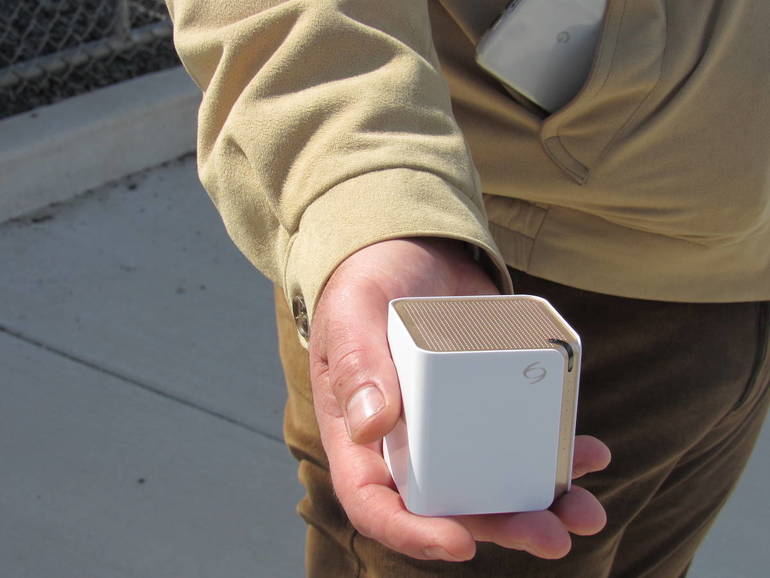 "This is not nearly as sophisticated as one of these instruments," he said, laughing. "It only measures particulate matter, but at least it's something."
Saracco is looking forward to Spring 2021, when a handful of other locals will receive the mini-air monitors and — more importantly — all participants will have access to an array of information as part of the "Clearing the Air: Educating the Camden Community about Air Quality and Respiratory Health" project.
In June, the initiative received a $20,000 grant from the National Institute of Health via the Network of the National Library of Medicine to help the Camden community "understand the links between the air quality in their community and their respiratory health."
Why educate the public on air quality?
"The fact that Camden is an environmental justice community and has such disproportionate health disparities compared to its neighbors…I think there's a huge opportunity to empower residents to combat some of these sources of health disparities with quality information," Saracco said.
Activists have long fought a multi-pronged war against air pollution in Camden – where parts of the city see constant truck traffic and industry dominates swaths of the waterfront south. According to the DEP, one in three children in Camden County is diagnosed with asthma, and in New Jersey the asthma mortality rate is three times higher for Black and Latino residents. 
Workshops and resources
The "Clearing the Air" project will provide residents with easily-digestible information about air quality's impact on their life, through general outreach, seminars (in-person or through teleconference) and a free public website with access to National Library of Medicine information resources such as MedlinePlus and Tox Town.
The Camden County Library will also help get the word out. And Saracco pointed out, information will be made available in Spanish as well.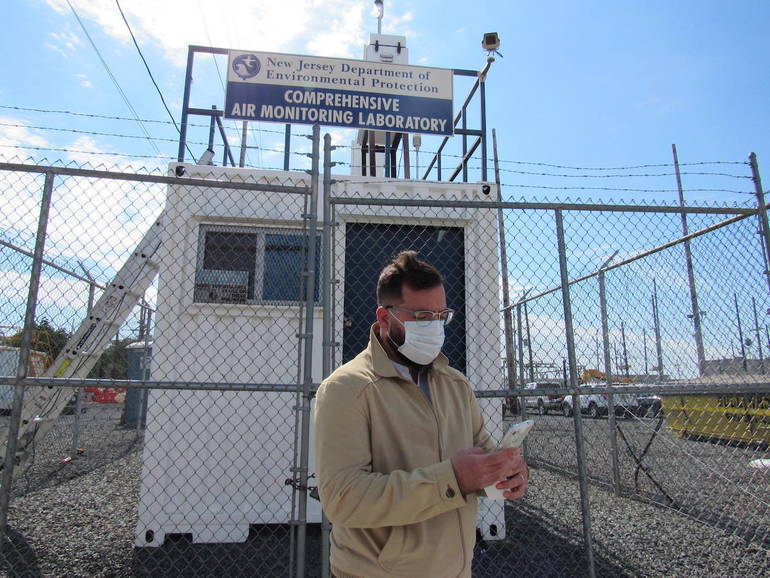 Dr. Jawaad Hussain, chair of the pediatric asthma care committee at Cooper Medical School of Rowan University, is currently developing his contribution to the project: a presentation keying in on asthma specifically.
"Air quality as we know has clear effects on one's life, and the problem is it's not like you'll notice it day-to-day. It's not like we're in industrial China, where you literally can't see the mountains or can't see the areas around you because of the pollution, but it's still there and still a problem," Hussain said.
The doctor said he hopes to see more grassroots efforts manifest as a result of the knowledge provided through the workshops — people on the front lines fighting for better air quality practices and further oversight for urban communities like Camden.
A a result, "we'd have fewer kids who are having asthma attacks, fewer kids who are being hospitalized, fewer kids in the intensive care unit," he added.
Also involved: Rowan Professor Jennifer Kitson, Dr. Elizabeth Cerceo, as well as the Center for Environmental Transformation's (CFET) Environmental Coordinator Kathryn Cruz and Program Director Jonathan Compton.
"The more residents report their environmental concerns to the DEP, the more likely it is that steps will be taken to address the causes of air pollution at their source."

Jonathan Compton, Program Director, Center for Environmental Transformation
CFET, a non-profit, engages the Camden community around sustainability causes through urban gardening, environmental retreats and more.
"We want to take this opportunity to not only help educate the public about what may be in the air they are breathing, but also ways they can take action about their concerns. For instance we want to spread awareness about the hotline with the NJ Department of Environmental Protection (NJDEP), and how to best use this resource to report their concerns," said Compton. "The more residents report their environmental concerns to the DEP, the more likely it is that steps will be taken to address the causes of air pollution at their source."
Compton noted that among the air-related issues CFET has been concerned with recently has been a proposed microgrid in the waterfront south. The proposal has received some opposition over the Covanta incinerator it would be attached to.
"We have been attending numerous meetings, reaching out to stakeholders around the issue, and learning as much as we can about the project," Compton continued. "Our goal is to center resident voices and concerns as we grow to serve as a trusted educational resource and advocacy hub for air quality, not only as it relates to this current proposal, but for any future projects in this community."
When first drawn up, "Clearing the Air" had an added component in the purchasing of several PurpleAir sensors. The sensors, as Saracco explained, are currently used on the West Coast given the raging fires- providing 24/7 data online about changes in the air.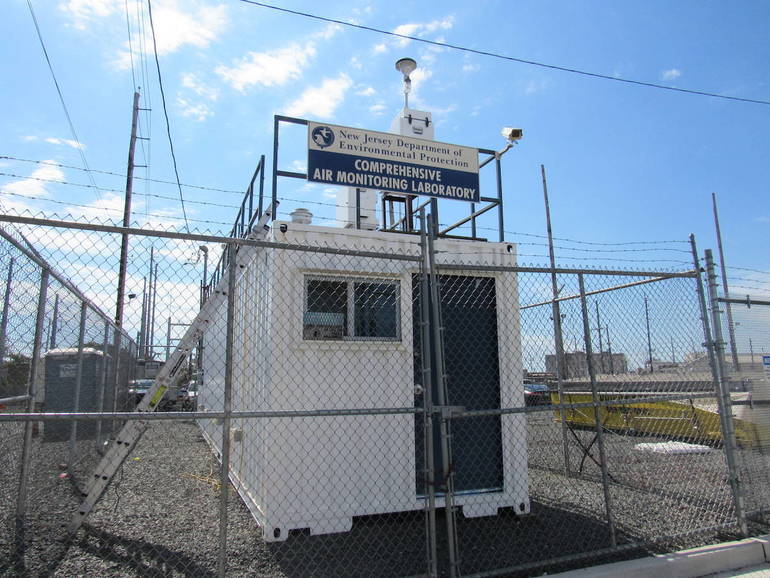 "I'm hoping after this project that additional air sensors can be installed across the city, just to better provide data about hyper local air pollution," he said. "So that future policy changes can be made to protect the safety and health of residents."
To learn more about the "Clearing the Air" project click here. Send questions to saracco@rowan.edu.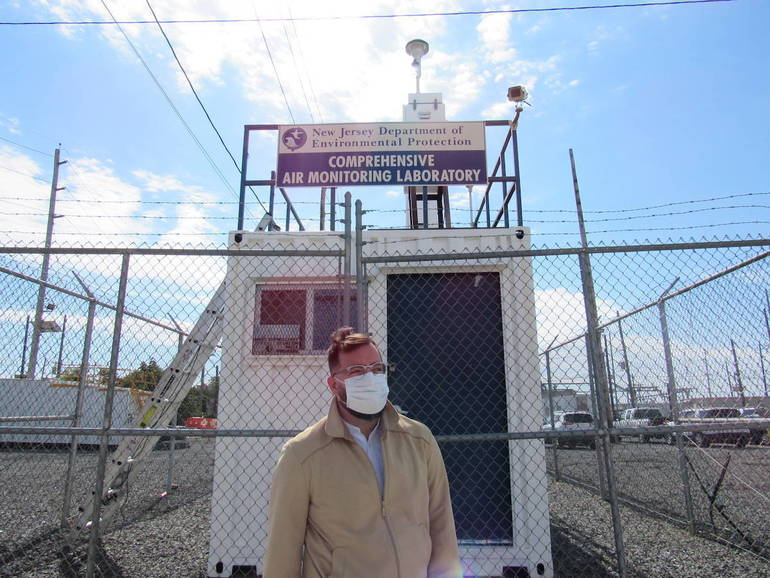 This story was produced in collaboration with CivicStory and the New Jersey Sustainability Reporting project. It was originally reported by Steven Rodas for TAPinto Camden, and may be re-distributed through the Creative Commons License, with attribution.